Reviving Communities and Spreading Wellbeing Across the Globe, One Water Well at a Time
Meet Daily Point of Light Award honoree Nisha Mandani. Read her story and nominate an outstanding volunteer or family as a Daily Point of Light.  
Nisha Mandani, a resident of Dunedin, Florida, is helping create waves of impact in some of the most vulnerable communities across the globe. Fourteen years ago, she founded Our AIM Foundation with the mission of helping those most in need of resources like water, food, healthcare and education. 
Today Nisha manages the foundation, serving as founder, president and CEO. Our AIM Foundation's team of incredibly hard-working, dedicated volunteers has been awarded with The Global Water Award by the International Water Association and Most Empowering Remote Community Support Organization 2022 – East Africa by the UK Acquisition International. 
Read on to discover what drives Nisha forward on this mission and how you can help the cause. 
Describe your volunteer role.
I act as founder, CEO and president, on a completely volunteer basis. We started Our AIM Foundation in 2008 out of passion. We were doing grocery shopping for isolated seniors who were immobile. This led to intergenerational bonding and more people started joining, and this became a program that spread to all the counties in Florida and expanded beyond. This passion grew, and eventually, we started work in Africa.  
When we went to Africa, we saw that people were walking eight to ten kilometers just to get a drink of water. We started putting wells in, and to date, we have over 2,000 water sanitation projects going. Our work is in seven countries. We've helped over four million people in the United States and countries in Africa and South Asia through education, health, water and sanitation, women and youth empowerment, and hunger prevention as well as COVID-19 and other disaster relief responses. 
Water was the reason we started the project in Africa. After putting in just one well, they were celebrating as if they hit the lotto! When we go on a mission trip to see the projects, these are the 5,000 to 10,000 women who were waking up at 4 in the morning, walking up to five to 10 miles, and they're dancing. They celebrate that their prayers were answered. They're in the most remote villages. There's no electricity. There are no toilets. The biggest paycheck you can ever see is the contentment, the smiles and the laughing you see on these people's faces. 
What keeps you volunteering when you see all this devastation and poverty?
When things are tough, you see the light at the end of the tunnel. You are the light for these people sometimes. Most of the time, people look for the candles in the darkness. When you have sunlight, you're not looking for candles. But in the darkness, you're looking for light. And this is the light for these communities. These are the times you become the candle for these people.  
When we have gone to Palestinian and Syrian camps, we see people who have been suffering for ages. They have no identity for themselves. They can't go to school, they can't get healthcare. They don't have proper homes. They don't have food, they don't have water, they don't have electricity. They're living in shacks. Sometimes your heart breaks. What keeps me going? To know that I'm changing someone's life.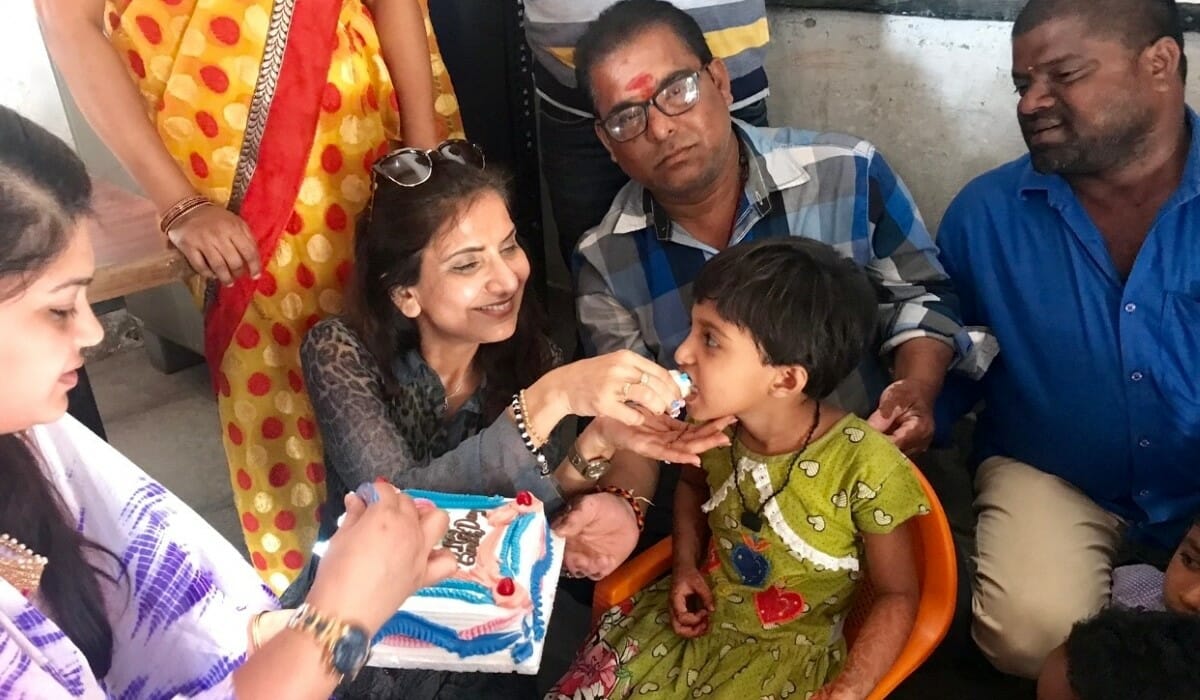 Any rewarding stories or experiences from your work?
There are so many. Our AIM Foundation only works in areas where no one works, where no one goes. Also, 100% of the funds we provide go to the ground. We all work from home, we're all unpaid and we have no expenses, no overhead.  
Before we start projects, we do our research. I was in India, and I switched my trip from U.S. to Bangladesh to go serve in the refugee camps there. I heard devastating stories. I saw devastating things. Women being treated horribly. All you hear are children and babies crying nonstop. They're not allowed to have any water bottles. They have no food or milk. Babies are teething on rocks. Children drinking from the gutter, eating raw flour. We heard that 25,000 children die each year from infections. Every night we'd come back to the hotel, and we'd sit and cry. You can't even watch this in a movie. We saw the pain with our own eyes.  
The world has a lot of pain. A lot of people are suffering, but you can be the hope for them. The more people can join hands to bring hope in others' lives, any little difference you can make can impact lives. We have schools, health clinics, women empowerment centers, computer classes, and we do all this for free. Of the 126 villages we've volunteered in in Malawi, Africa, not even one person has died since we opened the health clinics. 
Me and my family volunteer and donate together. We donate for my birthdays, my anniversaries, my children's weddings. All the money goes to the foundation. I've celebrated 90% of my birthdays on mission trips.  
Any upcoming events or programs you're excited about?
We're starting a program, Awareness in Mind. We see a lot of high school children going into depression, anxiety, stress. Our mission is to bring these programs into high schools, to teach students what life is, and how to be happy. How to embrace each other, love each other, care for each other. They will receive volunteer hours, and they'll be learning this on a daily basis – how to lift each other, how to work as a team. We want these children to stand up, stand together and not be a bystander to things like bullying.  
How can people help?
Absolutely go to the website or email us at [email protected]. We can take volunteers from every age and every angle. Volunteers, donors, partners, corporate partners, even coming on a mission trip with us, which is a life-changing experience. They can be the light in the darkness for the millions of people who are suffering and need us. 
We also have an Adopt a Child program, and even youngsters can save their money and adopt a child for $75 a month to provide education and health supplies for vulnerable children. We monitor every penny and provide proof of where funds are going. We have hundreds of children in many countries, including India, Pakistan, Bangladesh, across Africa. 
Any advice for people who want to start volunteering?
I think these types of decisions should not be weighed for a second! Just jump in right away. Volunteering doesn't just mean dedicating your whole life. Just a note. Just a phone call. Just appreciating someone who's around you. You yourself can step into someone's shoes, feel their pain and help improve their lives. Volunteering can start with shaking someone's hand or patting someone on the back, all the way to going on mission trips or donating every month. Volunteering is a blessing. When you give, you receive. You receive an abundance of peace, happiness and improved outlook on life.  
I also encourage our youth to start getting involved, even five or 10 minutes a day. Youth are the leaders of tomorrow. Giving, volunteering, helping and lifting up others is vital. 
Do you want to make a difference in your community like Nisha? Find local volunteer opportunities.  
Share this post