Surge in Anti-Asian Violence Prompts New Yorker to Respond Through Volunteering
Meet Daily Point of Light Award honoree Howard Chen. Read his story and nominate an outstanding volunteer or family as a Daily Point of Light. 
Just as fast as the COVID-19 pandemic spread around the United States, so did racism against Asians. From California to New York, thousands of Asian-Americans across the country reported being bullied or assaulted. In 2021, data revealed that anti-Asian hate crimes increased 339 percent nationwide.  
From an 89-year-old woman being lit on fire to the tragic murder of Christina Yuna Lee, these senseless attacks terrified the Asian-American Pacific Islander (AAPI) community, including 28-year-old Howard Chen and his fiancée, Michelle Tran. Wanting to help their community, they joined forces with another activist named Kenji Jones to form Soar Over Hate, a nonprofit working to provide members of the AAPI community with the equipment and resources they need to protect themselves and combat anti-Asian hate.  
"We wanted to get everybody who was willing to help to pull together funds and use those funds to purchase personal defense devices to distribute back to the community, especially to those who are elderly and women," Howard said.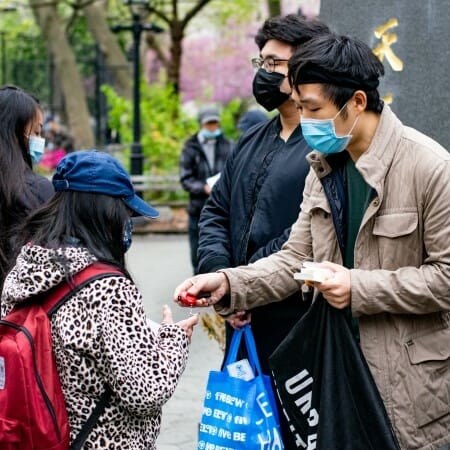 They first started raising funds by reaching out to friends, family and coworkers. But as the news of their efforts reached more and more people and eventually the media, donations started pouring in from companies and people across the country.  
With those funds, Soar Over Hate has been able to distribute more than 31,000 personal alarms, whistles and pepper spray across New York and California since March 2021.  
"We have people tell us how one of our devices, whether it's a pepper spray or personal alarm, made them feel safer and even have warded off a potential attack," Howard said.  
In addition to handing out self-defense equipment whenever they can, they have also held "AAPI Care Fairs" and other events, during which they served thousands with self-defense classes, puppy therapy, meditation classes, mental health referrals and hepatitis B screenings, among other helpful community resources.  
Jessica Ng, a Muay Thai instructor, taught basic self-defense skills at Soar Over Hate's Care Fair last March, with participants' ages ranging from teens to seniors in their late 60s.  
"It was extremely powerful because it was inter-generational," Jessica said. "And I think self-defense has more to do with empowerment, because once you're empowered and confident, it goes a long way, and it gives you the tools to look out for each other instead of being individualistic."  
"We wouldn't be able to have successful workshops and services without individuals like Howard and organizations like Soar Over Hate," she added.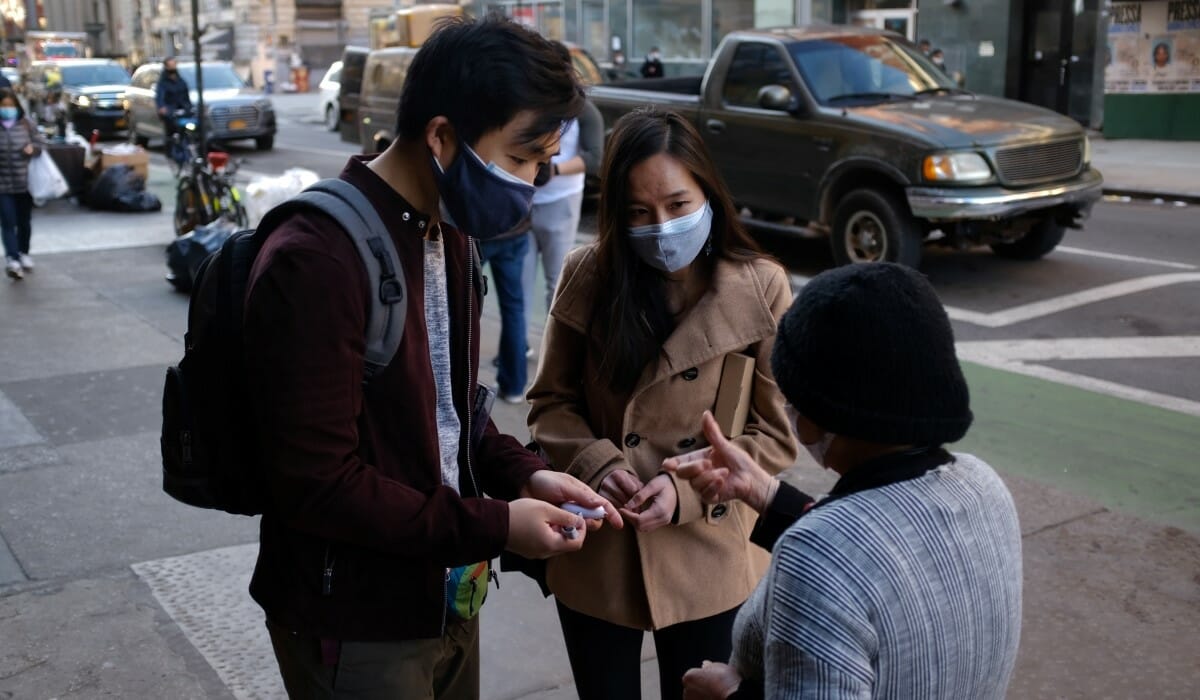 The remaining funds have been used to provide nearly $15,000 worth of scholarships for rising AAPI high school seniors who are in financial need and to provide $4,000 worth of therapy sessions to victims of anti-Asian hate incidents.  
Running a nonprofit organization while also working a full-time job as a manager at KPMG isn't easy. But Howard said when he sees his community come together because of Soar Over Hate, it makes it all worth it.  
"The quote we always go by at Soar Over Hate is 'The only way to survive is by taking care of one another,' by Grace Lee Boggs," Howard said. "Interacting directly with my community and being able to see people being safer because of what we do at Soar Over Hate has been the most rewarding experience and I wouldn't trade it for anything."    
Do you want to make a difference in your community like Howard? Find local volunteer opportunities.  
Share this post