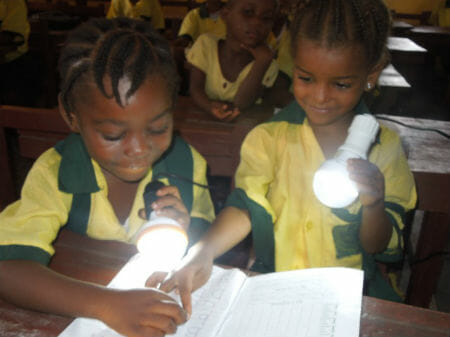 Meet Daily Point of Light Award honoree Richard Fahey. Read his story and nominate an outstanding volunteer or organization as a Point of Light.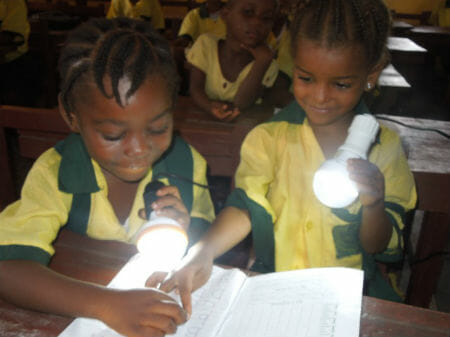 Liberian elementary school students use solar-powered lights from the Liberian Energy Network.
Richard Fahey brings light where nearly all of the people live in darkness after the sun goes down.
Fahey had served in that country – Liberia – in the late 1960s with the Peace Corps. He returned for a visit in 2009 with his wife, Suzanne, and a small group of other Peace Corps volunteers to assess the needs of Liberians as they struggled to recover from 14 years of brutal civil wars.
"Not having returned to Liberia since the end of my service in 1968, I was shocked at how much of Liberian culture and society had been lost as a result of the civil wars," says Fahey. "I realized that I needed to do something to help with the country's recovery, most especially because many of our longtime Liberian friends who survived the civil wars had so little, while Suzanne and I had prospered."
The sun is Liberia's chief source of light. At night, the country goes mostly dark. Hospitals, schools, businesses and homes often lack light. Only two percent of Liberia's 4 million rural residents are connected to the country's meager electrical grid – and they spend a quarter of their $158 annual income paying to charge their cell phones.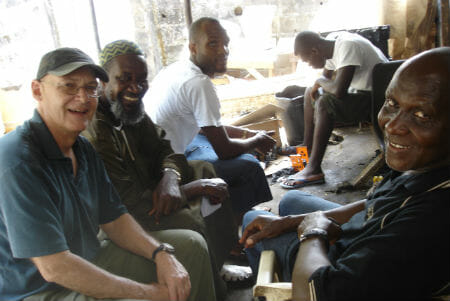 Richard Fahey, left, spends time with staff of the Liberian Energy Network, which he founded.
Fahey and his wife met with Liberian President Ellen Johnson Sirleaf. She she acknowledged the challenges the Liberian people faced and noted the special relationship the country had with Peace Corps volunteers who had lived among them.
She invited the Faheys to help Liberia recover and move forward.
In 2011, Fahey launched the Liberian Energy Network, to sell "plug-and-play" solar-lighting and cell-phone-charging units through a network of Liberian health care, education, religious and job-training organizations.
"Upon our return to the States I decided to retire from my law practice and founded the Liberian Energy Network, with the goal of creating a social enterprise which empowers Liberians to provide themselves with solar power on a national scale, based on the principals of doing business at the base of the economic pyramid."
Since 2011, the organization has sold more than 5,000 solar lanterns at break-even cost. In the next five years it aims to distribute more than 100,000, providing light and electricity for basic needs to 516,000 rural Liberians.
Share this post