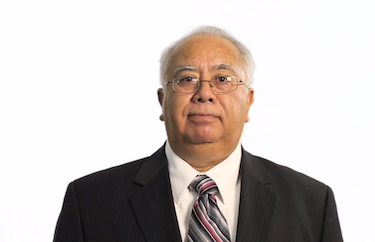 During this busy tax season Richard Ornelaz is continuing a tradition he started more than a quarter-century ago. Every year during tax time the IRS accountant volunteers more than 80 hours helping predominately Spanish-speaking, middle- and lower-income families in his city of Houston prepare and file their federal tax returns.
Hear Richard Ornelaz talk about how he feels when he helps his community. (Click image to watch video.)
"It was clear to me that Spanish-speakers and other low-income taxpayers were at a serious disadvantage in simply trying to get a fair tax refund," Ornelaz says.
In addition to helping taxpayers with their paperwork, Ornelaz volunteers each December teaching courses to help other volunteers become certified as tax preparers. In 2009, he was awarded the mayor's Volunteer Houston award. It was estimated that by that year, Ornelaz had helped Houston's underserved families receive more than $1 million in tax refunds and credits.
"I became interested in helping people with their taxes while I was teaching English courses to native Spanish-speakers at my church," says Ornelaz. "I realized that many people were being audited because they simply didn't understand the tax-filing process. Others had been deceived or overcharged by professional tax preparers."
In the mid-1980s, Ornelaz began doing free tax preparation through an IRS-run program. That program later evolved into a partnership between the IRS and the private sector, which is today Neighborhood Tax Centers, a part of Neighborhood Centers Inc. The IRS continues to provide materials for the program, and oversees annual certification of tax preparers, while Neighborhood Centers is in charge of finding facilities and recruiting volunteers.
As agreements with facilities changed, Ornelaz initially had to move to several dspots around Houston, but for more than 10 years, he has spent every Saturday during tax season at volunteer space provided by Neighborhood Centers' Ripley House. At that location, Ornelaz prepares 300 to 500 returns per year.
"A gratifying part of my volunteer work has been discovering that clients are following me from place to place as we have had to change locations," says Ornelaz. "Many families keep coming to me, and they tell their friends and relatives, 'Be sure to go to Richard.'"
Now, at least 50 percent of his clients are people he has helped before, and some of them have been receiving help from him for roughly 20 years.
"I can't describe the heartwarming feeling when a family comes to me with fear in their eyes – either because they don't know what to do or because some professional tax service has misled them – and I'm able to solve their problem," Ornelaz says. "I'm proud of my work."
Share this post