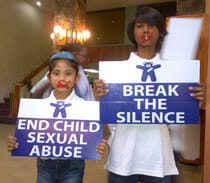 Brother and sister team, Ricky and Rishana Amar of Miramar, Florida founded Random Acts of Good Deeds (RAGD), a non-profit organization championing youth leadership and encouraging social responsibility. RAGD collaborates with other NGOs and social programs that uplift and assist others physically and emotionally.
Ricky and Rishana started in 2009 with helping a nonprofit build schools for children by donating funds collected from saving their dollars. This led to the team encouraging their friends to come together to do small national community projects like clean up campaigns.
In 2011, RAGD adopted the Break the Silence Campaign from the University of the West Indies Trinidad and UNICEF to spread awareness about child sexual abuse. The campaign encourages schools, community groups and nonprofits to form networks focused on the cause, and to organize activities annually for April Child Abuse Awareness month and November 20, Universal Children's Day.
Ricky and Rishana's personal creed is I am not too young to make a difference. Their mission is to get all their friends to get involved in volunteering and contributing to help build a better world.
Share this post