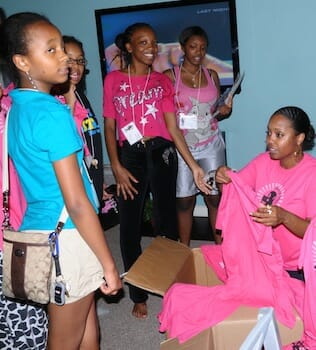 You might know her as Rudy Huxtable, the adorable, truth-telling youngest sibling on "The Cosby Show," or as Miranda Payne, a con artist who turned her life around on "Tyler Perry's House of Payne."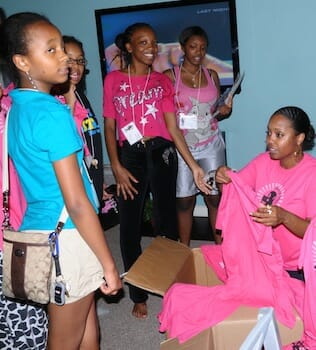 But to hundreds of girls in Atlanta, actress Keshia Knight Pulliam is simply "Miss Keshia" – their mentor at Kamp Kizzy.
In 2011, Pulliam took on a new kind of role that she calls her "true passion" when she launched Kamp Kizzy, an annual two-day free summer camp for girls ages 11 to 16. Kamp Kizzy is designed to encourage girls to pursue their dreams by bonding and participating in a diverse curriculum – designed by Pulliam – that includes performing arts, sensitivity and cultural diversity training, team-building exercises, creative writing, and lessons in etiquette and public speaking.
"It's all about empowerment and self-esteem, about carving out your identity," says Pulliam. "At this age, girls feel a need for acceptance, and sometimes that leads to bad decisions. We're trying to help by creating a space of being listened to and a place of love, where you know everyone is there to support you and to let you know you can accomplish anything with your life."
Each year, about 100 girls take part in Kamp Kizzy. ("Kizzy" is a nickname that was given to Pulliam by her grandfather.) The camp, which has expanded to four days, is held at Atlanta's Spelman College, Pulliam's alma mater. Pulliam hopes that through increased fundraising, to which she devotes much of her time, the camp will be able to serve more girls. Pulliam is also expanding Kamp Kizzy to include a boys' group in 2015.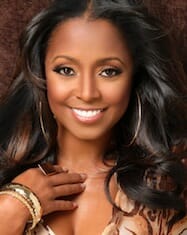 Pulliam says that the camp has been so popular that many participants return year after year until they reach the age limit, after which they volunteer as counselors.
"That's one of the greatest things," says Pulliam. "They're excited to come back, and it's wonderful to see them and hear how they've been working to accomplish their goals."
Kamp Kizzy grew out of a lifetime of volunteer service.
"My mother and father taught me the importance of giving back," says Pulliam, who at age 5 became the youngest person nominated for a Best Supporting Actress Emmy Award. "I've been volunteering help or giving money or clothes for as long as I can remember."
After "The Cosby Show" ended in 1992, Pulliam took a break from acting to pursue her education. While studying at Spelman – where she earned a degree in sociology with a concentration in film – she performed community service as a Bonner Scholar. She was also a volunteer at Atlanta's Hosea Feed the Hungry.
Pulliam says that at Spelman, and even earlier at Foxcroft School in Virginia, she was privileged to have strong women in her life and that she wants to pass that on to future generations through Kamp Kizzy.
"My experience has been blessed, but that doesn't buffer me from the rest of society," Pulliam says. "It inspires me to help others. Working at Kamp Kizzy is something I'll do for the rest of my life."
Share this post