Rising High School Senior Makes a Global Impact as She Leads the Charge Against Climate Change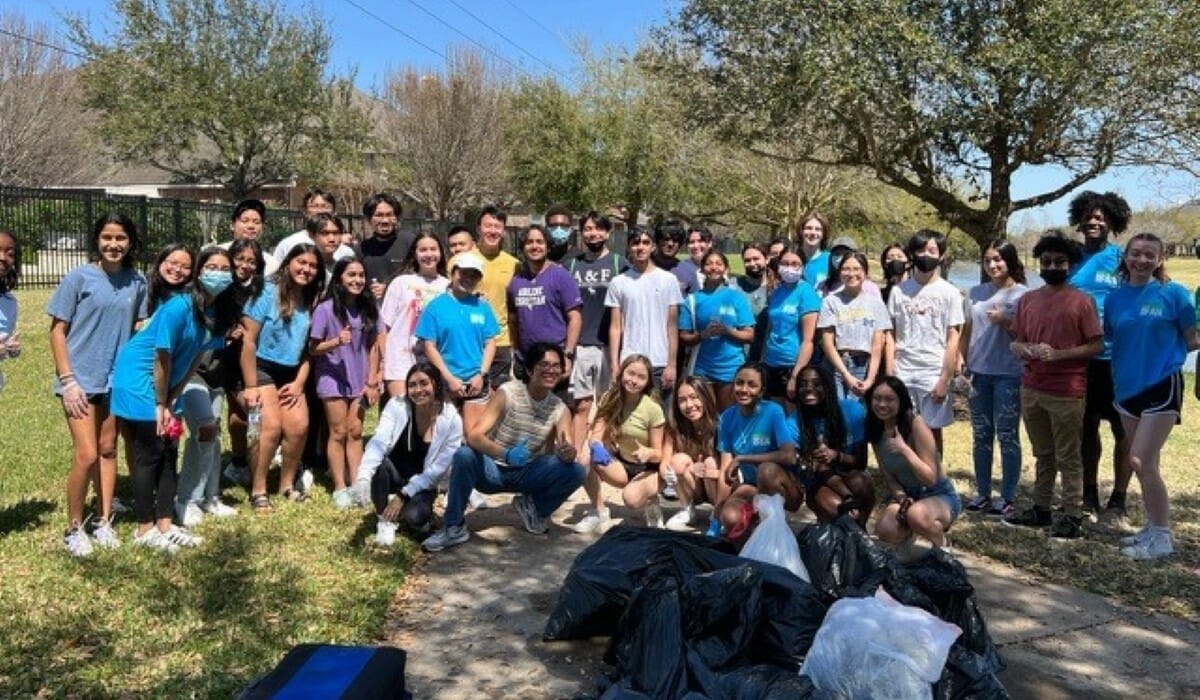 Meet Daily Point of Light Award honoree Anjali Narayanan. Read her story and nominate an outstanding volunteer or family as a Daily Point of Light.
Anjali Narayanan, a soon-to-be senior in high school, is leading young people from around the world in making a dent in the climate crisis. As the founder of Recycle Fan, a nonprofit with 500+ members across 30 chapters globally, her goal is to empower youth to take action in their communities through service, education and advocacy.  
What initially started as a school recycling club has turned into a movement. In the last three years, her group has gathered 2,500 lbs of waste and educated 15,000 people. They organize neighborhood cleanups, plastic-to-art projects, community gardening and composting, material drives and more. They have also implemented multi-stream recycling pilot programs and consulted with businesses, schools and organizations on how to become more sustainable in their day-to-day operations.  
In an effort to promote environmental justice, Recycle Fan has held green town halls with city officials, promoted petitions and partnered with the Texas Environmental Campaign, all while keeping up with brand presence and media outreach to build membership.  
What inspires you to volunteer?
I grew up in a green household with parents who were trying to be healthy and mindful of the environment. We would grow our own food and reduce barcode food – anything processed – as much as possible. We used eco-friendly materials in our everyday life and made our own shampoos, toothpaste, cough syrup medicine, etc. to avoid chemicals. I think this taught me the beauty of nature and how much the earth gives us.  
As I got older, I really wanted to help the environment. And when Hurricane Harvey came along, I knew that was a tipping point. I wanted to make a change. Harvey devastated a lot of the city and its infrastructure. It really affected my city and the people I love. That was the first time I had experienced the climate crisis firsthand.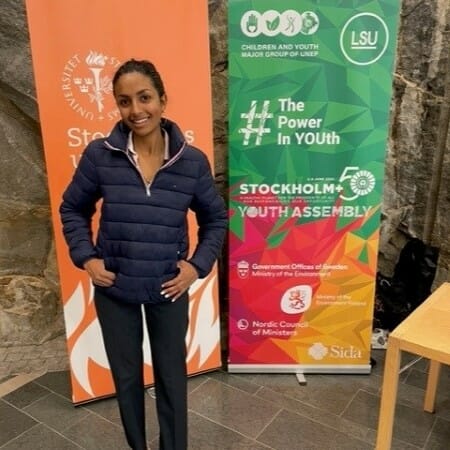 Describe your volunteer role with Recycle Fan.
When I started this, it was just a recycling club at my school, but then we started to expand within our local area with different high schools. All of them started their own clubs, and we would do joint events and summits. When we started posting about it on social media, it got a lot of traction. People from all across the country and even from across the world were seeing what we were doing and wanted to start something similar in their area. 
My role as the executive director is helping different leaders start their chapters and achieve what we did in my community. I also help them plan out events. What may work in one area may not work in another. I sit down with each of the different leaders and we brainstorm for the year what kind of events they can do. If there's a beach nearby, maybe they can do a beach cleanup. Or if they have a bunch of local businesses and restaurants with a farm nearby, they can mobilize a composting stream for them. It really depends on the area, but I really help them plan out what they can do. Then, they take on the role of logistics and executing the actual event. 
What's been the most rewarding part of your work?
The most rewarding aspect is finally feeling like young people aren't on the sidelines anymore, because I can assure you that almost everyone in my generation cares about the environment. Unfortunately, they feel immobile, unable to take action. Even if they do act, they feel like their work isn't worthy or isn't making an impact. The climate crisis isn't just here in the US; it's everywhere. We just have to give youth the resources to make change, because we are all ready to. 
It's rewarding to flip the narrative. The greatest thing we're doing is creating a new generation of people that have this awareness about the environment and who are interested in being environmental scientists, policy makers, etc. 
What have you learned through your experiences as a volunteer?
I've learned how to showcase my passion and direct it in an effective way. We did this through social media. In 2019, we started RFAN. It wasn't successful in its first year, and I was really discouraged. I wasn't sure how to get people to join me and how to plan events. It wasn't organized. As we started posting things online, we immediately gained a hundred members. People are ready to take action, but you have to give them the resources to do so. 
One of the major things I learned about the environment is that when we throw our food waste into landfills, it's mixed up with all the plastic and releases a lot of methane. That's why I really believe in composting and why we're trying to help restaurants and schools do it. The second aspect is multi-stream recycling. Other countries have prominent multi-stream recycling programs where they ask people to sort their waste by material type, and that's not common in the US, where everything is dumped into one recycling canister. A lot of material just gets tossed out to landfills, and it's not very effective.  
Are there any future partnerships, programs or events that you are excited about?
We recently hosted a summit at the first hydroponic farm in Texas, "Moonflower Farms," with distinguished speakers from the UN and the Institute of Art and Technology in Berlin. We gave a tour of the facility to all the kids that came in person. The live stream received a few thousand views. 
This year, we're looking forward to doing a beach cleanup. We also really enjoy building partnerships with local coffee shops and restaurants to help them with their coffee grounds. We're trying to increase the number of restaurants we work with, because there's a farm really close that can benefit. 
At the beginning of June, I had the opportunity to go to Stockholm +50, a UN conference celebrating 50 years since their first environmental conference. There were a lot of political leaders there, like John Kerry. I got to speak at the youth assembly about how I started Recycle Fan and made it a global movement as well as the power of individual action for climate change. 
Why do you think it's important for others to volunteer?  
I think, when we're growing up, we don't realize how much a community or environment helps us flourish. I found out that I had dyslexia at eight or nine years old, and I feel like it's because I have such a supportive community that I've been able to get to where I am today. So I think it's only right to support others by paying it forward. It's important people realize that civic work is a circular system. Whatever you get, you should put back in the system to make sure it's flowing and that younger generations can benefit. 
What are some surprisingly easy changes people or companies can make to be greener?
Wash out your plastic containers before you put them into the recycling bin. And make sure that whatever you're putting in your bin is accepted by your local recycling facility. If it's not accepted, your entire batch of materials will be thrown into landfills so it doesn't affect others. It can make a huge impact.
What do you want people to learn from your story?
Whatever they're passionate about, they should take part in. We need passionate individuals in every field so we're seeing innovation and growth.  
I also think it's valuable to know that when we started off, we weren't that successful. If you're able to get a strong leadership team and find others that are passionate about your cause, it can really help you expand your organization. It's not only the number of members that you have but the depth of your initiative, really making sure it's impactful. I know a lot of people my age are trying to do something that they're passionate about, but they struggle with getting it off the ground.  
Do you want to make a difference in your community like Anjali? Find local volunteer opportunities. 
Share this post