Robotics Champion Siblings Seek to Implement STEM Programs in More Schools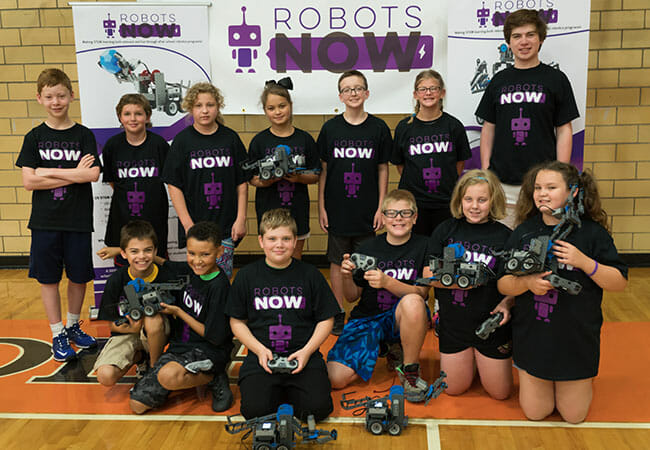 While siblings Gabriel and Chandler Wimmer celebraed their first-place at the 2014 VEX IQ Robotics World Championship in Anaheim, California, something struck them as odd. The competition hosted more than 10,000 teams from around the world, but the brothers were curious why they didn't see more teams there – given that there are tens of thousands of elementary and secondary schools in the United States alone.
"We were kind of curious why we didn't see more robotics teams there, so we did some research and found that only 15 percent of high schools in the nation have after school STEM activities. That's not even robotics, that's just STEM in general," Gabriel said. "We were kind of appalled by this, and we found ourselves really fortunate to be a part of that small percent that did have robotics programs, and we wanted to help make robotics, and all the benefits of it, available to everyone else."
With the help of their father and some crowdfunding, the brothers started RobotsNOW, and nonprofit that works to incorporate STEM programs into schools through helping develop robotics curriculum, sponsoring robotics clubs and hosting free camps over the summer. Currently, RobotsNOW is working to supply three elementary schools and a middle school with full-fledged robotics labs. These labs will include laptops, robots, software, and instructional materials that Gabriel and Chandler will help set up and configure.
With an emphasis on working and learning together, the Wimmers have made making a difference a family affair with RobotsNOW. The brothers don't have defined roles in the day-to-day responsibilities for the organization, so they tend to split up the work as it comes along – each playing to their own skills. Chandler, 13, often instructs the week-long camps. Gabriel, 17, maintains the website by writing blogs, content and editing videos. Their younger brothers pitch in as well, and with the help of their father both boys have a hand in RobotsNOW crowdfunding efforts.
"It really does help to do a nonprofit as a family because you can really learn," said Chandler. "Obviously I don't know much about crowdfunding but someone like my father or my older brother does, so we can accomplish much more because we all have different skills, and you can learn so much along the way."
Gabriel and Chandler love to see when kids' perspectives of math and science change after they are exposed to their STEM programs. "When we first start the camps, we like to ask 'have you all done anything with robotics before?' 'What do you all think of science and math?' and one of the most impactful reactions we received from one of the students was this little girl," Gabriel said. "When we asked her what she thought of science and math, she was like 'I don't like it, I'm no good at it,' but after the progression of our course, she was one of the best students. It's really just the reactions we receive from the students after the camps, and even during them. It really excites them, and after the camps are over they all come up and they're like 'are these camps going to continue?' They just love it."
Share this post