Alabama Entertainer Mentors Next Generation of Musicians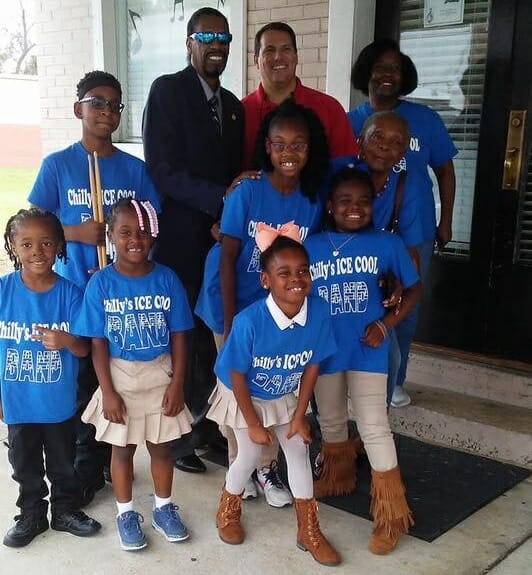 Hospitalized during an extended illness, Stan "Chilly" Cooks says prayers led him to give back to his community, through his passion for music. A touring musician and entertainer who's opened for the likes of James Brown, B.B. King and Natalie Cole, Stan decided to devote his time, musical talent and attention to his small hometown of Union Springs, Alabama. Founding "Chilli's Ice Cool Band," Stan hoped to ignite a spark of musical interest amongst children in the community which could teach real skills, and eventually lead to possible opportunities including musical scholarships for a college education. Stan, who was the trumpet section leader and drum major while a student at Alabama State University, works tirelessly to made a difference by teaching his talents to many children in community, and is today's Daily Point of Light Award honoree. Points of Light spoke with him to learn more about how he's giving back.
How did you decide to use your passion to help others?
In 2004, I got sick, and it was a strange illness because it kept me hospitalized for the better part of three years. I had an infection on my hip and they had to do surgery. I was a touring musician, I'd opened for James Brown, B.B. King, Bobby Blue Band, Natalie Cole, Roger & Zapp Band, Little Milton, Gwen McCrea and more, and couldn't do any work while I was sick. While I was laying in the hospital, I did a lot of praying. And I promised God, I said, "If you get me out of this mess, I'm going to go back to that little town and I'm going to do something nobody's ever done before." A friend helped me to secure a $3,000 grant from the Black Belt Community Foundation, and out of that grant, I started a band. We went to every pawn shop available, and bought any instrument we could find – you can't buy new instruments for $3,000. I bought $25 trumpets, some people donated instruments. We grew from four members that first year, and now today, we have 38 people in our program, ages 4 to 15.
You're not just teaching kids how to play music, you're inspiring them to be better citizens. Explain.
My main objective is to create responsible, tax-paying citizens. So they've got a pledge that they all learn: I pledge to honor and uphold all rules of Chilly's Ice Cool band, to always give my best effort in everything I do. To study hard, play hard, exercise hard and perform hard too. To respect my elders at home and about, and always remain Ice Cool throughout. In any situation—if you're going to remain 'Ice Cool—you can't be fighting, cussing, all that belligerent stuff.
How is your volunteerism changing your community?
The school systems weren't putting as much emphasis on performing arts as they were when I was growing up, When I was growing up, everyone had a band. Now the schools have taken band, choir, performing arts, and put them all on the back burner. They're raising children now where everybody thinks they're going to be an NBA star or a NFL football player…but knees, ankles give out. Your body wears out. But if you get music in there, I don't care how old they are, or if they're unemployed, there's always going to be a church or something that's going to need a musician. I just wanted to give them something, so I started my high school band. Our program is free, the instruments are free, uniforms are free – although we're still trying to get better uniforms, so I got them wearing baseball jerseys now. We have an in-house tutor who helps them with their homework, we encourage them to give their best effort in everything they do.
What's your message to those people out there with teachable skills?
If you know something needs to be done, if you know how to do it, pass it on. If you pass it on, you get blessings.
Do you want to make a difference in your community like Stanley? Visit All For Good to find local volunteer opportunities.
Share this post