After a fire ravaged a forest near his community of Grants Pass, Ore., in 1988, longtime volunteer Ross Roe had a moment of inspiration. Why not recruit Boy Scouts to help replant the trees? The youngsters would learn the fundamentals of tree planting, and the forest would benefit from the good deed.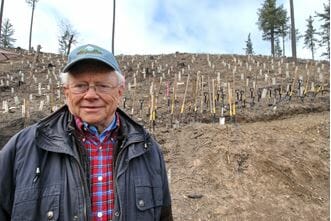 The county forestry department liked the idea – as did the community – and the 1989 event was a success.
In the years since, Roe's project has evolved into the annual Josephine County ReTree Plant, a three-day event during which local school children from grades three to five plant an average of 5,000 trees in county forests. Roe and almost 20,000 student volunteers have planted 75,000 ponderosa pine and Douglas fir seedlings across 75 acres in southwestern Oregon.
Roe, who owns a car dealership in Grants Pass, says he was inspired to start replanting forests by the work of the late Frank Lockyear, a fellow Oregonian and founder of ReTree International. (Lockyear won the 118th Daily Point of Light Award in 1990, when his organization had planted more than a million trees worldwide.)
At age 85, Roe devotes himself full time to the ReTree Plant. The event is held each February, and Roe has been present for every planting, even last year, when he was hindered by a heavy cast due to a broken leg.
"It's a great program, and I think it's very important, especially here in Oregon, where forestry is still the number one industry," says Roe.
He sees two major benefits to the event: "First, we're maintaining sustainable forests, meaning we plant more trees than are harvested. Second, we're educating kids. Many of these students may end up working in forestry, and we're giving them their first lessons and hands-on experience at a young age."
Roe partners with the Josephine County Forestry Department – which provides the seedlings and digs the planting holes before each year's event – and the public schools, which provide buses for the kids to and from the work area.
Before planting, the students receive a 45-minute orientation presented by professional foresters. As an added attraction, they are taken on an old-fashioned hayride in antique tractors to the planting site.
"That's another purpose we're serving: fun," says Roe. "Most of our schools can no longer offer field trips because of budget cuts. The ReTree Plant offers students a fun outing at no cost to the schools. The kids love it. They come back covered in mud, saying they never had so much fun."
The students – 1,000 over three days – each plant five seedlings. Of those five, one is tagged with a student's name and the year he or she planted it. Many students return year after year to check on the progress of their trees. (See a short video of this year's plant here.)
Community involvement was a big part of Roe's life well before he created the tree-planting event. While working for a car dealership in Moline, Illinois, in 1964, Roe helped found the Niabi Zoo in nearby Coal Valley. In 1969, while living in Michigan, he helped create the International 500 Snowmobile Race, a 500-mile race patterned after the Indianapolis 500. Decades later, both the zoo and the race are still thriving.
Share this post