Scoring Success and Smiles with Special Needs Kids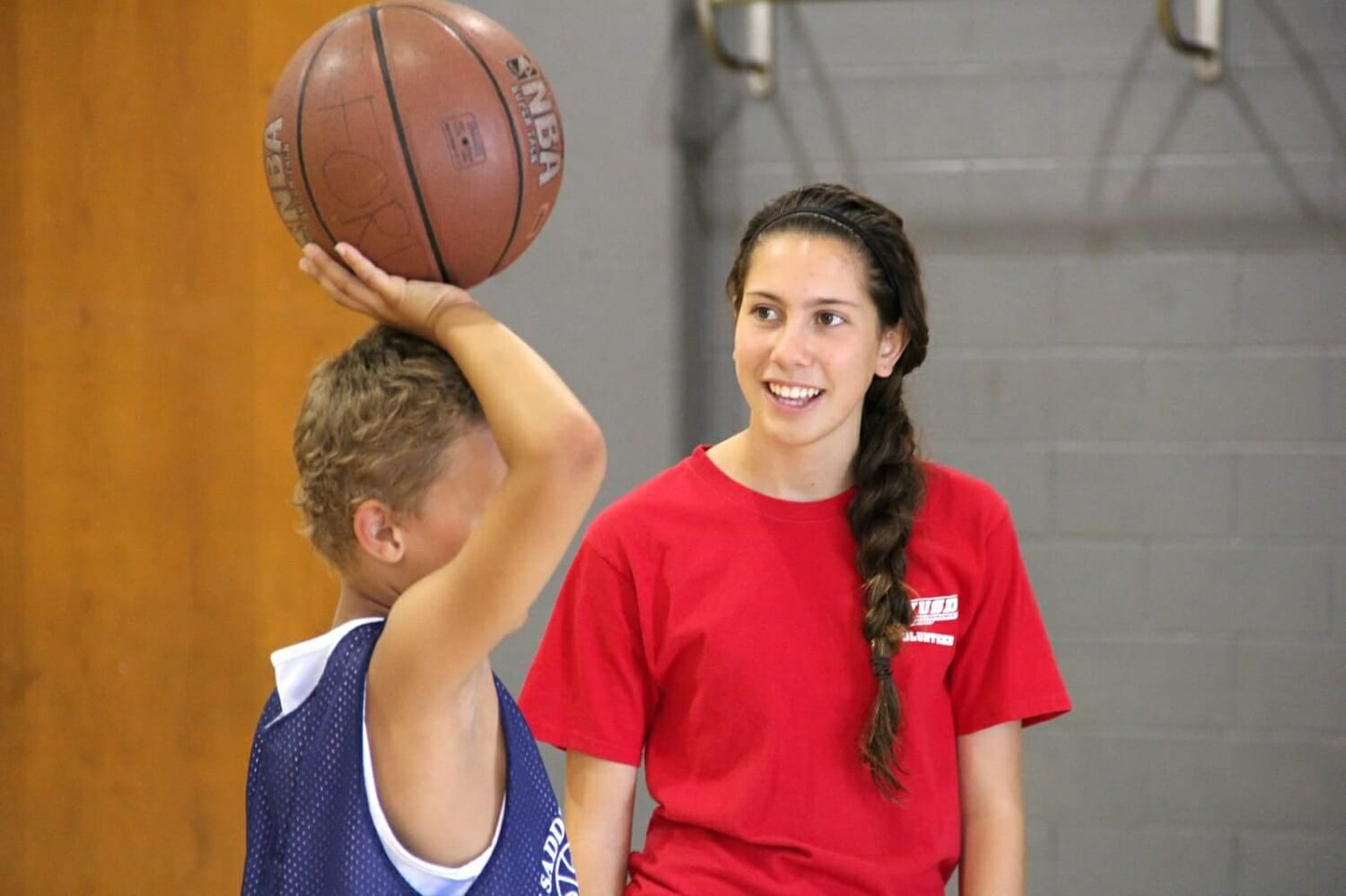 Ieneke Jimenez, 17, has always put the emphasis on special with special needs children. Two of her three older brothers cope with disabilities, so she saw firsthand at a very young age the challenges they faced. She also saw the impact that the support of others made in their lives, a realization that started her passion for volunteering when she was just five years old. Ieneke started working with Special Olympics at that early age, and her love of volunteerism has only intensified. Ieneke's main focus is helping kids with disabilities feel like winners on the basketball court. As a volunteer with Shooting Stars, a local special needs basketball league, Ieneke has spent more than 400 hours since 2009 helping these special kids achieve success and joy playing a game that might have seemed out of their reach. Her specialty is working with new, timid players, and reassuring their parents concerned about their child's feelings and self-esteem. Ieneke wants two things for her young charges: for them to know they can do anything they set their mind to, and for the outside world to support and accept them into everyday life. She feels so strongly about this mission that Ieneke has decided to become a teacher and make her love for this important segment of the population her life's work.
Ieneke is committed to making a difference in her community and she is today's Daily Point of Light Award honorees. Points of Light spoke with her about her commitment to service.
What inspires you to volunteer?
I have been volunteering my whole life, and the joy of helping someone to do something no one ever thought they could do is what inspires me to volunteer.
Describe your volunteer role.
In Shooting Stars, my volunteer role is to help kids and adults with disabilities to play a competitive game of basketball. I am a one-on-one volunteer, which means I focus on one player at a time to him/her participate in the game, get down the court, dribble, pass, and make a basket. I also created an option in my local California Scholastic Federation chapter to earn their community service hours through volunteering with Shooting Stars. I am in charge of attendance reporting and training of all volunteer participants.
What's been the most rewarding part of your work?
The most rewarding part of volunteering has been seeing the basketball players' faces light up when they make their first basket and hearing all the parents cheer for them. It has also been when a parent thanks me for helping their child do something they didn't think they would be able to do. That is amazing!
What have you learned through your experiences as a volunteer?
I have learned that volunteering is the best thing you can do with your free time, and that volunteering does not always have to take place in a volunteer setting. There are opportunities all around us to help others and make a difference.
Your volunteer service hits close to home as you have brothers with special needs. How did this influence your choice?
Growing up with disabled brothers has given me special insight into how I view people with disabilities. I see them as individuals with feelings and emotions that are important and should not be disregarded. I have also seen how the help and kindness of others made a huge impact in my brothers' lives, and that definitely influenced my choice to spend my free time volunteering.
Are there any future partnerships, programs, or events that you are excited about?
In the near future, I am excited to be getting back with the unified sports club at my school and helping other students with disabilities learn how to play sports. I'm also looking forward to the upcoming Shooting Stars basketball season. Over the years, I have watched many players grow up and grow in their confidence and skills. It is always fun to see who returns and the excitement they bring. In the distant future, I am looking forward to becoming a teacher and incorporating disabled students into my classroom to give them the opportunity to thrive in a typical setting.
Why do you think it's important for others to give back?
It is important to help transform and improve your community for the better so that future generations can live in a world that is better than ours. We all have something to give, and there are many people who can benefit from the kindness and support we can bring into their lives.
What do you want people to learn from your story?
I want people to learn that you should volunteer out of the kindness of your heart. Volunteering fills your spirit and brings so much joy. It is an unbelievable thing to be making a difference and at the same time get so much personally out of the experience. I hope people are inspired and look for ways they can volunteer.
Do you want to make a difference in your community like Ieneke? Visit All for Good for local volunteer opportunities.
Post written by Beth A'ddono
Share this post