"Scrappy" Volunteer Helps Forgotten Animals at Arizona Ranch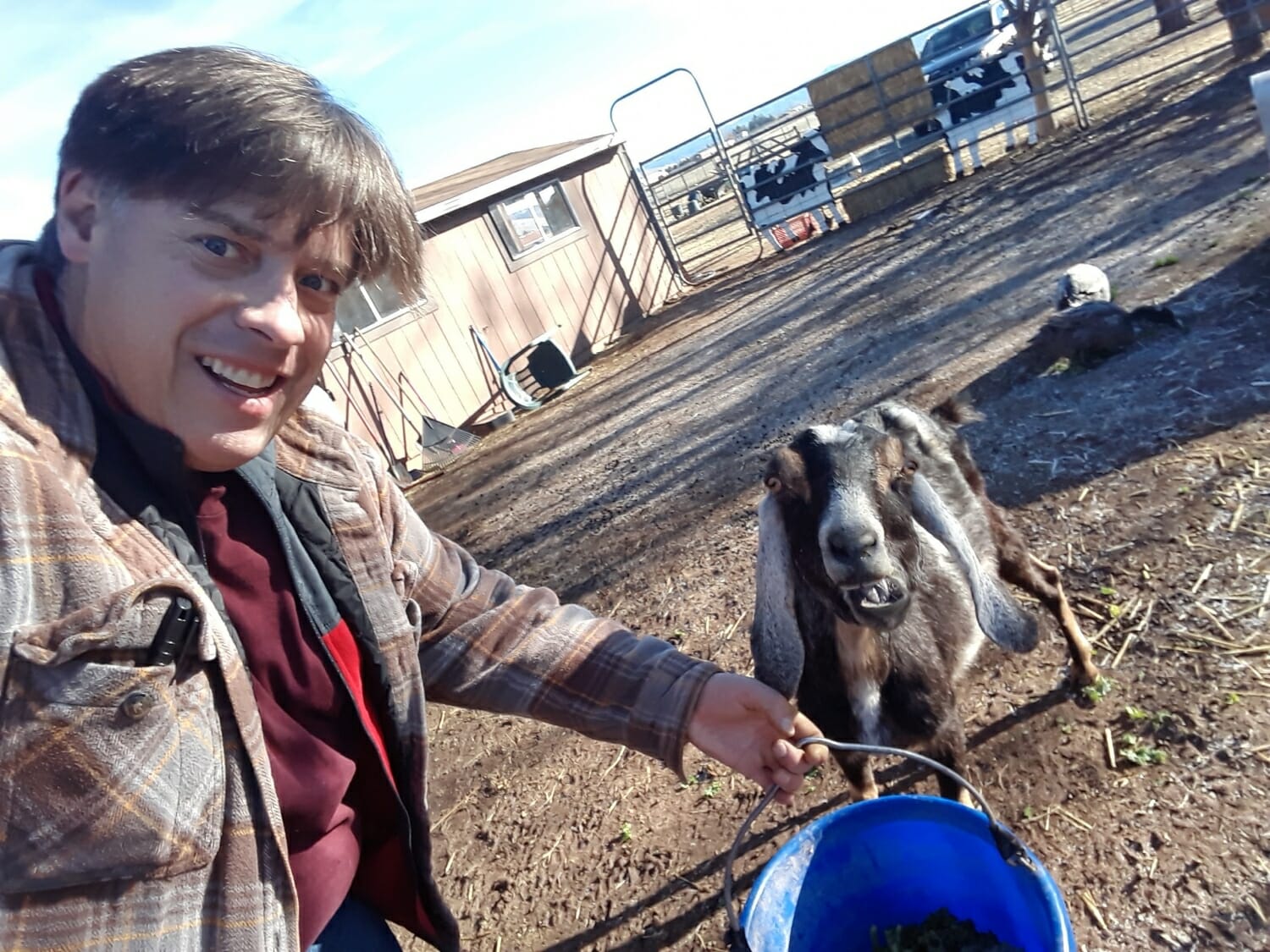 Ryan Stringham loves animals of all kinds, and because of his "scrappy" efforts, he's helping to feed and care for the neediest of animals.
At the Circle L Ranch Animal Rescue & Sanctuary, the 44-year-old Prescott, Arizona resident has seemingly found a sanctuary of his own. Volunteering since 2017, Ryan finds solace helping the various animals whose literal last hope is the ranch. Often on "kill lists", the dogs, horses, sheep and more are sometimes a day away from euthanasia when saved by Circle L Ranch, whose mission is to protect, honor and serve animals of all kinds. Whether not suitable for adoption, or given up by individuals unable to care for them, Circle L Ranch relies on volunteers to share their love and time with the animals, Ryan being counted among their most dedicated. In addition to volunteering his time, Ryan gathers scraps for the animals from Natural Grocers in Prescott, seeks donations from the community and helps to facilitate adoptions for animals at the ranch.
Raising over $6,000 in 2018 and gathering over 1,000 pounds of donated produce each month, Ryan, who by day is a behavioral health tech for children in a group home, is today's Daily Point of Light award honoree. Points of Light spoke to Ryan to learn more about his work with Circle L Ranch.
What inspires you to volunteer?
I've always been around animals. I wanted to give back to the community, and also, the animals themselves are therapeutic for me. Circle L has over 200 animals, sheeps, goats, horses, donkeys. You can get your animal fix at the ranch.
Describe your volunteer role with Circle L Ranch.
I drive around for scraps to feed the animals, we receive donations from a local grocer. I use Facebook to find area companies, and I'll ask them for donations for Circle L. I also help to put on adoptions for some of our animals so that they can find their forever homes.
Tell me about these scraps. What do the animals eat?
They eat everything that Natural Grocers sells that they don't use. All organic vegetables and fruit, including lettuce, kale, tomatoes, watermelon, apples. The favorite scrap that everybody will take is carrots. That's the one, even the picky animals will take the carrots.
How has volunteering with animals changed you?
It gives me a change from outside life, a break from other stuff going on in life. I'm able to give back which makes me feel good. Lastly, it's calming to be around animals, and personally gives me a reset.
Why do you think it's important for others to give back?
Circle L is a non-profit, and so they need as much help as they can get. I'm one of many giving my time to help the ranch. Volunteering, you're not just giving back, but it makes you feel good, and you start expanding your horizons. You get to meet more people that you normally wouldn't have met. You open up another community.
Who is your favorite animal at the ranch?
Personally, the one that has had the most impact is Norm. He's a therapeutic horse who lives at the ranch. At one point, I was bringing disabled clients I work with to the ranch, including a 4-year-old autistic boy. The boy really connected with Norm, and he was able to laugh in the moment with Norm. Norm still lives at the ranch, but he's not wandering around like he used to be. Everybody knew him, he was kind of a celebrity.
What future events do you have coming up that you're excited about?
Please check the Circle L Ranch for more information about events, and how you can help: http://www.circlel.org/new-event.
Do you want to make a difference in your community like Ryan Stringham? Visit All For Good for local volunteer opportunities.
Post written by Marlena Militana.
Share this post