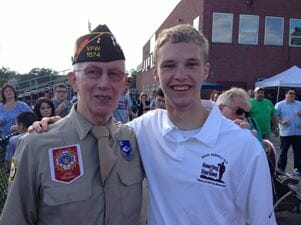 At age 5, Sean Egan lost his father, a New York fire captain, on 9/11. As a teenager, he came to appreciate how veterans, too, risked their lives for the well-being of others.
"I believe in the American way of life," says Egan, 18, a senior at Monsignor Farrell High School on Staten Island. "The 9/11 attacks helped to unify our country, but a lot of people were and are afraid that it could happen again. I believe the reason it hasn't happened again is the dedicated work of our servicemen and women, and I wanted to do something to honor and support them."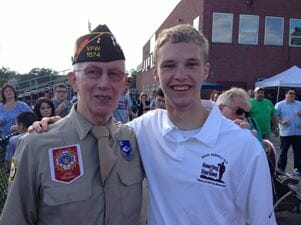 After paying an informal visit to a veterans' hospital in late 2011, Egan felt drawn by the veterans' stories and their reaction to him – happy that someone cared enough to listen. He launched Hearing Our Heroes at his high school, and recruited 100 members in a year. Today, Hearing Our Heroes has 200 active members from Monsignor Farrell and another 100 from other Staten Island high schools.
By hosting fundraising events such as bake sales and clothing drives, the group has raised more than $35,000 in cash and in-kind donations, and a won a national grant from State Farm for $25,000.
Along with making regular visits to Veterans Affairs hospitals and Veterans of Foreign War posts, Hearing Our Heroes volunteers operate a snow shoveling service in the winter and a yard work service in the summer to help Staten Island veterans who are unable to tend to those chores because of advanced age or disabilities.
In 2012, 19 Hearing Our Heroes volunteers traveled by bus to Washington, D.C., to visit injured veterans at Walter Reed hospital.
This past summer, Hearing Our Heroes won national media attention for its outreach to the Akbar family. Army Private Rasheed Akbar was deployed in Kuwait when one of his daughters was diagnosed with cancer. He was able to return to the U.S. for only three weeks while his daughter had surgery. When his tour of duty was finally complete, Hearing Our Heroes threw a welcome home party for Akbar and his family at Staten Island's Fort Wadsworth and revealed that the group was sending the entire family on an all-expenses-paid trip to Disney World.
As Egan looks ahead to attending college next year, he and his fellow volunteers are training younger students to keep Hearing Our Heroes active at Monsignor Farrell High School, but he also wants to see the group expand.
"There's no doubt that wherever I go to college, I'll start the program there," says Egan, who will join fellow volunteers to host a Veterans Day luncheon at a V.A. hospital in Brooklyn. "Groups like this should be everywhere."
Share this post