Senior Sews Items for Premies Using "Threads of Love"
Jackie McPheeters says empathy is what led her to Threads of Love, a national organization that provides clothing, blankets and other handmade articles for tiny premature and sick infants.
Nearly two decades ago, the now 80-year-old Placentia, California resident had retired from a career in the pharmacy industry, but still wanted to help others. Responding to an ad in the newspaper, Jackie learned she could sew items of comfort for premature babies fighting for their lives and their families. Today, as the Orange County Director for Threads of Love, Jackie and other volunteers make everything from items that help babies bond with their parents, covers for their isolettes, to burial gowns.
Handcrafting items for infants being treated in neonatal intensive care units across 16 Southern California hospitals, Jackie is supporting the tiniest members of her community, and is today's Daily Point of Light award honoree. Points of Light spoke to Jackie to learn more about her volunteerism with Threads of Love.
What inspires you to volunteer?
I volunteer because I understand the impact we're able to have. We've helped thousands of babies and their families in the years I've volunteered with Threads of Love. I've learned to accept the struggles of these families, I don't judge what they're going through. I've gotten so much out of this organization that has helped so many.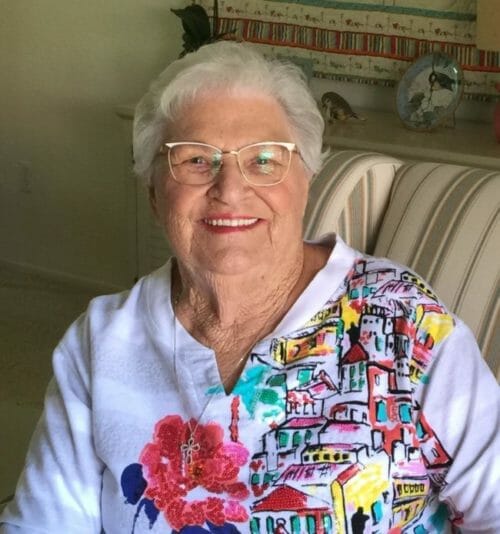 Describe the idea of "scent bonding" and your Lovie Dolls.
We make Lovie Dolls which are given in pairs to the preemie baby and the child's mom and dad for scent bonding. Oftentimes, these babies are in isolettes and sometimes can't be touched, they're so sick. The doll can be slept with, and then swapped out so that the baby picks up the scent of its parent, which calms and reassures the infant. When the mother picks up the baby's scent, it helps bring her milk in. This scent bonding helps to connect baby and parent – I've seen the telemetry quiet right down when the baby gets that Lovie Doll back from its mother or father.
How do these handcrafted items help struggling parents and babies?
When a parent is faced with the death of an infant through miscarriage, infant death or stillbirth, we provide them with a packet containing a sewn and crocheted bonnet, dress, blanket and a prayer for healing of a broken heart. We have a vest for the babies made of velcro, which makes access easier for medical professionals, but allows parents to look past the tubes and wires attached to their baby. Our over 50 volunteers, mostly senior citizens, cut, sew and crochet items made with love and compassion during this time of uncertainty.
Share one personal story with me from your volunteerism.
I don't generally go into the NICUs, but this particular parent wanted me to see their baby. They loved the Lovie Doll we'd made, but they didn't see any difference in their baby's condition, and the parents didn't smell the baby on the scent pad yet. I told the mother to keep putting the pad in her shirt and also have the baby's father do the same so the baby could smell both parents. Afterwards, the nurses came over and tucked the baby in with the Lovie Doll, and sure enough we saw telemetry quiet right down. All three of us were crying. Just to see the Lovie Doll work that one time meant everything to me.
Are there any new innovations you are working on for your volunteerism?
We made over 13,000 pieces for premature babies and their families last year. We recently developed an eye shade for the tiniest of preemies. These babies stay in a special unit with no lights or sound, and they must be kept in total darkness. We make the shades out of specific fabric that is ok for the baby's sensitive skin, and allows medical professionals to still evaluate the baby. One of the hospitals we work with asked us to come up with an item like this, so I designed the shade and made samples.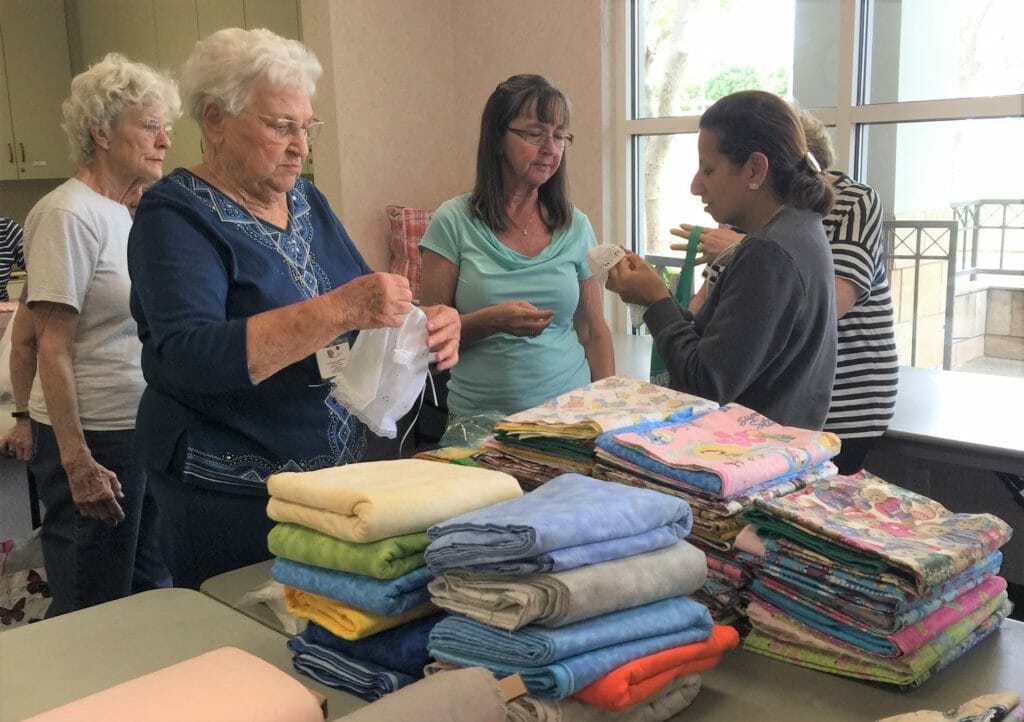 Your volunteerism doesn't just involve babies. Share an impactful story of how you've helped others in your community.
For many years, I drove to a Navajo reservation in Klagetoh, Arizona with my van loaded up with food and clothing, warm blankets and linens, giving back through the Yorba Linda Women's Club. One year, before Halloween, my dental hygienist gave me cases and cases of travel-sized toothpaste and toothbrushes and we handed those out for Halloween. This little child had been in line for hours waiting for a tube of toothpaste and toothbrush. Once he got to the front, he asked if he could get in line again for his siblings, because all six children shared one toothbrush.
How can readers help Threads of Love?
Contact Jackie for more information about how you can help: http://threadsoflovesouthoc.org/contact-us/.
Do you want to make a difference in your community like Jackie McPheeters? Click here to for local volunteer opportunities.
Share this post