After Experiencing Online Abuse, She Empowers Victims to Take a Stand
Meet Daily Point of Light Award honoree Holly Jacobs, who was a Top 10 finalist for the L'Oréal Paris Women of Worth Award in 2018. Each year L'Oréal Paris and Points of Light recognize and celebrate Women of Worth who make a beautiful difference in their communities. Ten honorees each receive a $10,000 grant to support their most cherished cause, and an online vote determines one honoree who will receive an additional $25,000 grant. Nominations for 2019 are now open! If you know a woman who works to create lasting and significant change in her community, nominate her to be one of the 2019 Women of Worth.
"I'm a smart, driven woman. When this happened to me, there was no one to help me. I was tired of running, of hiding. I saw thousands of other women becoming victims of revenge porn," said Holly Jacobs. "Nobody was speaking up. Why shouldn't it be me?"
Holly's life was turned upside down when nude photographs of her surfaced on the Internet in 2011. The explicit images had been privately shared with someone she had been in a relationship with and were posted without her consent. Her contact information was included alongside many of the pictures. Holly's first instinct was to run and hide from the world, but instead she chose to fight back—for herself and other victims of nonconsensual pornography, also known as revenge porn.
In 2012, Holly launched the End Revenge Porn campaign, which started as an effort to gather signatures in favor of creating a federal law against NCP. Her initiative evolved into the Cyber Civil Rights Initiative, a 501(c)(3) nonprofit organization serving thousands of victims around the world and advocating for technological, social and legal innovation to fight online abuse.
When she was victimized, Holly was desperate for resources, but none existed. She realized that other victims, the vast majority of who are women, needed legal representation, an affordable takedown service, mental health services and a support network. To meet these needs, Holly has focused the work of Cyber Civil Rights Initiative on four core program areas: Victim Services, Public Education and Research, Tech Outreach and Consulting, and Legislative Support and Legal Research.
In 2014, through the Victim Services program, Holly launched the CCRI Crisis Helpline, which is available free of charge, 24 hours a day. Through the Public Education and Research program, Holly took on the Herculean task of traveling the world to educate university students, domestic violence providers, city officials, and the general public on the issue. This involved telling and retelling her story hundreds of times, a courageous decision that came at great emotional risk and toll.
In 2017, the Cyber Civil Rights Initiative Crisis Helpline served 2,609 callers. Since Holly established the helpline in 2014, it has served an average of 100-200 victims of nonconsensual pornography or online harassment per month.
Holly has presented widely, including at Harvard University; the National Network to End Domestic Violence; major tech companies including Facebook, Twitter, Google, Microsoft and Yahoo; the Privacy and Data Protection Conference in Brussels, Belgium; the University of Miami School of Law; and George Washington University Law School.When she first became a victim of revenge porn, Holly felt alone. That is no longer the case thanks to her tireless consensus building and community outreach. Cyber Civil Rights Initiative's leadership is made up of attorneys, law professors and community influencers who have been critical in accomplishing its mission.
In fact, it was through connection with law professors and members of the community that CCRI found its home and headquarters at the University of Miami's School of Law in 2015. Through this partnership, CCRI has not only gained an office space to continue its important work, but also access to invaluable university resources that help drive its mission forward. These resources include an endless pool of law students eager to volunteer for the cause and apply what they learn in the classroom to the world outside of it.
Adaptability and vigilance are critical to Holly's work because technology is constantly evolving and predators are always finding new ways to exploit victims. Cyber Civil Rights Initiative collaborates with tech companies to test technology that prevents images from being posted on their sites and refine takedown policies, as well as encouraging them to work with legislators. Additionally, the Cyber Civil Rights Initiative Crisis Helpline is the only helpline in the country dedicated specifically to the needs of nonconsensual pornography victims.
Holly believes that partnering with tech companies to develop design-based solutions is vital to stemming the tide of abuse. Cyber Civil Rights Initiative serves as a Trusted Partner on Twitter's Trust and Safety Council and works closely with Facebook, advising it on everything from the reporting tools it implements to enable expeditious removal of nonconsensual pornography to Help Center articles and advertisements that educate Facebook's community about this issue and direct victims to support.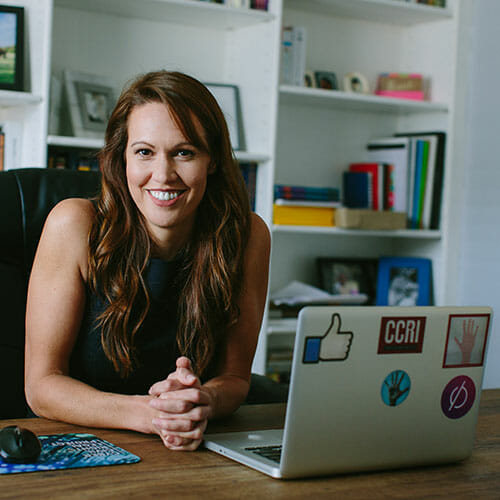 In addition to her partnerships with Facebook and Twitter, Holly has also collaborated with companies across the tech industry to develop and implement policies and procedures against nonconsensual pornography, which were announced in 2015 alongside Cyber Civil Rights Initiative's Online Removal Guide.
According to a nationwide study at Holly's alma mater, Florida International University, one in eight social media users have been targets of nonconsensual pornography, and women are 1.7 times more likely to be targeted than men. The data resulting from this first ever national study of nonconsensual pornography are a critical tool for public officials and community leaders trying to craft policy and outreach surrounding nonconsensual pornography. When Holly was first victimized, only three states in the United States addressed revenge porn. Now, thanks to her efforts and her work with Cyber Civil Rights Initiative, laws can be found in 43 states and the District of Columbia.
Every step of Holly's journey has been through uncharted territory. In 2012, the general public was uninformed about nonconsensual pornography, so education was her first priority. She not only had to face down her personal trauma, but also tell the story of that trauma to thousands of people, something she continues to do to this day.
Everything about Holly Jacobs is extraordinary, according to Dr. Mary Anne Franks, a law professor at the University of the Miami School of Law, who now serves as president and the legislative and tech policy director for CCRI. The two met at the beginning of Holly's difficult journey, and Mary Anne was blown away by her determination and courage.
"I had never met a victim of revenge porn personally," said Mary Anne. "Holly's narrative was so compelling. She was being told what happened to her wasn't a crime, that it was her fault. She said to me, 'We have to change the law.' And she stopped at nothing to do that."
Share this post