Maryland Woman Shares Love for Children by Helping Critically Ill Kids and their Families
Critically ill children and their families sometimes face seemingly insurmountable challenges as they fight for good health, which is why Tammy Conner has dedicated her time to provide ongoing support for sick children and their families through the Casey Cares Foundation.
A former federal employee, Tammy knew she wanted to help others once she retired. When that day came, she decided to focus her energy on a demographic closest to her heart: children. The Rosedale, Maryland resident volunteers hundreds of hours each year to help support sick children and their families year-round. Through planned events, program initiatives and even special requests – Casey Cares keeps families' spirits high, and helps critically ill children and their families create lasting *good* memories during what is otherwise a stressful and complicated time.
Touching the lives of hundreds of children over the last five years through her service, Tammy is bringing joy to families that are going through some dark times, and is today's Daily Point of Light award honoree. Points of Light spoke to Tammy to learn more about her volunteerism with Casey Cares Foundation.
What inspires you to volunteer?
In my family, children have always been the priority. My whole family just loves kids, so Casey Cares was an organization I was drawn to because of how they provide assistance to children and families on a consistent basis. In helping sick children and their families – I'm reminded every day how fortunate my family is that we have our health, and how lucky a lot of us are.
Describe your role at Casey Cares Foundation.
I manage the new applications for foundation candidates that we receive from social workers or doctors. We also help families renew with the program if they'd like their children to stay involved and continue to receive benefits and opportunities. Also, I assist at events for Casey Cares. We hold major fundraisers including 5Ks, galas, and I also represent the foundation at family events. Casey Cares tries to make life just a little bit easier for very sick children and their families, and they will do anything for anyone.
Describe how your service doesn't just help the sick child, but the entire family.
I was drawn to Casey Cares because they focus on the child and the family of the child. We have a program that provides comfy pajamas to sick children to wear in place of hospital gowns while being cared for, and if that child has siblings – say four brothers and sisters, when we send pajamas, we send them for all of the kids. In helping these sick children create some good memories during tough times, we're able to send them to special shows and events. For example, the entire family will go to see Disney on Ice. It's not just the child struggling through illness – it's the entire family. Casey Cares makes sure everyone involved feels special and receives some extra attention during this difficult time.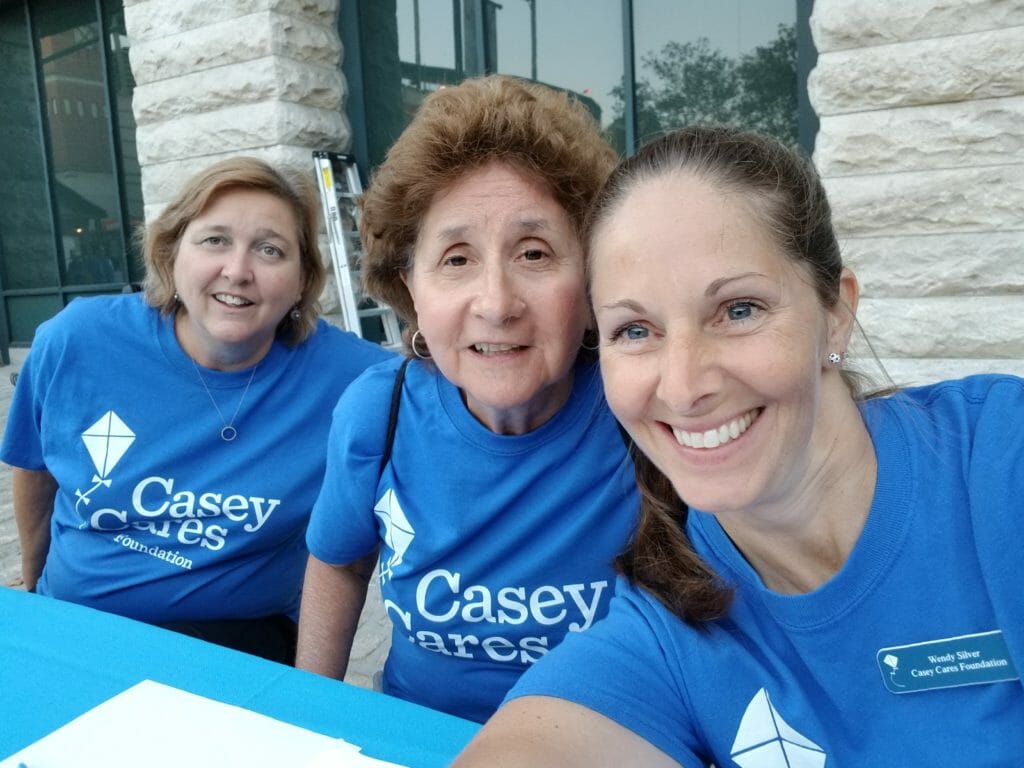 Share one personal story with me about your volunteerism.
A family once called us and explained that their granddaughter was sick, and was being treated at The Johns Hopkins Hospital in Baltimore. The grandmother had sole custody of the child, but had to go to work for the day, and asked if we had anyone to sit with the child for a few hours as she went through some testing at the hospital. I live about two miles from the hospital, and so I volunteered to go hang out with the girl. Her room buzzed with doctors and nurses coming in and out all day. What struck me most was how grown up and mature this girl was. Kids who are incredibly sick are often so mature and knowledgeable about their illness. I was so in awe of that kid that day, the experience was eye-opening. It made me realize what parents and sick children are going through.
Describe what it feels like to volunteer for critically ill children and their families.
By contributing to people's lives, I feel like I'm doing something very important. Personally, I enjoy seeing the results of my efforts – and to know that a family is having a good time or their day is better because I helped in some way is really powerful.
What would you like to tell readers about your service?
Volunteerism brings out something in you that you might not have even known existed. Even if you help a month, a week, or an hour – there are many people out there that will benefit from even a small amount of your time, and they're very appreciative. Your service makes everyone feel good, including yourself.
Do you have any upcoming events that you are excited about?
The Casey Cares Rockfish Tournament is coming up May 31st in Stevensville, Maryland. This annual event is a day of fishing and an evening of fundraising and celebrating. For more information or to see how you can help, please visit the website: http://caseycares.org/events/annual-casey-cares-rockfish-tournament.
Do you want to make a difference in your community like Tammy Conner? Click here for local volunteer opportunities.
Share this post