Serving at Mobile Health Clinics, Retired Nurse is Dedicated to Helping the Medically Underserved
During National Volunteer Week, we celebrate the impact of volunteer service in our communities, and recognize extraordinary individuals who are at the center of social change – like Daily Point of Light Award honoree Linda Horne. Read her story and nominate an outstanding volunteer or family as a Daily Point of Light.
After a 30-year career as a nurse, Linda Horne wasn't ready to stop serving her community. In her retirement, Linda has dedicated her time to helping thousands of patients receive access to medical care at no cost. From working alongside the Health Wagon, to participating in other Remote Area Medical events and health fairs across southern Virginia, she uses her professional skills and passion for helping people to change lives.
Linda has served more than 10 years as a volunteer with the Health Wagon, a nonprofit organization that provides mobile health services to the medically underserved. It takes all year to prepare for the annual arrival of the Health Wagon clinic in her community of Wise County, and Linda is responsible for contacting and mobilizing doctors to participate. Doctors, nurses, dentists and optometrists come from across the United States to provide medical care to those in need. Patients also travel great distances to receive care, and will often camp near the event to ensure an appointment.
She fundraises year-round for this event, which is put on in partnership with Remote Area Medical. During the clinic, Linda personally collects and distributes food to patients waiting to receive medical care. For many of the people who attend, this is the only time each year that they are able to see a medical professional, and Linda has met several patients who received a diagnosis just in time to prevent life-threatening health issues.
A simple surgery can cost up to $1,000 or more for people who don't have access to health insurance. Linda often meets individuals who are struggling with medical problems, and who believe they will never be able to afford the care they need. She finds joy in being able to refer them to doctors in the RAM network to receive life-changing medical care, free of charge.
"I know I can still give back and use my skills from my past to help people now," said Linda. "I want people to know that they can be helpful and respectful, especially to those who don't have money or resources."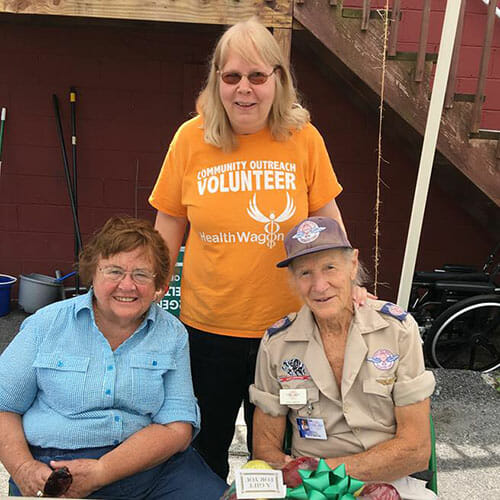 THE DIFFERENCE SHE MAKES
As a fellow member of the Health Wagon, Alana Yates has witnessed Linda's dedication to giving back to those in need. Whatever is needed at the medical clinic, she knows that Linda will step in with humility and strength to help thousands of patients.
"When it comes to taking care of patients, Mrs. Horne is always pleased to assist," said Alana. "She is selfless in all aspects when it comes to volunteering to help those who are in need. All who meet Mrs. Horne love her and will never forget what she has done for them."
Linda has become a friend to all at the Remote Area Medical clinic, and her compassionate, hardworking and reliable presence has become integral to the Health Wagon community.
Do you want to make a difference in your community like Linda? Search local volunteer opportunities.
Share this post