Sharing Comfort One Stuffed Animal at a Time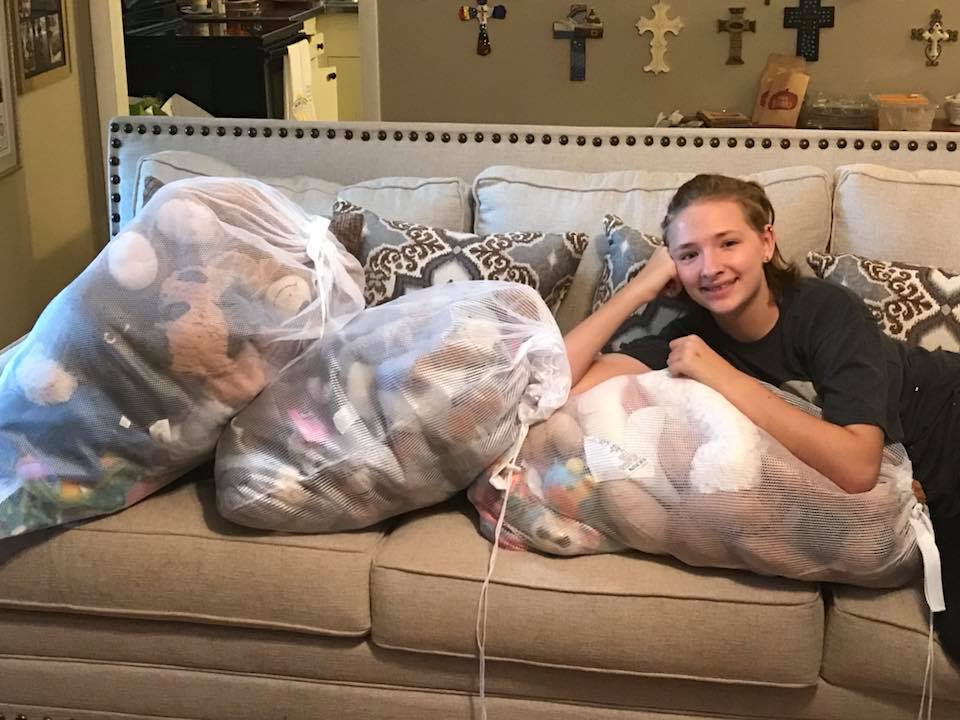 Mothers and daughters share stories all the time, but not all of them turn into a movement. When Julianna Gouthiere was six – she's 11 now – her mom Amanda told her a story about when she was a little girl and was in a scary motorcycle accident on the back of her dad's bike. A fireman on the scene gave young Amanda a teddy bear to comfort her, and it really helped. Julianna felt for that young girl, and wanted to make a difference with other kids suffering some kind of trauma. With her mom's help, Julianna dreamed up Bear Share, a non-profit which donates new or like new stuffed animals to kids in Louisiana, Arkansas, Texas, Oklahoma, Florida, and Georgia, as well as overseas in India and Germany.
As of April 2018, more than 15,000 stuffed animals have been donated to organizations including The Philadelphia Center, The Gingerbread House, Cara Center, Shriner's Hospitals for Children, Louisiana State Police, Shreveport Fire Department and The Salvation Army. Julianna is helping bring comfort to children one stuffed animal at a time and is today's Daily Point of Light Award honoree. Points of Light spoke with Julianna about her commitment to service.
What inspires you to volunteer?
When my mom was 13, she was in a traumatic motorcycle accident with her dad on his bike. She told me the story of how a fireman gave her a stuffed animal to comfort her and it inspired me. I wanted to pay it forward. We just had to figure out how to make it work. I came up with the name Bear Share, drew a logo of a teddy bear, made a flier, and went to work. The first donation of stuffed animals was to The Philadelphia Center, an HIV and AIDS Resource Center on May 24, 2013. I really wanted to help other young kids out there who were going through a hard situation.
Describe your volunteer role.
The first thing was to spread the word and get stuffed animals donated. Many local businesses held stuffed animal drives and served as drop offs. A local dry cleaner has been dry cleaning the like-new ones for free since the beginning. Since then, Bear Share has donated more than 15,000 stuffed animals to hospitals and nonprofit organizations, as well as to police and fire fighters, both in and outside of the U.S. In 2016, Share Bears became an official nonprofit organization with my brother's Geaux Green project, under the umbrella Geaux Show Love. In my opinion, the journey is just beginning. I am the co-executive director of Geaux Show Love with my brother and the founder and leader of Share Bears.
What has been the most rewarding part of your work?
Knowing I'm making a difference in kids' lives. I've gotten great feedback from the parents of children who have received one of the stuffed animals and I know it makes them smile. I've always felt good about volunteering. I've always wanted to make a difference despite my age.
What have you learned through your experiences as a volunteer?
I've learned so much! Like how to speak properly on the news, in newspaper and magazine interviews, and in public. I've learned about how business works, how to make business cards and fliers, how to get partnerships with local businesses and nonprofit organizations, and how to get donations of stuffed animals and money. I understand the work that I must do to keep Bear Share running smoothly and I've gained self-confidence and life skills.
Are there any future partnerships, programs, or events that you are excited about?
Share Bears participates in local community events like 5Ks, Aneca's Easter Eggstravaganza, etc. I wear a teddy bear costume dressed as our mascot Paws while I hand out the stuffed animals. I also look forward to annual bear drives at Lifeway and Shreveport-Mudbugs Hockey.
Why do you think it's important for others to give back?
It's important to give back because you never know what others are going through, so it's always good to try to put a smile on their faces.
What do you want people to learn from your story?
You're never too young to make a difference! If I could think of this when I was six and keep it going, any young person can follow their dream of giving back.
Do you want to make a difference in your community like Julianna Gouthiere? Visit All for Good to find local volunteer opportunities.
Share this post