Sharing Love for Sports with Children-in-Need, Teen Gives Others a "Chance"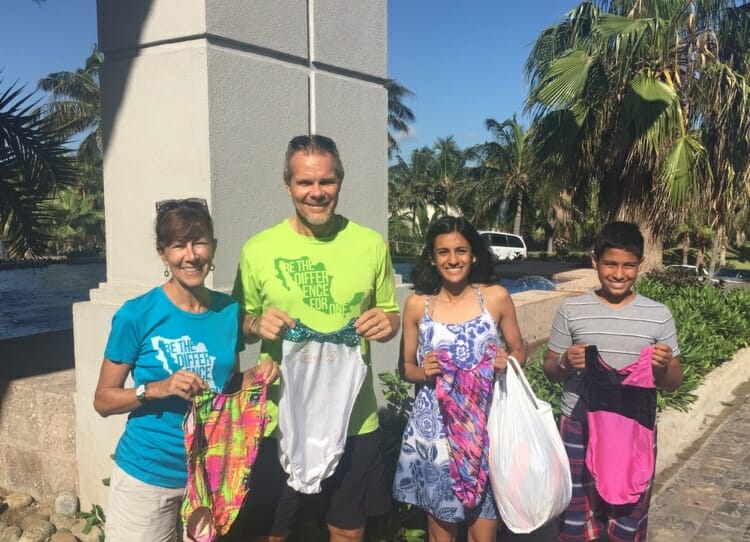 Anuva Shandilya is a self-described globe-trotter who has practiced her love for sports around the world, from Denmark to England to Canada. The 17-year-old, who says she's traveled to 24 countries in total, playing soccer, tennis, lacrosse, field hockey, table tennis and more, observed extreme poverty throughout her travels and decided to combine her passion for sports with a dedication to give back to children in need.
Launching Chance for Sports in 2015, the now high school senior solicits donations of gently-used sports equipment that is provided to children who would otherwise be left out of participation in sports solely because of costs.
Helping children to fulfill their passion for sports and helping to change lives in the process one piece of sports equipment at a time, Anuva is today's Daily Point of Light award honoree. Points of Light spoke to Anuva to learn more about her work with Chance for Sports.
What inspires you to volunteer?
Seeing poverty first-hand, I gained a global perspective that not many kids have. I have always wanted to enact change, and when I discovered the real need in some of these developing countries like Cambodia and Nepal, where children aren't able to play sports like regular kids, it touched my heart and I took an oath to give back.
Describe your volunteer role with Chance for Sports.
Our organization is teen-led, so we do the majority of donation solicitation in the summer when school is out. Our volunteers go door-to-door soliciting donations, receiving about 100 pieces of sports equipment from each neighborhood on each trip. We've received over 4,000 pieces of sports equipment since the inception of Chance for Sports, valued at approximately $35,000. We also have boxes at Play it Again Sports, where people can drop off their equipment.
Tell me about some of the sports equipment that's been donated.
We see the more common equipment: soccer balls, basketballs, tennis rackets. Bikes and scooters. The most unusual piece of equipment we've received was equipment for water skiing. We still have that equipment, when we find someone who could use it.
You've traveled far and wide to share these donated items with kids who want to play sports.
With the help of 60 volunteers, we've donated both nationally and internationally, including to children in Zambia, Haiti, Mexico, and India. I personally delivered leotards to aspiring gymnasts in Mexico and visited orphanages and children in need in India more recently, during the summer of 2018.
What's been the most rewarding part of your work?
Last summer when I was in India donating to various schools and orphanages, I worked with SOS Children's Villages in Faridabad, and we donated sports equipment including badminton rackets and birdies. This young girl came up to me and told me how excited she was about the equipment because she was a badminton player. She was younger than me, and I saw some of myself in her. It was awesome to see her dreams propelled forward because of our help.
You're a busy teenager. You could spend your summer vacation many other ways. What does it feel like to know you're helping others in your spare time?
It's indescribable. I feel such a great wave of gratitude that I'm able to lead this effort and inspire my peers to engage in civic service. I'm proud, it's not easy being a teenager, and on top of that managing high school, and on top of that, managing a charity.
What's your personal mantra?
Yeah (laughs) it's "anyone can make a change, all you need is a lot of courage and a lot of love."
Why do you think it's important for others to give back?
No matter what age you are, it's very important to give back. In my neighborhood, we live privileged lives. We should all be acting on our privilege. You never know what others are going through, so if you can make a change in someone's life, why wouldn't you seize that chance.
What future events do you have coming up that you're excited about?
Please check our website for more information on future events, and how you can help: http://www.chanceforsports.org/.
What's one thing you want people to take away from your story?
It doesn't matter who you are, where you live, your gender or age. You can make a difference. And it doesn't matter how little the difference you make is – anything you do can have a domino effect on others.
Do you want to make a difference in your community like Anuva Shandilya? Visit All For Good for local volunteer opportunities.
Post written by Marlena Militana.
Share this post