Chicago Family Inspires a Lifetime of Service by Starting Young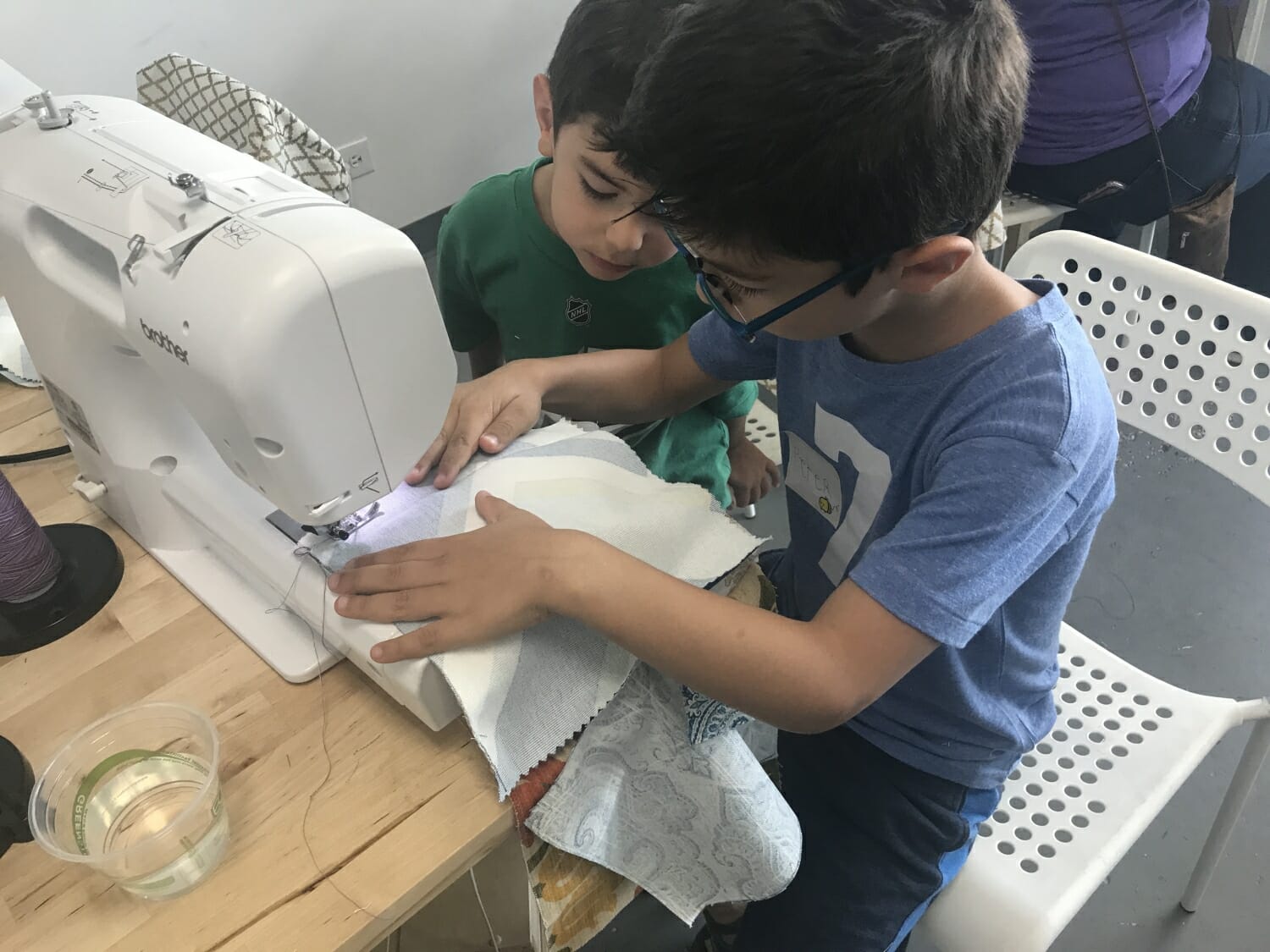 Wife and mom to four, Tanya Polsky says she was looking for volunteer opportunities for her young children as a way of instilling a sense of gratitude and appreciation for service, but was coming up empty.
While many organizations only accommodate teenage volunteers and older, the Chicago resident connected with The Honeycomb Project, an organization founded in 2011 with the mission to engage, mobilize and inspire kids and their families to strengthen Chicago's communities. Tanya, her husband Michael, and their three young children: Peter, Simon and Anabelle, now volunteer together as a family, providing their children with an understanding of the importance of charitable work for the less fortunate.
Having logged 60 hours at over 30 events, volunteering on projects that help at-risk, homeless and low-income individuals and families, and improving natural and recreational areas in underserved communities, the Polsky family is cementing a love of service early on with their children, and is today's Daily Point of Light award honoree. Points of Light spoke to the Polsky's to learn more about their work with The Honeycomb Project.
What inspires you to volunteer as a family?
Michael: We started volunteering with Honeycomb in 2016, and it certainly feels a lot more fun to volunteer as a family. In some ways, it's more fulfilling, and it's not just solo mission because everyone's involved. I wish we could do a lot more.
Tanya: We, as parents, model the behavior we want our children to emulate. We are leading by example in teaching our children to give back.
Explain why you feel so strongly about including your young children in service.
Tanya: When my older daughter would volunteer, it was all top-down, the sense of giving back on a daily basis just wasn't there. I don't blame her, as she was growing up, I didn't instill that ethic. When these little ones came into our lives, I wanted to get them involved with service earlier, because by the time they're teenagers, it's kind of late to start teaching the importance of living a life of service.
Your children skipped birthday gifts in order to make charitable donations. Explain.
Tanya: Our 8-year-old, Peter, forwent receiving birthday gifts, instead he donated his toys to his favorite local charities. In our school, in earlier grades, everyone is invited to birthday parties. The children end up with 50 gifts. We'd discuss it with the boys, and say listen, there are poor little boys and girls and they don't have these things. We're all born very nice people, children are very kind. It's not difficult – they said ok.
You have three children under the age of eight – let's talk to the two older boys. Peter, Simon, what do you like most about volunteering?
Peter (8): Making the sewing part for blankets for pediatric patients. It's fun… I like helping people, it makes them happy, and I like getting the pins.
Tayna: The boys were taught how to sew, they made blankets for pediatric patients. At 5, 6 years of age, it's nice to have a real life skill like that.
Simon (5): Because it's really good when you help people and it's really nice.
The children receive a pin for their volunteerism. How many do you have now?
Tanya: The children earn pins for each five events they volunteer at, the pins eventually filling a "honeycomb" of service. Honeycomb has had to come up with additional colors because of us, we were burning through these events. In the summer, we'd go volunteer twice a week! We even bring Anabelle, our 3-year-old. She understands, she gets it. That's my Soviet upbringing – volunteerism is a job, we've got to do it.
What's been the most impactful project you've worked on?
Tanya: We've volunteered at food pantries and women's shelters, working directly with human suffering. We made meals at the women's shelter and we give out food at the food pantries. There could be 200 people in line at the food pantry at 8 a.m. on a freezing winter day, people of varying cultures and ethnicities: Russians, Chinese, everyone. One day, an older gentlemen received a package from Peter and said in Russian, 'thank you for your kindness.' My children are bilingual, so Peter turned around to me and asked in Russian, 'what's kindness?' We talk about kindness now, and how to make an impact on people's lives. That is how you develop compassion.
Tanya, you and your husband were both raised in Ukraine. How does service differ here in the states versus in your native country?
Michael: There was no volunteering in Ukraine, it was required volunteering. People were told to come to work on Saturday, because the country needed you. Everybody resented it. It was completely different than in the U.S. Here, you volunteer because you want to do it, you want to help, and because you're more fortunate than others. It's day and night.
Tanya: Volunteering was a mandatory process in schools, you were forced to go, otherwise you'd be punished. But I have a different perspective on it – I enjoyed most of it. I got something out of that service because at an early age I was required to do it. You'd get released from school for 3 days as a middle schooler, they'd give you a sandwich, and you'd be taken by bus to go pick tomatoes at a farm.
Why do you think it's important for others to give back?
Tanya: My family had an intentional need to fill a gap in our lives. We were doing things in our synagogue and school, but we wanted to get closer to real life…to the real people in Chicago's neighborhoods. Including young children in volunteering is the core of teaching appreciation for service. Most people in our community don't really go to church, and there's no other way to develop community. This is my way of ensuring my children possess certain human qualities.
What future events do you have coming up that you're excited about?
Please check out the Honeycomb Project's website for more information on events: http://thehoneycombproject.org/get-involved/.
Do you want to make a difference in your community like the Polsky family? Visit All For Good for local volunteer opportunities.
Post written by Marlena Militana.
Share this post