Silicon Valley Teen Helps Bridge Digital Divide with Equal Access to Technology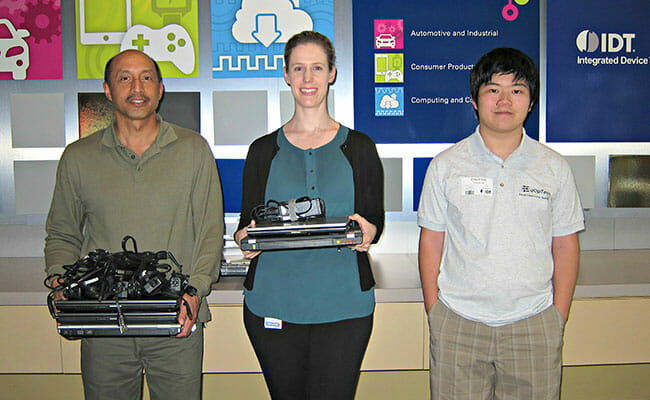 As a Silicon Valley native, Terence Lee is no stranger to technology. Although he grew up next to tech giants like Google and Apple, 16-year-old Terence noticed the considerable digital divide within the United States – and even within the San Francisco Bay Area itself. "With the rapid advancements in computer technology, individuals, schools and companies regularly refresh their computer hardware and software to keep up with their work," said Terence. "At the same time, many students from low-income families do not have easy access to computers, even with the abundance of outdated computers often slated for electronic waste."
Inspired by his Boy Scout Eagle Service Project, Terence launched EqOp Tech, a nonprofit that provides underserved communities with equipment, resources, workshops, and more in order to help bridge the digital divide. "'One person's trash is another person's treasure' says it all. I see an opportunity to help others by reviving and reusing older, obsolete computers that would otherwise go to e-waste," said Terence.
One of the main projects EqOp Tech takes part in is refurbishing and donating used laptops to underserved communities. They train volunteers to refurbish laptops, from repairs to software installation, to make sure the devices are up to date. "My role has changed over time, from a 'doer' to an 'enabler,'" said Terence. "For example, I used to work on refurbishing laptops one laptop at a time. Now instead of working on it solo, I host lunch-hour and after-school workshops to teach volunteers the refurbishing process."
Since the program began in 2016, EqOp Tech has received more than 540 laptop donations, refurbished more than 250 of them, and of those, donated more than 150 to communities in need. The laptops are also used for teaching STEM classes and workshops, and loaned out to students for home use.
EqOp Tech also provides resources to help students to get involved in the tech field. They have hosted a speaker series and hands-on workshops that cover topics ranging from cyber security, to computer networking, to cryptography. They also partner with local tech leaders to mentor underserved students in the community and provide internship opportunities for students to gain experience in the tech field.
"The most rewarding experience is seeing the smiles on kids' faces when presented the laptops and receiving thank you letters from them, knowing that these at-risk students will have easy access to technology tools and mentor services support to learn STEM at an early age," said Terence. "The work brings me a gratifying sense of accomplishment."
Although EqOp Tech is fairly new, Terence has a big vision for the organization. He wants to expand the organization's reach to other cities with booming tech communities like Seattle, and is even tinkering with artificial intelligence and looking into the prospect of virtual mentoring.
Terence hopes people can learn a few lessons from his story:
Don't be afraid to challenge common beliefs.
"The general consensus is that new operating systems cannot be loaded onto older computer hardware and obsolete computers cannot be reused. I challenged this belief by reviving decade-old donated MacBooks from 2005 or later with re-installed modern age, lighter version Linux operating systems, giving hundreds of used laptops a purposeful second life."
Think outside the box and turn problem into opportunity.
"Upon receipt of hundreds of obsolete MacBooks from my local school district, I developed a creative solution called 'Computer in a Box' to further engage student volunteers. Given the time and classroom constraints, volunteers can opt to be trained through a hands-on instructional manual, Linux ISO image DVD, YouTube tutorials and other essentials that are boxed conveniently for refurbishing flexibility in time and place."
You are never too young to make a difference.
"Our 'Computer in a Box' refurbishing program engages younger students in 4th and 5th grades. We also have young volunteers help us coordinate laptop drives, teach STEM classes and write blogs. It is important to follow your passion and focus on making an impact, big or small."
If you have an interest in technology and want to join the effort, learn how to get involved at www.eqoptech.org.
Share this post