Social Entrepreneur Helps Women Discover Their Power Through Self-Defense and Leadership Training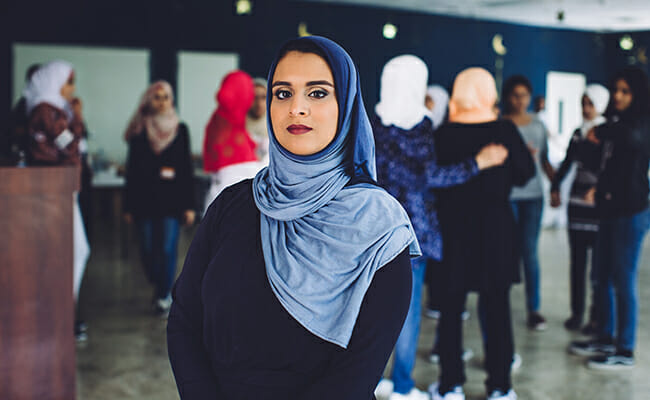 At the age of 16, Rana Abdelhamid was the victim of a hate crime in New York City when a stranger tried to rip the hijab from her head. "I felt shaken and all alone," she said. She wanted to find a way to help bring Muslim women together to find a safe space to heal.
The experience led her to start (IM)WISE, a nonprofit organization and grassroots movement supporting Muslim women's empowerment through self-defense and skills-based training.
"At the end of the trainings, we have everyone hold hands and say one word around how they feel," said Rana. "The women often say 'empowered,' 'supported' and 'confident.' That is how I feel too."
Rana said one of the most profound outcomes of the program is when participants are inspired to start their own program. "It's healing and empowering to teach other women."
Last year, (IM)WISE brought more than 50 women to Harvard University's National Muslim Women's Summit to train them on community mobilization, and, the organization is planning to do it again this year.
Rana, now 24, has traveled to 17 cities across the world teaching self-defense and healing to more than 3,000 women. What has been her biggest takeaway? The fact that "gender violence happens to all women, everywhere," she said.
As a result of her work, and the journey she began in 2010, Rana wants to grow her grassroots movement to help even more women.
(IM)WISE has now re-launched under the name Malikah, which means "queen" in 10 different languages. As Malikah, the global grassroots movement has expanded to support the empowerment of all women through self-defense, entrepreneurship and organizing training.
Malikah's first initiative is its Healing Justice project; a digital toolkit with a 10-session facilitation guide that encourages women to get together for intentional conversation. "Gather a few women or 10 women," said Rana. "We want people to be more intentional in their relationships."
In addition, Malikah will have programming focused on financial literacy. "We want to empower women to understand their financial needs and seek economic justice," said Rana.
Rana says she has personally been given so much by women like her mom, sister and friends. "There is beauty when women come together and create change together."
Rana hopes the future of Malikah will include hundreds of chapters around the globe distinct to its local needs. "The impact of the program is a feeling of wholeness, safety and security," she said.
Share this post