Spirited Senior Helps to Clothe and Feed Low-Income Working Atlantans
Gweneth Mack jokes that she is 72-years-old going on 17 – and the spirited senior has a big heart and appetite for service that matches her youthful energy.
In 2017, the Atlanta resident, who has a part-time job working for Fulton County, decided to spend her spare time giving back, and began volunteering with the Midtown Assistance Center (MAC). The non-profit, whose mission is to provide emergency assistance to low-income working Atlantans to help prevent homelessness and hunger during periods of crisis, is a bright spot for clients, who are able to turn to MAC for help when they have seemingly run out of other options.
Serving up a personal connection to those in her community desperate for a helping hand,
Gweneth is helping to provide assistance to thousands in the Atlanta area annually, and is today's Daily Point of Light award honoree. Points of Light spoke to Gweneth to learn more about her volunteerism with MAC.
What inspires you to volunteer?
I love volunteering, and MAC is an awesome organization. Serving gives me a sense of peace. This is going to sound corny, but it's wonderful to see how appreciative some of the clients are. The smiles you see on their faces make the effort really worthwhile. Sometimes, if I take a food order within our food pantry, I'll go sit down and talk with the client for a bit, ask them about their needs and preferences. I'm a good Jewish mother, I'm a good listener (laughs). That connection helps us to better understand how to help them. Especially if the client has children with them – oh my God, I'm such a pushover!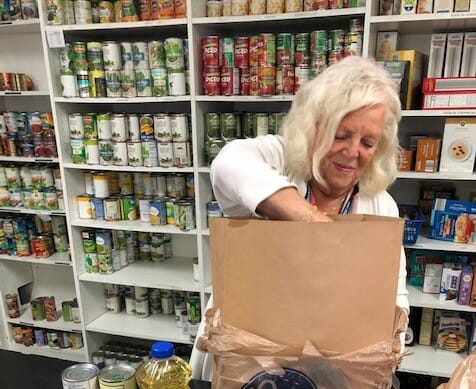 Describe your role with the Midtown Assistance Center (MAC).
I'm most effective helping clients behind the scenes, within MAC's clothing closet and food pantry, and have organized several food and clothing drives in my neighborhood. I also work outside of assistance hours, keeping MAC's records up-to-date.
Clothing and shoes: MAC's clothing closet provides men with interview and work outfits. MAC also purchases nonslip shoes and black pants for restaurant workers and steel-toed boots for construction workers. Last year, MAC gave out 1,841 outfits and specialty work pants and shoes.
Groceries: MAC has a food pantry that provides non-perishable food for households experiencing a temporary shortage. Even though MAC's clients are below the poverty line, many are not eligible for food stamps and need help with putting food on the table. Last year, MAC provided 5,042 bags of groceries to 3,102 people in need, including over 500 hungry children. I'll organize the food that has come in from donors or that has been purchased. I'll also talk to the client about their order, to make sure they're getting the food they need for their household.
You're being recognized for being a faithful volunteer with a passion for service and generous spirit. How does that make you feel?
It makes me smile and laugh, and I'm a toucher! I love to hug people (laughs). It makes me feel good and honored that they would say that, because there are a lot of volunteers that help to make MAC great, although I don't know if any one of them hug as much as I do.
What powers your service?
Volunteering at MAC has become so much a part of my life. Volunteering at MAC is rewarding, it's a family. And MAC can help with more than what I do – the staff can help with the rent, utilities, they have a program now where they have computers for children to learn. It's just a little bit of everything.
Share one personal story with me from your volunteerism.
Sometimes, we might have a client who has had some unfortunate event that caused them to lose their job and/or their home. Often, if they are on the streets or even staying in a shelter, they have had all of their belongings stolen: clothes, personal identification, money, important papers, etc. The staff and volunteers at MAC work diligently to help these victims get back on their feet. While I am incredibly honored to have been awarded the Daily Points of Life award, MAC is an organization that deserves the accolades.
What's your message to others who want to give back to their community?
Call MAC. They're always trying to get more volunteers. And if you don't live in our community, it depends on your interest. If you're interested in children, there are always wonderful organizations that you can help. I am a firm believer that giving back really helps others, and helps you personally. There's so much need in this country and in this city.
How can readers help?
MAC's annual Midtown Race for MAC 5k is on May 11th, 2019 at the Park Tavern in Piedmont Park in Atlanta. Please check their website for more information about the event, and how you can help: http://www.midtownassistancectr.org/mac-happenings/midtown-race-mac/.
Do you want to make a difference in your community like Gweneth Mack? Click here for local volunteer opportunities.
Share this post