Giving a Voice to the Homeless, One Small Act of Kindness at a Time
John Shafer is on a mission to become a voice for the homeless. On a cold October night in Chicago, he noticed numerous homeless people trying to sleep on city sidewalks, without coats or jackets; they seemed to be invisible to the hundreds of people passing by. That night, it was difficult for John to sleep. He could not stop thinking about the people he'd left behind in the cold while he came home to a warm bed. Reflecting on whether he would survive under those conditions, John made a commitment to return to Chicago with supplies for those in need. Two weeks later, he made the two-hour drive back to Chicago from his hometown of South Bend, Indiana, to deliver 25 new fleece blankets to some of the people he encountered on the street — one small act of kindness that would grow to become Michiana Five for the Homeless.
John initially thought this one good deed would bring him peace. Yet, the overwhelming gratitude he received from the first blanket recipients changed everything. Knowing he didn't have enough blankets to help the city's entire homeless population, he was determined to find a way to do more. He learned that a large portion of the homeless population can't get into Chicago's shelters, which often have to turn away more people than they are able to accept. He created a Facebook page, invited everyone he knew to join it, and asked them for donations and supplies such as blankets, food and winter clothing. Soon, pickup trucks full of items poured in, and the volume of donations collected by the community was so large that John had to rent outdoor storage.
With so many donations coming in, John began giving to the homeless population in his community as well, and he began to shift his focus locally. Soon, Michiana Five for the Homeless came to life, focused on providing basic needs to the homeless, educating the public about homelessness, and advocating on behalf of homeless people in the Michiana community. By the time he discontinued service in Chicago, John had helped more than 2,500 people in need, and he continues to transform lives locally through small acts of kindness.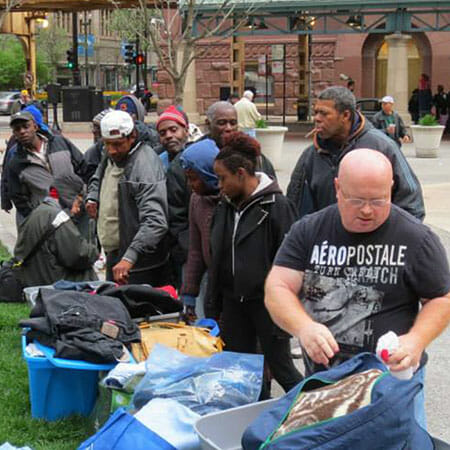 John and his organization's volunteers help people experiencing homelessness by hosting weekly hot meals, cooking in parks, distributing food, clothing and blankets once a month – twice a month in the winter – and hand out cold water on hot summer days. He also applies for grants that help people pull themselves out of homelessness and find permanent housing solutions.
"I never saw it turning into what it is now. It's 2019 and I'm still handing out blankets," said John. "One act of kindness can have such a ripple effect, and now we've become a voice for the homeless, because someone has to be."
In 2015, tragedy struck John's community when a missing teenage boy was found dead in an abandoned home, from an apparent overdose in extremely cold temperatures. It seemed the boy had nowhere else to go, since the local homeless shelters did not accept youth under age 18. John didn't want this to happen ever again, so he advocated for a homeless youth shelter in their community – one of his proudest moments of service, he says.
After a series of public gatherings and presentations, Bashor Children's Home agreed to open a youth shelter facility on their grounds. In just two weeks after opening in 2016, the shelter was full. A photo of that teenage boy hangs inside the building as a reminder to youth that their life is valued and there are those who are willing to help.
Do you want to make a difference in your community like John? Search local volunteer opportunities.
Share this post