North Carolina Woman Fights Student Hunger By Feeding Hungry Mouths and Minds
In 2017, an estimated 1 in 8 Americans were food insecure, including more than 12 million children. Food insecurity amongst children can sometimes go unnoticed until it is too late, as families struggling to avoid hunger are vulnerable to malnutrition and poor general health. This is why Lori Smith has decided to fight hunger in her community by feeding students and their families.
While eligible students are able to receive meals during the school day, the 44-year-old Advance, North Carolina resident says they're often left to fend for themselves outside of school. Through Davie High Hunger Fighters, students and their families receive weekly food deliveries to help supplement their meals. Packaged by volunteers and delivered by teachers, these food deliveries are so much more than just a few items for the next meal, according to Lori. They represent a commitment to students and their families that their community is invested in the student's education, health and safety.
Volunteering several hours weekly, Lori is feeding more than 30 families each week, and is today's Daily Point of Light award honoree. Points of Light spoke to Lori to learn more about her volunteerism with Davie High Hunger Fighters.
What inspires you to volunteer?
God has blessed me with a servant heart and a "get it done" attitude. When I learned about the hunger in our community, I decided to go out and deliver food instead of writing a check. I'm passionate about kids and feeding these students means we're helping them to develop, fulfill their goals, and do well in school. They can't learn if their bodies and minds aren't being fed.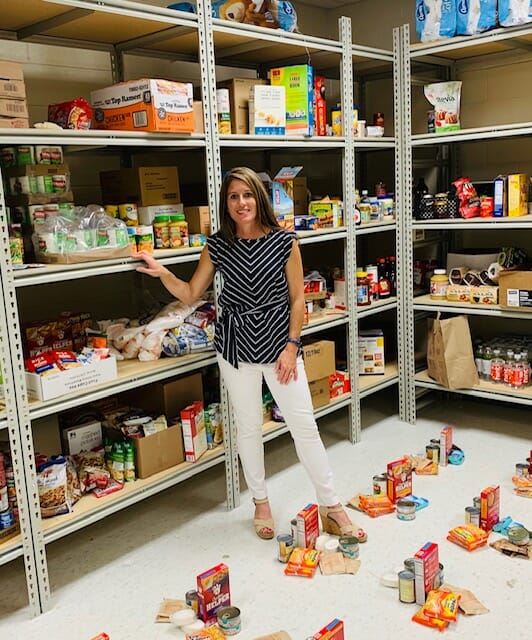 Describe your role with Davie High Hunger Fighters.
I pick up canned and shelf items from the food bank about twice a month. Those items may be donated or overstock from grocery stores. We have a food pantry at the Davie High School, which we created to reach more students. Students will come help us sort and pack the food bags, and then we hand them off to teachers for delivery. We're not just feeding the student, we're feeding the student's family as well, and we're reaching more than 30 families per week. I also started a summer food program in 2018, which we're planning on extending to summer 2019.
What kind of items are being delivered to students and their families?
Food items include cereal, shelf milk, spaghetti, mac and cheese, peanut butter and jelly. But we also have discovered that paper products aren't covered for families who are on food stamps. So we deliver toilet paper, paper towels, hygiene items. Recently, we received a grant and got laundry detergent to send to families. Whatever someone might need, we're hoping to provide.
Describe a challenge you've faced in feeding students?
We found that some students were coming to school on exam days when they knew they didn't have exams, just so they could get a meal. Teachers deliver the food bags because of the need for privacy, and sometimes, these kids are embarrassed or ashamed and don't want others knowing about their food insecurity. We're also working to raise awareness about our program, and find those students who need to be served within the school. A lot of students who could take advantage of the program just aren't aware that we're there to help.
You're being recognized for your love, passion and perseverance for those in need in the community. How does that make you feel?
(Laughs) It's very humbling. It's just something I enjoy doing. I love to help others, I wish I could do this every day of the week. I take my service for granted, it's just who I am. I'm not doing it for the recognition, I do it because I love these students.
What powers your service?
Mother Teresa wisely said, "If you can't feed a hundred people, then feed just one."
Share one personal story with me from your volunteerism.
When I first started volunteering with Davie High Hunger Fighters in November 2018, I met a student named Nyasha who was a high school senior. This girl and her older sister had recently lost their mom to a massive heart attack, and they were on their own, just trying to survive and pay the bills. I delivered Thanksgiving dinner to the two girls. When we realized they weren't going to have a Christmas, we raised money for a meal and gifts. Nyasha has since graduated from high school, and is now attending community college. She doesn't have a mom or a role model, and yet she is the sweetest girl with a great attitude. I have helped make her life a little better, but she doesn't realize that she has blessed me even more. She has inspired me to give more and be grateful daily for the little things in life.
What's your message to others who want to give back to their community?
There's so much need in the community and I do think there are a lot of people out there who are willing to help. For me, it's providing a way to put those two together. The opportunities and the needs that are there and to fill that need. Take that step out of your comfort zone, find something you're passionate about, and go do it.
How can readers help?
Please visit the Davie High Hunger Fighters Facebook page for more information about how you can help: https://www.facebook.com/DavieHighHungerFighters/.
Do you want to make a difference in your community like Lori Smith? Click here to find local volunteer opportunities.
Share this post