Promoting Acceptance, Autistic Man Advocates for Others on the Spectrum
Dalton Letta is a skilled speaker and also, he says, a very good listener. Another way Dalton introduces himself to the audiences he routinely speaks to? He is autistic.
The 23-year-old Rochester, New York man was diagnosed with autism spectrum disorder (ASD) as a child, at a time when the abundant resources and services that exist today just weren't available for those with autism. Today, by improving education, promoting services and creating opportunities for people with autism, Dalton is on a mission to build an inclusive community where people with and without autism can understand, support and learn from one another.
Advocating for himself and others like him, Dalton has started a dialogue within his community about how each individual can give back, and is today's Daily Point of Light award honoree. Points of Light spoke to Dalton to learn more about his volunteerism.
What inspires you to volunteer?
It all started when I realized I wanted to learn more about myself as a person with autism. For many with autism, there are obstacles that other individuals may not go through. My goal was for people with autism to be recognized for who we are, and our different skills.
You're an advocate within your community. Describe your different roles.
I served as ambassador with The Autism Council of Rochester, New York in 2018. In addition, I launched Campaign D through a partnership with The BELL Program at Roberts Wesleyan College in Rochester, and also became the Special Community Liaison. I'm currently the Autism Ambassador for the town of Gates, NY and the Monroe County Face of Autism where I have partnered with New York Senator Joe Robach and Legislator Frank Alkoefer (4th Legislative District) to raise awareness about autism.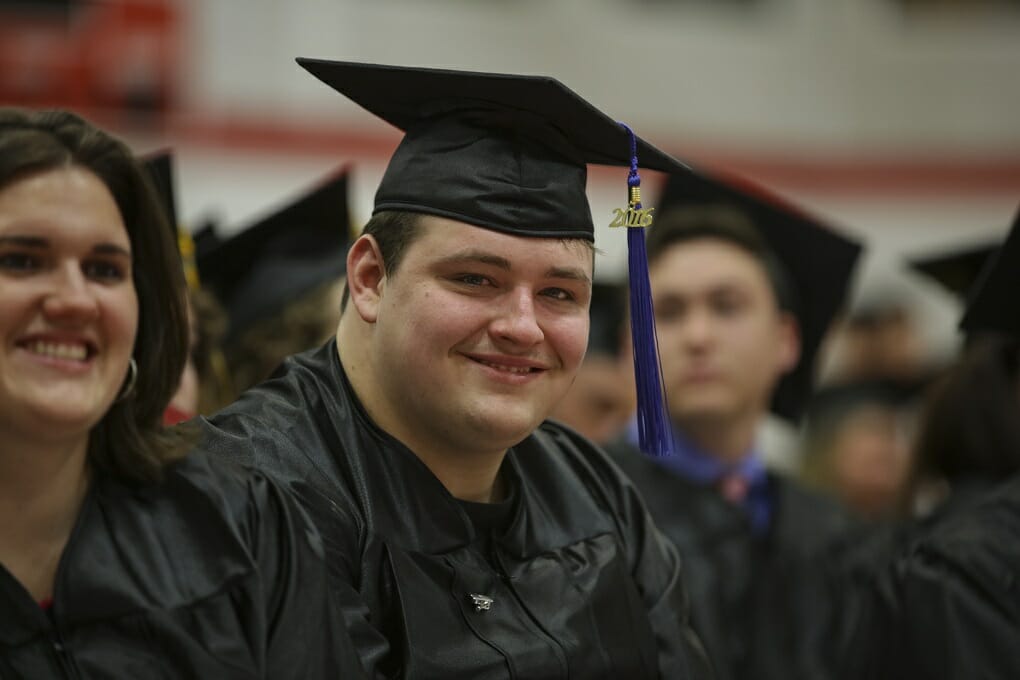 Explain how you're connecting with others through your service?
Two of my programs, No One Eats Lunch Alone and Campaign D, are examples of how I use my own experiences to connect with others and raise autism awareness.
● No One Eats Lunch Alone: Personally, as a high school student, sitting alone at lunch could feel like rejection. I connect athletes to students who have special needs to combat isolation and bullying in lunchrooms so that no student sits alone during lunch.
● Campaign D: I facilitate community education focused on autism through these community forums and panels locally at companies and other organizations. I share struggles and successes about certain obstacles a person with autism has to overcome. This can include everything from depression to access to transportation.
Share one personal story with me from your volunteerism.
Recently, I met a little boy named Danny who is 10-years-old, autistic, and is non-verbal. I accompanied him to go get his haircut, which can be a scary experience for some on the spectrum. He gave me high fives throughout the haircut, and then a hug. I know me being there made the experience easier for him. I posted a story on my Facebook page about our experience, and now others with autism want to meet me. By focusing on the person, I'm able to touch more people with autism and hopefully, teach others as well.
You volunteer to raise autism awareness within your community. What's your message to your community?
I ask that people don't judge a person before they know them, but instead, judge us for our hearts. We are all capable and all have special gifts. Yes, people on the spectrum are complex, but every individual is complex. I volunteer to increase understanding of one another.
What does it feel like to know you're helping?
It makes me feel better that people are starting to understand, and that they want to learn more. When people are more accepting, they can make a better world for other people. You've got to understand the person first, and that starts with me, by giving my community a window into real day to day life living with autism.
You're busy with your advocacy. But what do you do for fun?
I'm a big bookworm, you should see my collection. I have 700 books and I'm still collecting. I collect comic books and graphic novels, and organize them in alphabetical order. My dream is to act professionally one day. My hope is that eventually, I'll have a bigger platform to raise autism awareness as an actor. I'll get there by taking one day at a time and I count my blessings.
Do you want to make a difference in your community like Dalton Letta? Click here for local volunteer opportunities.
Share this post