Spreading Joy One Color and Music Note at a Time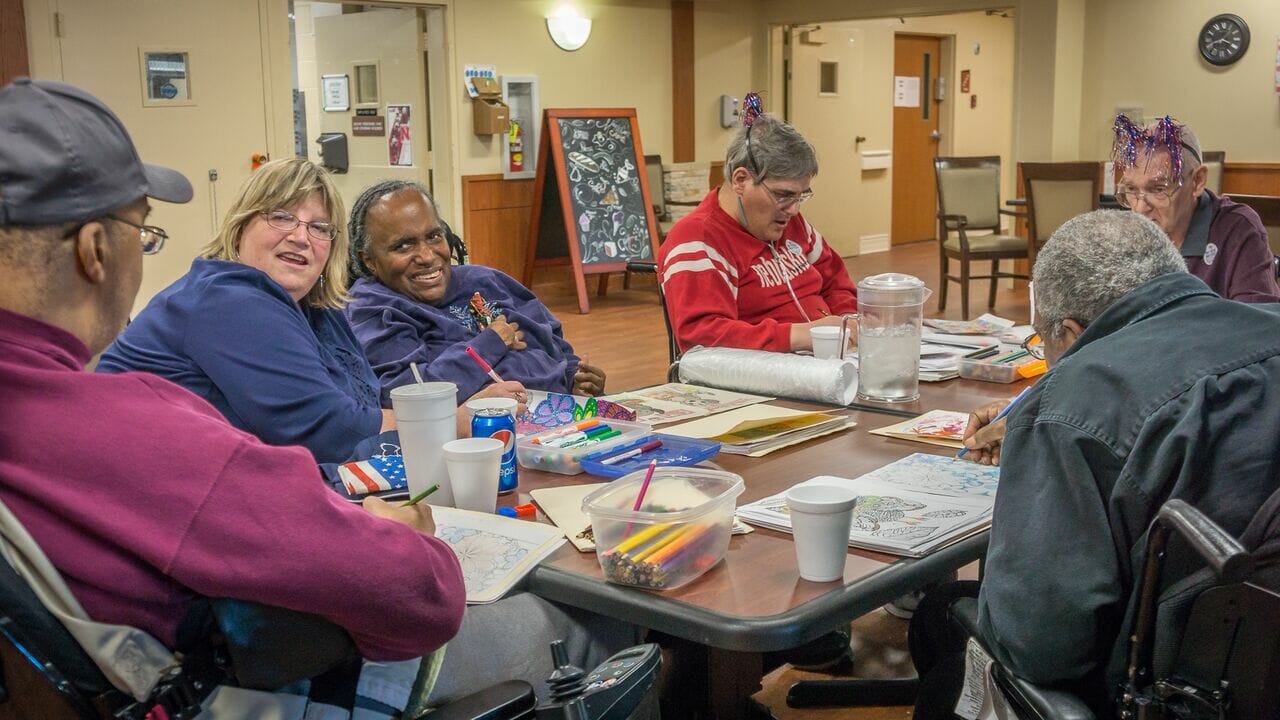 During the week, you can find Joy Rich doing some of her favorite things — hanging out at home with her cat, cooking dinner with friends and watching films at the cinema. On Saturdays, going to volunteer at a local nursing home is at the top of her list. And she does it with music in one hand and a coloring book in the other.
Joy founded a volunteer service with nursing home residents featuring just sitting, coloring and singing along to favorite tracks. Not only is this something Joy wholeheartedly enjoys, it's something the residents enjoy as well.
"They are giving me just as much as I am giving them," Joy said, "only actually they're giving me more. It's an incredible avenue of love back and forth."
Joy attributes her love of the elderly to her great-grandmother, who she had the fondest of memories with. She is also following in the footsteps of her mother, who volunteered in nursing homes as well.
Joy's volunteerism stemmed from her spare time at home. She wanted to find a better way to spend all of her free time and after a friend suggested working in a nursing home, she sprung at the opportunity.
"[Because I work] for the Department of Psychiatry at Creighton University, I knew that depression is a problem in nursing home residents, and that some [people] in nursing homes never receive a visit from someone from the outside," Joy explained
Through Community 360, an organization that ensures nursing homes have equipped volunteers, Joy was trained and paired with Maple Crest Care Center in Omaha.
Joy knew she wanted to bring some sort of art therapy to the elderly people she would be helping. The idea of coloring books came from a childhood memory of coloring with her siblings at her grandparents' house.
"I googled adult coloring and found that there were studies that suggested it could help with depression," said Joy.
Color it with Joy, as the activity is known, lasts about a couple of hours on Saturdays. Joy is usually joined by seven or so residents and volunteers, as they color and listen to music. The karaoke part came in when residents began requesting their favorite songs to be played as they color. At first, it was just that, a time of relaxation and an opportunity to have a good time, but it quickly grew to something much more so.
"[It gave] me a chance to hear people's life stories that are so different than mine," she said.
Sarah* an elderly woman who attends Joy's sessions, has severe arthritis as well as brain injuries limiting her speech and ability to recall. But Joy learned that by her being able to sing the songs, it was strengthening her ability to remember.
There is also a resident named Jack* who is there because of a brain injury, causing his thoughts to be looped. But Joy found his thoughts and words became linear and more focused when he sang.
In volunteering with Maple Crest, above all things, Joy has found the most important thing: her family.
"[This has] provided me with a 'third family'," she said. "I love them, look forward to seeing them and worry about them when they are struggling – just like a family. The word volunteer…It's an association of the human experience and the heart."
Joy walked in a volunteer; spending time giving to those who needed it the most, but she walked out with an appreciation and a love.
"It has brought so much joy to my life," Joy said. "Volunteering will bring you surprises that you won't even imagine. You learn a lot about yourself and it helps you develop compassion and empathy and will bring you love."
For those looking to volunteer but are unsure about where and how to donate your time, Joy has some advice for you:
"Think about what you like to do in life- who you like to spend time with. Working with an organization brings you opportunities that one would not get by volunteering on their own – support, camaraderie, opportunities to bounce ideas off each other, and being part of a team working toward the greater good. Yes, you may feel hesitation before you start, but trust me, the rewards are huge!"
For volunteer opportunities in your area, check out All for Good.
(*Names have been changed to protect the residents' privacy.)
Share this post