Spreading the Love of Tech and Music to Underserved Students Globally
Julia Huang was born and raised in Michigan. As the older sibling of two, Julia grew up helping her younger brother with math concepts and challenging piano pieces. Julia remembers feeling excited that she could help out when her brother learned something or acquired a new skill.  
An avid learner, Julia and her middle school friends held study group chats to help each other better understand different subjects. In eighth grade, curiosity persuaded Julia to sign up for a web design class. She had never been exposed to coding before but the experience sparked a deep fascination with technology. Julia's school didn't have the specific classes for web development and Artificial Intelligence, so she turned to the internet to look for learning resources.  
One day, Julia joined an online hackathon where people signed formed teams and competed on coding projects. It opened Julia's eyes to a new world where she was surrounded by other people who had embarked on this tech-learning journey and developed a passion for technology.  
These experiences led Julia to realize that learning is much more fun when people learn together. Julia wanted to share the excitement of learning and creativity with others so that they could also pursue their interests with help and support. Julia advertised in school newspapers to increase school computer science club membership and taught coding to club members. After she became president of various tech clubs at school, she established an international youth organization, Bytes & Pieces, a community of students with passions for music and coding.   
What inspires you to volunteer?
I have learned so much from my school teachers, piano teachers, tech mentors and friends. I am so thankful to my mentors and teachers for teaching me these things.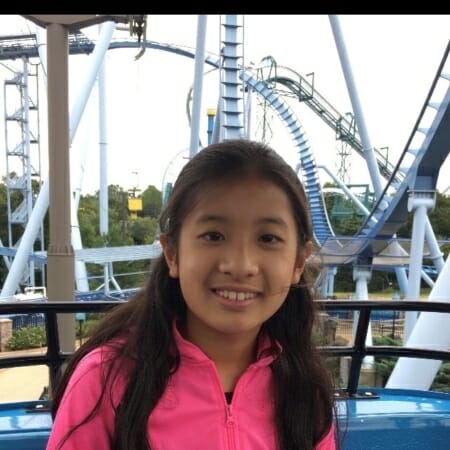 As a mentor/tutor, the joy I see on people's faces, the way they light up when they suddenly understand something, improve in a hobby or learn a new skill, brings me absolute joy. Through my own learning journey, I want to share my learning experience and help others develop their passions and skills.  
Many schools do not have a tech-focused curriculum. Technology is still an underrepresented field. I wanted to share my experience and passion and give others the resources they need to learn how to code.  
I am also passionate about sharing the joy of music by teaching others how to play the piano and compose music. Currently, I'm teaching code in school computer science clubs and music in the piano club.  
Describe your volunteer role with Bytes & Pieces.
To make an impact on a larger community and improve the diversity and inclusiveness in technology internationally, I founded the Bytes & Pieces youth organization. We provide students from any location or background, especially from underrepresented communities, with free online music and coding workshops, coding and music articles, coding competitions and other resources. 
I also developed the website, YouTube channels, social media channels and online groups for Bytes & Pieces to provide a central place for information and communication. Within 10 months, through hosting numerous online events such as Zoom workshops in tech and music, hiring mentors, directors and volunteers, and doing extensive social media outreach and advertising, I helped Bytes & Pieces grow into a global organization.  
Currently, we have 40+ board members and executive directors and reached 420+ students in 20+ states and 30+ countries, including 200+ participants from our hosted competitions. Currently, 75% of students are female, 84% are a member of an ethnic minority, and 60% are international students. I also support our students by providing inspiration through speaker webinars with industry professionals, especially women computer scientists and mentors of color, to empower minorities in STEM.  
What's been the most rewarding part of your work? 
Definitely meeting and making connections with others and seeing others learning, pursuing and growing their passions. Seeing the number of people we impacted since we started still shocks me till this day. Through hackathons and other tech events, I have met so many wonderful people who have became mentors, students and volunteers for Bytes & Pieces.  
Through Bytes & Pieces events and workshops, I have also met so many wonderful students and mentors from around the globe who share similar passions for music and/or technology. It's clear that no matter who you are or where you are from, you can be brought together by similar goals and passions.  
I'm so happy to provide time and resources to help other people grow, give them opportunities to succeed, and congratulate them when they make progress on their learning journeys. There are many people who told me that they were able to either start their technology learning through our workshops and events or improved their skills after learning through our organization. This brings me joy every time. With opportunities offered by Bytes & Pieces, I hope to fuel more students' passions, help them develop music and coding skills, and empower them to create spectacular projects that can build social good for communities. Through Bytes & Pieces, I hope to help more young people share passions and visions to impact the world around us. 
What have you learned through your experiences as a volunteer? 
I learned that perseverance can definitely be a key to success. When I first started Bytes & Pieces after 10th grade, I did not have much experience and didn't know what resources to use to manage a youth organization as a high schooler. But eventually, through trial and error and reading stories and seeing how others started organizations, I was able to plan the necessary materials for advertising, outreach, communication and activities within my organization.  
At first, I also struggled to generate interest in our organization, get people to volunteer as board members, or attend our workshops because the organization wasn't well known. Not one to give up, I took every opportunity to advertise our organization and our mission on numerous media and social media platforms and networking at events. 
One by one, day by day, we have grown into a global organization and we are still growing our student and volunteer/mentor/director bases. I've learned the impact that you can make on people's lives just by utilizing two resources: a technology device and the internet.  
I started Bytes & Pieces as a completely online organization that can impact people from around the world. Our workshops, speaker webinars and online contests, can be directly hosted and run through a laptop and internet connection, which lets Bytes & Pieces provide a global coding and music curriculum all across the globe.  
Are there any future partnerships, programs or events that you are excited about?
Yes! We have recently established official organizational partnerships with four other youth STEM organizations who share similar missions including Codeify Canada, CS Voyager, STEMThink and YPSTEM. We are always on the lookout for other organizations that would like to partner with us on hosting events. We have also recently planned to launch new AI workshops and new music workshops in the next few months. And lastly, we look forward to running another global online hackathon (coding contest) in summer 2023. 
Why do you think it's important for others to get involved?  
I think that it's important for people to volunteer so they can change others' lives for the better in a variety of ways, be it improving someone's living environment, health or skill in an academic subject, a passion or a hobby. We can also help others be a part of something bigger than ourselves and give back to the communities around us. I think that even a little work we give to help someone out could potentially change the trajectory of someone's life and make a huge difference in their futures.  
What do you want people to learn from your story?
I would like people to understand that something that you might take for granted, such as your education and learning resources may not be not accessible to everyone. Don't take that for granted. Instead, reach out and help out those who don't have these resources.  
I appreciate everyone who has taught and tutored me: my school teachers, mentors in piano and technology, and people who made internet tutorials. They are the reason I was able to acquire and refine the knowledge and skills I have today.  
In order to help more people improve their skills and follow their passions, I think it would be so amazing if more people could lend a helping hand to impact people's lives and inspire more people around the world. 
Do you want to make a difference in your community like Julia? Find local volunteer opportunities.
Share this post