Public Health Emergency Management Worker Saves Lives as a Volunteer EMS
Meet Daily Point of Light Award honoree Alyssa Antczak. Read her story and nominate an outstanding volunteer or family as a Daily Point of Light.  
Alyssa Antczak saves lives. With a Master's Degree in Emergency Management and Homeland Security, she's spent her life preparing to be prepared. And when the COVID-19 pandemic hit, she was. It started almost immediately after she took the job in public health with the county. She was the sole person in charge of setting up mass vaccinations clinics and part of the team organizing COVID-19 testing sites, keeping accessibility at the forefront of her mind every step of the way as she sorted out the details. It was many late nights and dedication that made it a success.
In her free time, when she has it, this native New Yorker-turned-southerner volunteers with the Medical Reserve Corps and as a credentialed EMS worker. She teaches skills like First Aid and CPR with the former and puts those skills into practice as the latter.
It all started when she participated in a program as a young girl that allowed her to skip school on occasion to go on EMT and firefighter ridealongs if she kept her grades up. It was there that her interest in public service was launched. Today, she saves lives as a member of public health, a trainer of life-saving skills and a volunteer EMT.
What inspires you to volunteer?
In middle school, we had this program called the Explorer Program in New York. You basically start out as a junior EMT, a junior firefighter or a junior a police officer. You get to follow them on calls in all those first responder fields and see what it's like. As long as you have a waiver from your parents and you get good grades, you can get a radio, and if there's a call while you're in school, you can leave. That was awesome for me, because of course, I got good grades, so I was allowed to do that.  
When I first started, I knew I wanted to be in that realm, but not necessarily pursue EMS. As soon as I started volunteering and saw the good you can do in a small capacity, I wanted to do it on a larger scale. It really helped me see that there were other careers out there that I had no idea existed. Back in middle school, emergency management was fairly new and not well-known. When I learned more about it, I was excited to find a career path where I could actually make a career of serving my community.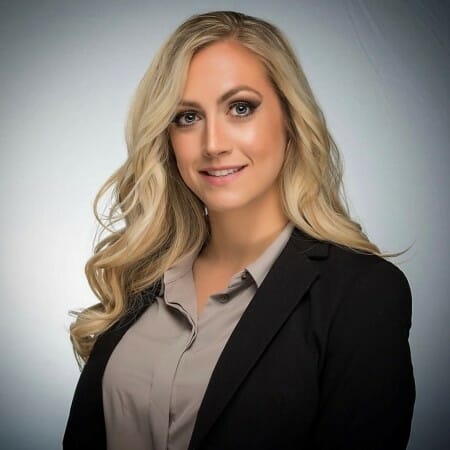 Tell me about your EMS work.
I've stuck with volunteering EMS since middle school. I've kept my EMT credentials. I also spent a little time volunteering as a firefighter. It got harder once I had children, but I still help in ways that I can. Even as a volunteer, there are many things you can do that don't require that physical ability component. When I was pregnant, I was still helping out at the firefighter and EMS volunteer meetings and trainings and limiting my exposure to the sick in the field. I wasn't going on as many calls as usual, but I'm was helping on the administrative side. There's a lot more behind the scenes than just responding to calls. 
I spend 6+ hours a week with them. Back before kids it was a lot more. On the weekend, sometimes I'll take the night shift while the kids are sleeping. My husband can stay home with them, and I can go pull some EMS calls or go to the fire station and ride along. It's about two minutes down the road from my house.  
Have you saved anyone?
There have been people who I have given CPR to that I've brought back. There are people who have overdosed that I've brought back with Narcan. I've literally helped them save a life by definition, so it's rewarding. It makes up for all the times when you can't. 
Where else do you volunteer?
I also help teach the public about health-related skills like Stop the Bleed, CPR and First Aid as a unit coordinator for the Onslow Country Medical Reserve Corps. If you educate that layperson that may be the first to see the incident, then that patient has a higher chance of surviving. My son, who's eight now, knows how to do hands-only CPR and dial 911. Start them early. We can also use this group of volunteers in emergency situations like the pandemic. 
What's been the most rewarding part of your work? 
It's the collected thank-yous. When we set up the mass vaccination sites, getting those thank-yous from those first people to receive the vaccines who were really nervous about COVID. They wanted that vaccine, and they were worried about long wait times and not even being able to receive it, and it ended up being such an efficient process. We were able to get everyone in, and even people from other counties and states were coming to us. It made me feel like I was really helping people out, and that put some pep back in my step. 
What have you learned through your experiences as a volunteer? 
Everyone's definition of an emergency or disaster is completely different: businesses being shut down or not being able to receive the vaccine. Either can be devastating to one person and not that big of a deal to another.  
Also, the pandemic has highlighted the need for better partnerships. When something like that happens, you need everyone. We needed the help of Emergency Management, senior services, our government center folks, library staff and school nurses.  
Why do you think it's important for others to be involved in their community?  
Even if it's something little, if you can leave your community or the world in a better place than you found it, I think it's extremely rewarding. My son and I will take walks around our neighborhood, and if he sees trash, he'll pick it up. He'll be so proud of himself. He'll say, "Look Mom, I'm cleaning!" 
What do you want people to learn from your story?
You're never too young or too old to start impacting your community. Just help make the world a better place in any way that you can.
Do you want to make a difference in your community like Alyssa? Find local volunteer opportunities.  
Share this post