To commemorate the 10th anniversary of Hurricane Katrina, we are honoring volunteers who served along the Gulf Coast after the storm. Meet St. Bernard Project, today's Daily Point of Light Award winner, and nominate an outstanding volunteer or organization you know as a Point of Light.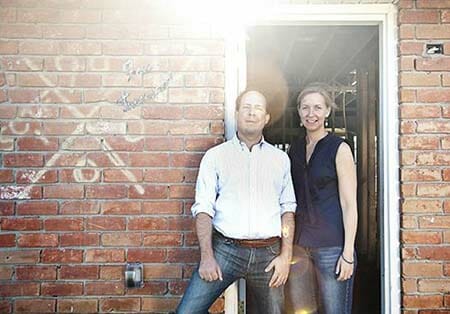 Zack Rosenburg and Liz McCartney
Six months after Hurricane Katrina decimated the Gulf Coast, Liz McCartney felt she had to do something to help. She persuaded her husband, Zack Rosenburg, to join her and started reaching out to nonprofits in New Orleans. From 30 emails, she got one just response.
"We thought, maybe we missed it, maybe the recovery is over," recalls Rosenburg, who ran an indigent criminal defense practice in Washington, D.C., at the time, while his wife directed a nonprofit that provided training to at-risk young people.
The couple responded to the lone email. "A bunch of hippies feeding people out of a tent in Chalmette (near New Orleans) said come on down," Rosenburg recalls. "When we got there we realized that – far from being recovered – the city was in horrible shape. It was just a wreck."
While some folks were in FEMA trailers, many lived in horribly unsafe conditions. Then there was Mr. Andre, an octogenarian World War II veteran.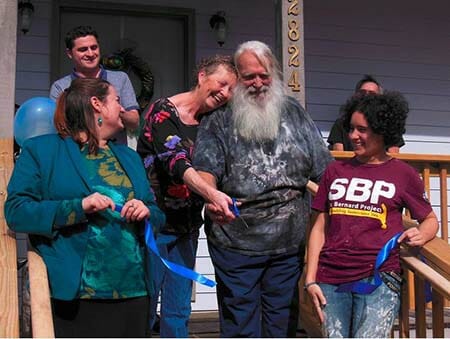 A New Orleans couple cuts a ribbon leading to their home, thanks to St. Bernard Project volunteers.
"Every day this proud man would show up for lunch, then he'd leave, and come back for dinner. After a few weeks, this guy broke down sobbing. He was sleeping in his Ford Ranger and went every day to ask for a FEMA trailer and was turned down," recalls Rosenburg.
It was clear to Rosenburg and McCartney that getting people like Mr. Andre back into rebuilt homes was a top priority.
"We approached a bunch of big, institutional nonprofits and basically heard, 'It's too early for rebuilding.' 'That's phase two of recovery and we're in phase one.' 'We've done disaster recovery for 30 years; this is how it's done,'" McCartney recalls. "We thought, if that was our family that was displaced we'd want people to start rebuilding houses now."
So the couple started St. Bernard Project in March 2006. By that June, they had left their jobs and moved to New Orleans to nurture the nonprofit, in Louisiana's St. Bernard Parish.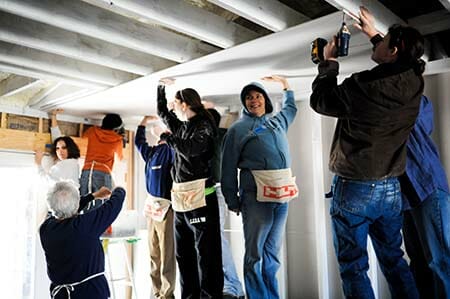 St. Bernard Project volunteers install a ceiling of a home.
"We had no vision – and that was our best asset," recalls Rosenburg. "We had no ties to traditional ways of doing things."
Working closely with local groups, including Habitat for Humanity, corporate donors such as Toyota and UPS, and AmeriCorps members from all over the country, St. Bernard Project has become a leader in disaster resilience and recovery, with 26 full-time team members in New Orleans.
Since 2006, St. Bernard Project has rebuilt homes for more than 900 families, with the help of more than 100,000 volunteers in New Orleans; Joplin, Missouri; Staten Island, New York; Rockaway, New York; Monmouth County, New Jersey; and most recently Marcus, Texas.
"What made the difference was our model, bringing what our clients need under one roof, with clear goals and accountability," says Rosenburg.
For example, a client could receive construction and mold remediation services, insurance information, financing options and – for a time in New Orleans – mental health services. St. Bernard Project has grown to include a job training program for veterans and efforts to create affordable new housing.
The need in New Orleans remains great, even 10 years after Hurricane Katrina. While St. Bernard Project has rebuilt 612 houses in New Orleans, there are 5,000 families who still are displaced. The organization gets 15 to 20 requests every week from new clients who haven't been able to move home, or folks who live in derelict homes because they can't afford to go anywhere else.
For the 10th anniversary of Hurricane Katrina, St. Bernard Project is holding a 48-hour build-a-thon starting at 10 a.m. Aug. 26. The goal? To make sure 48 more families move back home.
"It's not over 10 years later," says Rosenburg. "America is not going to be whole or healed until New Orleans is rebuilt."
See more Hurricane Katrina stories and memories at www.pointsoflight.org/katrina.
Share this post