Ann Drorbaugh and Dave Kopra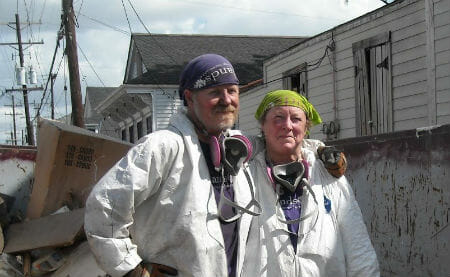 To commemorate the 10th anniversary of Hurricane Katrina, we are honoring volunteers who served along the Gulf Coast after the storm. Meet Dave Kopra and Ann Drorbaugh, today's Daily Point of Light Award winners, and nominate an outstanding volunteer or organization you know as a Point of Light.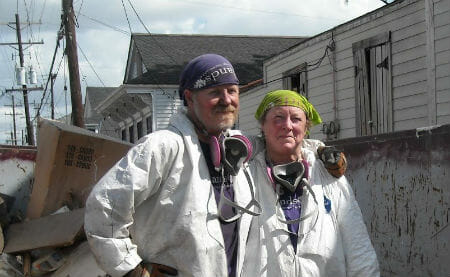 Dave Kopra and Ann Drorbaugh
Images of the lingering devastation caused by Hurricane Katrina – even many months after the Aug. 29, 2005 storm – moved Dave Kopra and Ann Drorbaugh. The Olympia, Washington, retirees yearned to help.
"We had the time, so why not?" Kopra says. "When we first came, we were just shocked at how bad things were a whole year after the storm – how quiet the city was and how depopulated lots of areas were. We immediately made plans to come back again, then one thing led to another."
Since 2006, Kopra and Drorbaugh have been on a mission to rebuild New Orleans one home at a time. They have made 25 trips back to the city, recording blog entries for each trip. New Orleans is no longer a place where Kopra and Drorbaugh just visit or volunteer; the city feels like home.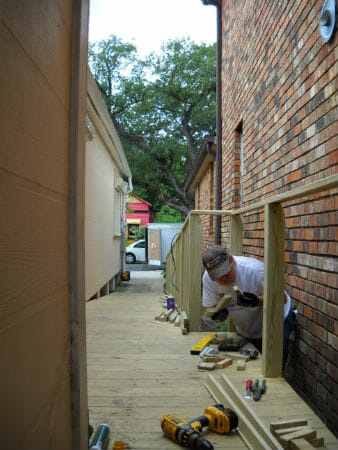 Dave Kopra builds a wheelchair ramp for a disabled New Orleans homeowner.
And the residents have embraced them. Peggy Severe, a Hurricane Katrina survivor whose storm-damaged home Kopra and Drorbaugh helped restore, speaks of them fondly.
"Every time they're in New Orleans, they check on me," Severe says. "They're wonderful."
The feeling is mutual.
"In the process of helping people put their homes back together, they became our friends, our family," Kopra says. "We had Thanksgiving dinner here one year. One of the homeowners spent all night and all day preparing a meal for 25 of us. It is just that kind of stuff that has broadened our look at the world."
Kopra and Drorbaugh have helped repair more than 50 homes damaged by Hurricane Katrina, with such organizations as HandsOn New Orleans – part of Points of Light's HandsOn Network – and Rebuilding Together. Kopra and Drorbaugh will be back in New Orleans to volunteer during the 10th anniversary of the storm.
On their last visit in April, they helped complete the interiors of two homes in the Upper Ninth Ward. Last year, in October, they led a team in building front and back porches, as well as a wheelchair ramp, for a homeowner in Gentilly, Louisiana.
"There are lots of invisible residents now living in damaged homes," says Drorbaugh. "All around the city are homes that look OK from the sidewalk, but are unrepaired inside. There are many homeowners who have exhausted their financial resources, now living in homes without water and other basic needs."
As long as they're still needed, Kopra and Drorbaugh say, they'll keep coming back.
See more Hurricane Katrina stories and memories at www.pointsoflight.org/katrina.
Share this post
---