Success in Helping the Poor and Homeless Leads Teen to Create an Even Bigger Initiative to Focus on Education
Meet Daily Point of Light Award honoree Matine Khalighi. Read his story and nominate an outstanding volunteer or family as a Daily Point of Light.
At just 18 years old, Matine Khalighi has earned acclaim for organizing Denver-area teens, businesses and schools to help the homeless – raising money, awareness and tirelessly bringing them cheer and hygiene items for four years.
But he's only getting started. Just days ago, on June 22, 2020, Matine began closing down his "Helping the Homeless Colorado" website and other social media platforms in order to officially roll out a new, highly organized effort that focuses on helping impoverished and homeless students achieve the education that he now believes is the real key to a better future. Matine calls his new organization EEqual. Its mission is to give individuals in need a real chance to escape poverty for good by obtaining the education needed for an equal footing in life.
Our latest Daily Points of Light winner is the son of a doctor and a pharmacist. A bright, high-achieving student who's been accepted to Harvard University this fall, Matine was perceptive enough to notice the plight of the homeless when he was just an eighth-grader, and savvy enough to realize he could tap into his generation's desire to make a difference through social media.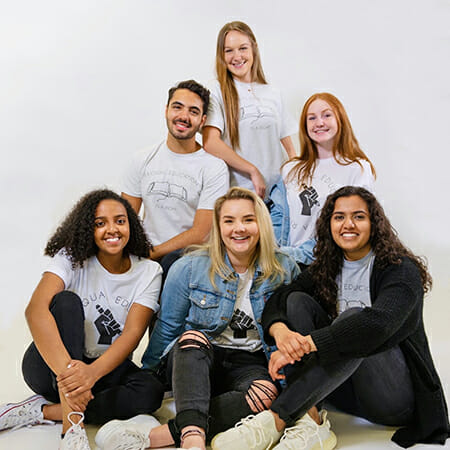 "Whenever I was driving around with my parents, I noticed people living on the street, and wondered how that was fair," said Martine. He remembers being discouraged by his teachers at the time from working with the homeless – "It was a dangerous population in their eyes" – so he did his eighth-grade project on helping foster children and then he and a friend launched their own nonprofit, Helping The Homeless Colorado, in their freshman year of high school.
"We were the kind of kids who stand outside of grocery stores raising money and we thought it was fun," he says.
As the organization grew, the teens ran many traditional fundraising events, such as annual galas and 5K runs. They applied for grants and wrote to local businesses asking for sponsorships. Martine soon realized that his generation's comfort with social media gave them an added edge.
"Social media advertising is really, really effective," Matine says. "People will donate on social media. For example, Facebook's saying I can host a fund-raiser. So, I put it on my Facebook and suddenly, I check back one day later and I have $500 in donations. Here's Giving Tuesday coming up — maybe we can get a company to match donations on Facebook. It's easy.
"It's also how we communicate everything," Matine adds. "Our newsletter's great, our website's great, but Instagram, Facebook and Twitter are our strongest outlets as far as getting our message out there and for fundraising."
Helping the Homeless Colorado ultimately raised over $140,000, distributed over 50,000 hygiene products, helped over 10,000 people and given over $15,000 in scholarships.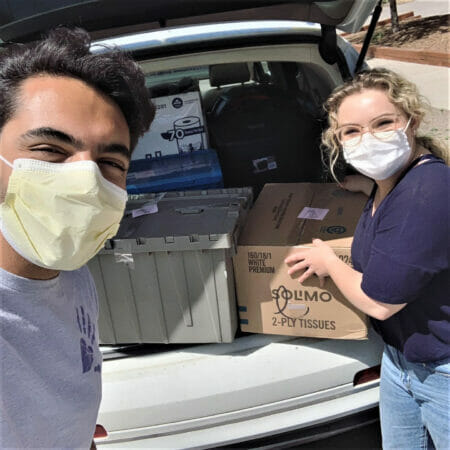 Now, Matine will be the executive director of EEqual, a nonprofit that has been nine months in the making. Matine and five other young people on his executive team put together an entirely new website, created videos and designed a logo that looks like a book with an equal sign – to symbolize education and equality. The organization builds on the scholarship aspect that evolved with Helping the Homeless Colorado by raising money to provide classroom supplies and pay fees for students in low-income school districts, and also provide tuition for students pursuing community college or tech school after high school graduation.
Matine hopes to expand this organization to schools across the nation by creating a model that students can replicate at middle- and high schools, as well as at colleges and universities. He's learned to recruit other teens by tapping into their individual personalities and assigning tasks at which they can excel.
One enthusiastic recruit is Shayda Zarrin, who's known Matine for years as a family friend, but who attends a high school in a different school district than his.
"I've always wanted to make a positive impact – I believe in our generation and it's common for young people to want to change the world, but we just don't know how," says Shayda, who is almost 16, and is already involved in student government and several other school clubs.
It was Matine's Instagram posts that caught her eye. He urged viewers to message him if they wanted to get involved and Shayda did. She used Twitter to quickly draw her friends to join the cause. Now, Shayda acts as an ambassador for to get the word out to other schools.
Lydia Shimelis, a high school senior, is taking over as development director for EEqual, after having volunteered with Helping the Homeless Colorado since early 2019. She's also already busy with student government and sports, but says Matine's passion and leadership made her want to be on his team.
She learned she had a knack for approaching local businesses to make a pitch for sponsorship and donations.
Lydia thoroughly supports the organization's transition to EEqual. "Although our program was helpful in the moment, it was kind of a band-aid solution to homelessness and poverty," she says. "This change allows us to target poverty and homelessness at its core. Education has been shown to be a direct solution. I feel like now, with economic changes and the pandemic, that our mission is even more needed. There have been budget cuts in education and kids who are low-income are deeply affected by this."
Do you want to make a difference in your community like Matine Khalighi? Find local volunteer opportunities.
Share this post