Suicide Survivor Offers Lifeline to Youth through "Letters to Strangers" Volunteerism
Content Warning: Points of Light highlights uplifting stories, however, we acknowledge that the following content may be difficult for some readers. We encourage you to please care for your safety and wellbeing above all.
Meet Daily Point of Light Award honoree Diana Chao, who was a 2020 L'Oréal Paris Women of Worth Award. Each year L'Oréal Paris and Points of Light recognize and celebrate Women of Worth who make a beautiful difference in their communities. Ten honorees each receive a $20,000 grant to support their most cherished cause, and an online vote determines one honoree who will receive an additional $25,000 grant. Nominations for 2021 are now open! If you know a woman who works to create lasting and significant change in her community, nominate her to be one of the 2021 Women of Worth.
Diagnosed with bipolar disorder at age 13, Diana Chao survived a series of suicide attempts through her teens. When Diana's brother discovered her on the final attempt, Diana says she knew she had to get help.
"I made a vow to myself that no matter how dark my world got, I could never drag (my brother) down with me," says Diana. "That became a turning point. I am first generation, my parents didn't speak English, and we were living below the poverty line. The health care system was very inaccessible to me at the time. So I turned to writing. I wrote to no one, but also to everyone at once."
Journaling evolved into what Diana envisioned as writing letters to strangers. Mechanical pencil in hand, the now 22-year-old student from Claremont, California says she got her thoughts down on paper. In expressing herself through writing, Diana found her voice, and decided to help others do the same, through Letters to Strangers.
"I developed this model that writing is humanity distilled into ink. (Writing about) things that were going on in my life. Questions I had that I didn't know how to ask people who knew me. Feelings I had about my own worth and value. Thinking about how I'd talk to a stranger about these thoughts, in those moments I realized I was trying to be kind and empathetic to these people I'd never met, but I couldn't do the same for myself. I realized if this could help me discover my voice, then maybe it could help others as well."
Founding Letters to Strangers as a student club when she was just 14, Diana, who also serves as executive director of the global youth-run organization, has since connected with more than 35,000 people in the United States and internationally, which counts thousands of volunteers and chapters in 20 countries. Open to individuals with or without mental illness, Letters to Strangers seeks to normalize conversations around mental health. By creating an inclusive space that is destigmatizing mental illness and increasing access to affordable, quality treatment for youth aged 13 to 24, Diana says she's paying forward the second chance she got in life.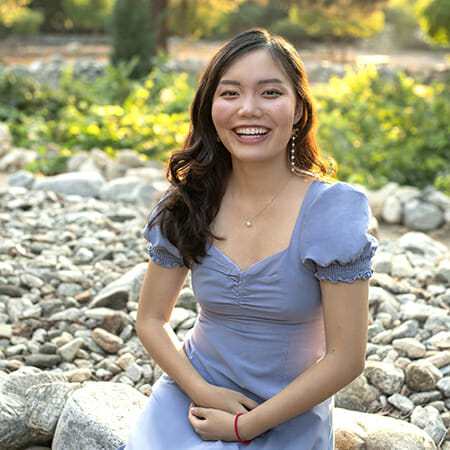 "After I survived my suicide attempts, I was struck by how I felt like being alive was this miraculous chance that so few people were lucky enough to have. I felt like I needed to give my version of gratitude back to the world."
That grateful service includes an anonymous letter exchange within chapters, peer education, workshops, events and online resources including videos and the world's first "Youth for Youth Mental Health Guidebook." Hoping to bring the guidebook into classrooms one day, Diana has partnered with many organizations to extend her reach, including NAMI (National Alliance on Mental Illness), Active Minds, Mental Health America (MHA), Unilever, DoSomething.org, Adobe, Viacom's Generation Change, Made of Millions and Screen Actors Guild of New York. Diana's lived experience and perspective as a first generation Asian-American helps to empower other minority youth who struggle to find their own voices, says Maggie Luo, associate director of development and communications for NAMI New Jersey, a partner to Letters to Strangers.
"Because of cultural and systemic hurdles in seeking help, (Diana's) brave representation of the community has really helped young Asian-American women and men who may not feel like they have a voice to come out and get help," says Maggie. "'Strangers' is a term so many of us can identify with in society, but (Letters to Strangers) lights up the day for many people whom are not cared for by anyone else. Diana is truly a courageous person who put a face to the Asian-American experience in America, and for those still on the earliest stretch of their health-seeking journey, her work heals in a powerful way."
Diana's service is particularly unique, she says, as she trail blazes the path to healing for many underrepresented youth as one of the few public young Asian-American mental health advocates, reminding youth they are not alone.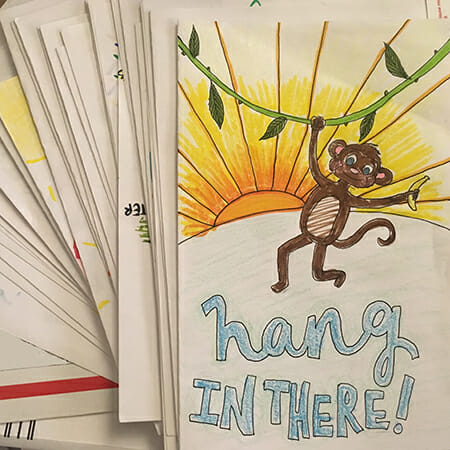 "After all of these years, I'm one of very few, if not the only, young Asian-American mental health advocates that has been in the field for as long as I have. Asian-American youth see themselves in me and feel validated. One 14-year-old adoptee from China reached out to me, she was raised by white parents and had been hospitalized for a suicide attempt. She felt constant tension between her heritage and the environment around her. After she discovered Letters to Strangers, she saw in me someone who looked like her and faced similar struggles as her, but who also fought through it. She's now one of our volunteers. It's honestly a blessing to witness."
Amid the COVID-19 pandemic, Letters to Strangers has launched an online version of their letter exchange, and Diana says the work to creatively serve youth in need has not stopped.
"Menstrual product prices saw a huge increase in cost in Zimbabwe due to the pandemic. We started to see conversations about a lack of dignity leading to trauma for a lot of students there, and we ended up supplementing sexual hygiene with our mental health curriculum, even partnering with a local sewing school so students could learn how to sew their own pads."
Empowering youth to advocate for their own mental health and encouraging increased mental health resources and support at the local, state and national level, Diana envisions a stronger, healthier future in communities across the globe.
"Serving is a lifelong journey. I know personally that when all you understand is emptiness, one letter, one human connection, can save a life. Mental health matters, mental health is personal. I fight because I can't bear it otherwise."
Do you want to make a difference in your community like Diana Chao? Find local volunteer opportunities.
If you or someone you know may be considering suicide, contact the National Suicide Prevention Lifeline at 1-800-273-8255 or text HOME to 741741 to talk to a trained crisis counselor through Crisis Text Line – it's anonymous, free and available 24/7.
Share this post