Syrian Violinist Turns Passion for Music into an Inspiring Message of Peace and Cultural Understanding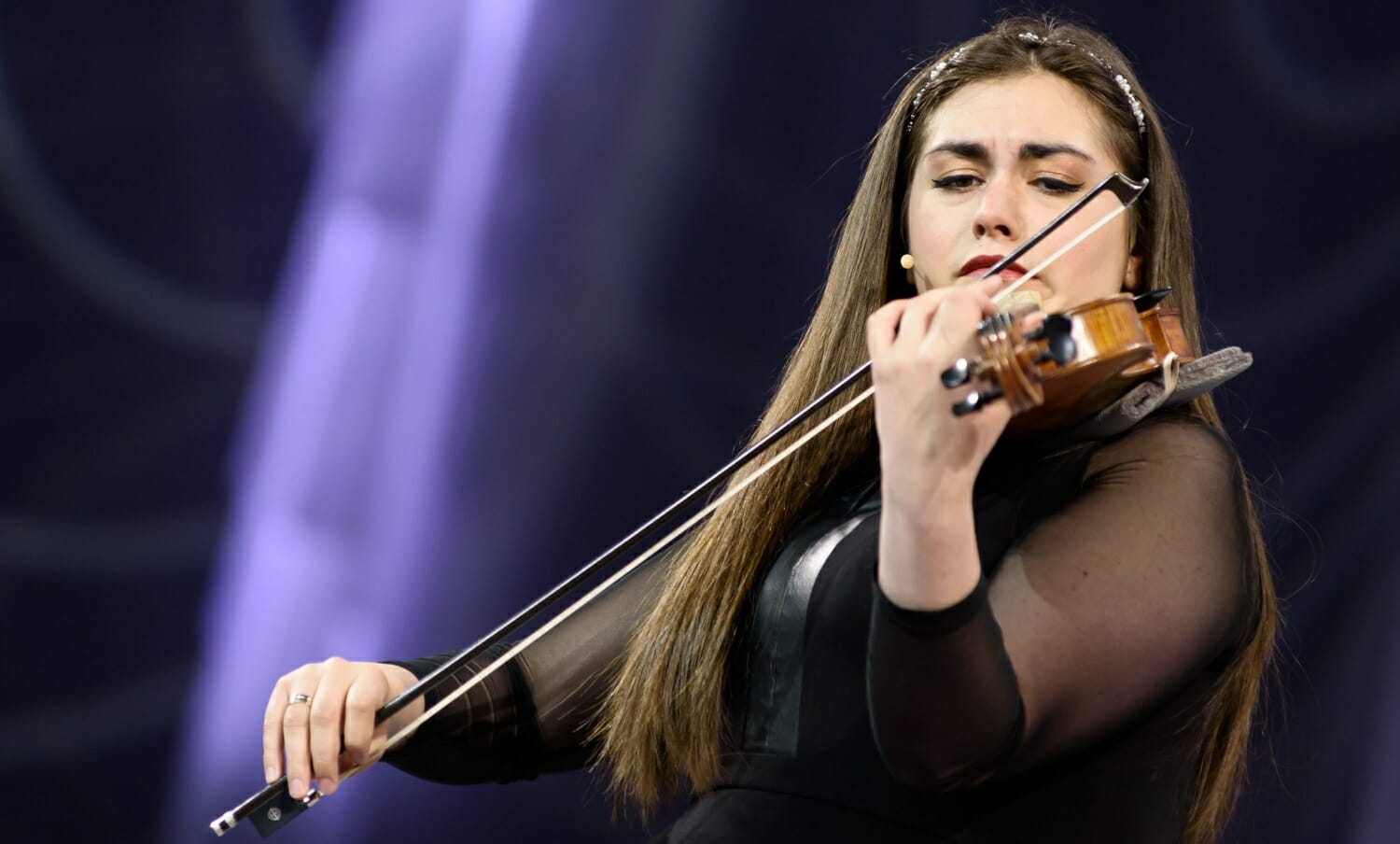 Meet Daily Point of Light Award honoree Mariela Shaker. Read her story and nominate an outstanding volunteer, family or organization as a Point of Light.
From a young age, Mariela Shaker was a gifted violinist. At the age of 10, she joined the Arabic Institute of Music in Aleppo, Syria, graduating in 2004 with distinction. She then began traveling across Syria to perform in various festivals and concerts, eventually returning to the institute to teach music to a new generation of students.
On Tuesday, March 15, 2011, a brutal civil war broke out in Syria as an anti-regime uprising challenged the presidency of Bashar al-Assad. With major cities destroyed and hundreds of thousands of casualties, the country was left in disarray. As the ongoing humanitarian crisis mounted in the years to follow, more than 5 million refugees fled the country in search of safety – Mariela among them.
Working to obtain her bachelor's degree when the civil war broke out, Mariela's graduation was delayed and she lost a scholarship opportunity in London. But in 2013, a full scholarship to Monmouth University in Illinois provided Mariela with another chance to escape the Syrian conflict, to study music and obtain a visa to the United States – where she was eventually granted full political asylum.
Now 26 and a full-time resident of the United States, Mariela uses her incredible gift to bring people together through music. She was honored in 2015 as a White House Champion of Change for World Refugees, and now travels the country and the world sharing her music to raise awareness for the millions who have fled Syria.
"I feel powerless to change the current tragedy on going in my country," said Mariela, speaking at the 2016 Points of Light Conference on Volunteering and Service. "However, I believe so much in the power of music – and I believe it its ability to fashion peace and love in our world."
Points of Light will present Mariela with her Daily Point of Light Award at An Evening of Praise Celebrating Unity in Diversity in Atlanta, where she will be performing in a charity concert benefitting Friends of Refugees Providing Education and Empowerment.
We caught up with Mariela to learn more about her life, motivations and achievements as a musical changemaker.
What inspired you to begin using your voice and your talent to make a difference?
The war in Syria encouraged me to do something to change this world. I was so depressed in Aleppo, not knowing if I would live to see the next morning or not. I found the music a relief, medicine to turn the darkness into a bright place. Every day I risked my life to go to teach my students in Aleppo. I wanted to use my musical skills to contribute to the community and have a positive impact. Playing my violin was the best thing I could do to inspire people to keep dreaming and continue their life despite the death, which was ongoing. Here in the United States, I am still playing my violin and advocating for my people who are still inside Syria. I am playing my home song, and I shall always do. One day, I will go back to Aleppo and help rebuild my country!
What makes music such a powerful tool for change?
Music is a very powerful language. It removes barriers between people and nations. For me, it was the bridge that carried me from the war to the United States. It saved my life! Through music, we communicate, advocate, inspire and express the things that are hard to express by any other word or language. Whenever I perform, I feel I get to tell the story of my suffering country and people. I am a Christian, who has performed Jewish themes like Schindler's List for Muslim communities. I feel this is a proof that music opens the door for people to better understand each other, and feel the pain this world has felt in hope for a better future. My hope is to keep using music to help heal the pain our world has felt and create a peace platform for everyone.
Why do you think it's important for others to give back?
From my personal experience and since I was in Syria, a lot of people supported me and believed in me. I wouldn't have been able to be this person without the great help and support I received from so many wonderful human beings. Their help has changed my life and made me be a better person. I would like to one day be able to touch the lives of others around me and inspire them to do good things in their community. I learned from so many beautiful humans around me that you don't have to be a billionaire to be a philanthropist. It only takes a big heart to accept and help others in need.
What have you learned through your experiences as a 'Champion of Change'?
I learned that life is full of challenges and difficulties. I also learned that life is a beautiful and painful journey, but we should never allow anything to keep us from fighting for the good and noble causes we believe in. I consider the award I received as a White House Champion of Change to be a huge responsibility, to represent the Syrian students and refugees in the United States, and also to represent all the great values I learned here and worldwide.
What's been the most rewarding part of the work that you do?
It is so rewarding for me every time when I walk on the stage and get the chance to create an image of refugees and Syrian students. Although I feel safe here in the United States, I can never forget my friends and family who are still living in dangerous situations and struggling without the basic necessities of life – such as power and water. I have been honored to get the chance to perform and fundraise for so many organizations, like Jusoor and International Rescue Committee, to benefit refugees and students. It is rewarding to know that I have been involved in projects to help vulnerable people and aid them to have a bright future.
Are there any future partnerships, programs, or events that you are excited about?
Yes, in fact, I just received my master's degree in music performance from DePaul University. I am now using the power of music as a bridge for peace and love, performing and speaking to fundraise for education, immigrants, refugees and students. I recently performed and spoke at MIT, Lincoln Center, Harvard, Aspen Ideas Festival, Georgetown University, and Honolulu Museum of Art. I have recently been appointed as a "High Profile Supporter" for UNHCR – the UN Refugee Agency – and started working with the Brian Seaman Agency in Canada on a project to write a book about my journey from Aleppo to the United States.
What do you want people to learn from your story?
I made my way from the war-torn city of Aleppo based on a music scholarship I received in the United States. I would like to send out a message of hope and peace through each performance, and encourage people to not to give up on their dreams. I believe that everything is possible in this world. We need to keep our dreams big, but never forget to work so hard to achieve these dreams.
Share this post