Teaching At-Risk Youth to Make Every Move Count, with Chess Skills and Life Lessons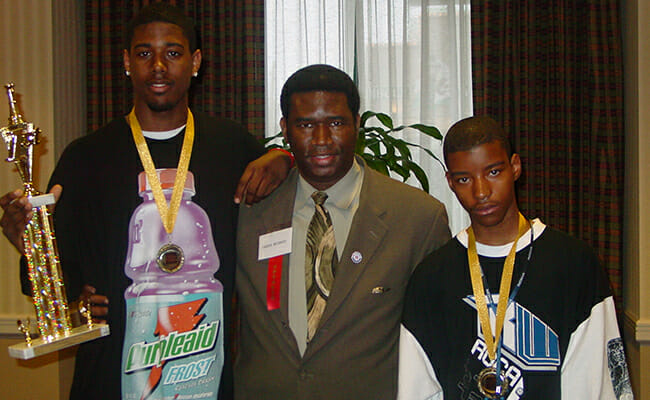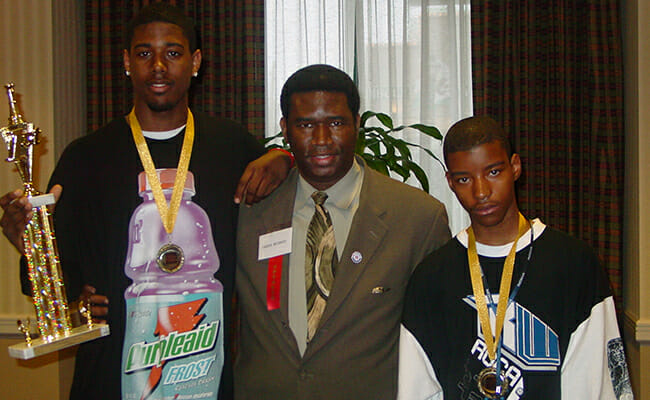 In a game where one wrong move can risk your path to victory, Orrin "Checkmate" Hudson encourages young adults and children to not focus on the chess pieces they have lost, but rather on what's left on the board – and to never give up.
Preaching the power of thinking strategically and making better life decisions, Orrin, a 55-year-old from Stone Mountain, Georgia, teaches his students the game of chess through what he calls the six magic words: "Take time to think things through." These words have connected Orrin with more than 55,000 children in 30 states nationwide and internationally, including trips to the Philippines, India and Canada.
Orrin has an intimate understanding of the real life adversity some of these children face because he was once one of them. His life experience has led him to commit to serving those most in need of guidance and support.
As a teen in Birmingham, Alabama, in the late 1970s, Orrin was in and out of foster homes. He vividly recalls running with a gang at the young age of 14.
Struggling through turbulent times in the deep south, a dedicated teacher named James Edge, a white man in an all-black school, helped Orrin turn his life around by teaching him to become a master chess player. Years earlier, Orrin's brother had introduced the game to him, but it was James who fostered his passion for the game and taught him how to win – both at chess and life.
By using chess to teach him that each action has a consequence, James refocused Orrin's life. By his senior year of high school, Orrin had moved from being an at-risk teen to being voted "Most Likely to Succeed." In 1999, Orrin became the first African-American to win the Birmingham city chess championships, and has been a finalist in other major chess tournaments.
A former Alabama state trooper and Air Force veteran, Orrin said giving back to the community has been important to him for some time. But his outlook on how exactly he could contribute changed one day while watching the news. On May 24, 2000, five Wendy's employees were killed in an armed robbery in New York, with $2,400 stolen from the cash register.
Distraught over the senseless crime, he founded Be Someone, a 501(c)(3) nonprofit foundation, with the goal to transfer his life lessons through the mastery of chess and break the cycle of crime and violence. Today, Orrin lectures on "brains before bullets," and provides free workshops in schools and churches. His sole mission is to help troubled youth, just as his teacher once helped him.
"A lady called me at 1:30 a.m., and asked if I could help her son," Orrin recalled. "When asked why I'd answer the phone in the middle of the night, I said 'a full-time soldier sleeps with his boots on.'"
As a full-time volunteer, Orrin has touched many lives. Dontavious Jones is one. The 26-year-old Atlanta native said he first met Orrin as a fourth grader in the library at Benteen Elementary. Chess wasn't the only thing he learned that day.
"What he taught us was not just chess," Dontavious said. "He taught us key fundamental building blocks for life – realizing that every action that you take has an equal and opposite reaction, so you have to be careful and you have to think everything through."
Orrin uses presentations centered on the strategies of chess as a metaphor for the game of life, teaching his at-risk youth how to think strategically and instilling skills such as focus, discipline and patience that are important in the game – and even more critical on the streets.
"A lot of those fundamental building blocks still guide my life to this day; I'm very diligent, very hard working, and I think through every situation," Dontavious said. "I try to find the best solution. I use problem-solving and critical and analytical thinking in my everyday life. More than likely, that wouldn't be to the extent with which I do it now if it wasn't for the game of chess."
Dontavious, who has a young son of his own, said Orrin was like a father to him.
"He had nothing but good expectations for you, and your future. He was always there to help and to motivate you. He was always positive, always upbeat and he'd find a lesson out of everything in life. He's just all-around a great guy," Dontavious said. "Giving back to the community in the way that he did, I appreciate it every day."
Orrin's motto, "It takes teamwork to make the dream work," drives his daily work. "I get a kick out of helping people. I have no hidden agenda. My agenda is to help you win, period," he said. "It's not about me, it's about we."
How you can help: visit BeSomeone.org to help support at-risk youth around the country.
Share this post