Teaching Youth to Believe in Their Future Through Art, Mentorship, Education and Service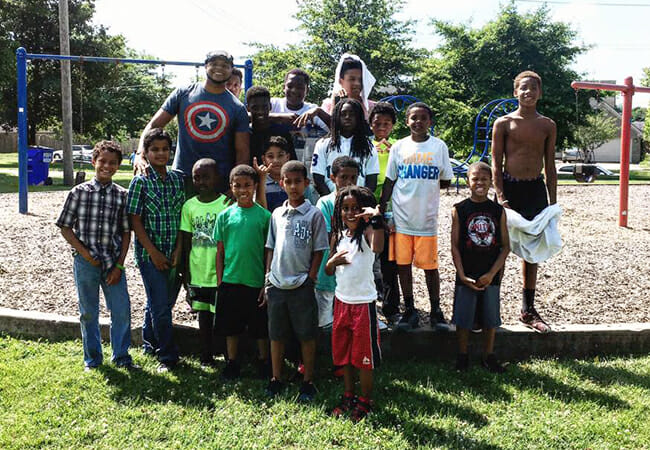 In the early stages of his career, socially conscious hip hop artist Devine Carama began to notice that his Lexington, Kentucky, community was in need. He lost friends to gun violence. He saw at-risk kids who wanted to play competitive-level basketball, but who were unable to join a league due to the costs. Devine was driven to get involved and help those in need within the community.
He began with developing fundraisers to help kids reach their potential. With each step, he became more motivated to stay involved, and for a few years he did it on his own until he realized it was more than volunteerism to him. "This was what I wanted to dedicate my life to," Devine said.
In 2014, he founded Believing In Forever with a mission to inspire and motivate young people through a combination of art, mentoring, education and community service. His organization also facilitates weekly tutoring sessions, where food, books and tutoring services are provided at no cost to youth in need.
Now, Devine travels the country going to schools and giving motivational speeches and presentations focused on the power of words. In the past four years, Devine has spoken to 40,000 kids across eight states.
"I want to plant the seed and change their perception," said Devine. "A lot of young people limit themselves. I want to empower them to use their voice and act to do something positive."
In addition to the programs offered, Believing In Forever facilitates an annual "A Coat to Keep the Cold Away" coat drive for youth in central and eastern Kentucky. Devine said that with the help of his girlfriend and her meticulous spreadsheet skills, they track the exact size needed by every child, and then provide each one with a brand new fitted coat.
This year the coat drive collected 2,700 coats. However, with the numbers coming in below their goal, Devine staged a 48-hour concert in downtown Lexington to raise awareness. His performance helped bring in another 700 coats.
In addition to the coat drive, Believing In Forever also hosts "Sons of Single Mothers" mentoring days, bringing together men from the local community to mentor boys who don't have a male role model in their lives. The program offers monthly weekend outings, like attending a movie, visiting the aquarium or a local theme park, going to dinner or team building. The mentors also offer guidance and support to the boys on an ongoing basis.
All of this good work is having a positive effect. In fact, "We've seen a decrease in behavioral disciplinary referrals by 80 percent [for] the boys in the program," said Devine.
Devine said his hope is that one day, Believing In Forever will be his full-time job. He also would like to expand its programs, including making the coat drive a statewide effort. In addition, Devine would like to continue to give empowering speeches by traveling more, and secure larger grants to help even more people.
"There are a lot of young people who are broken and unable to succeed at school or in relationships," said Devine. "Our goal is to help kids use art, education and community service to help them heal."
Share this post