Teen Advocates for Abused Children Through Youth-Led Volunteerism
Meet Daily Point of Light Award honoree Lori Christian. Read her story and nominate an outstanding volunteer or family as a Daily Point of Light.
The world changed for Lori Christian when a 6-month-old foster baby arrived at her home after suffering 11 broken bones, both of her broken legs in casts. After Lori's family took the baby in, the 16-year-old helped her parents care for the abused infant. The teen says she remembers peering into her crib, watching the sweet baby sleep with her casts, wondering who could have ever hurt a child like that.
Witnessing the aftermath of the abuse the baby suffered and what Lori says was a lack of support offered by the overwhelmed child protective services system, the high school junior founded Teens for Abused Children (TFAC). The youth-led organization partners with hospitals and the state's child protective services to help children who have experienced abuse. Raising awareness, offering resources and lobbying to change what Lori calls a failed system for foster children, Lori has connected with hundreds of people in her greater community since 2018.
What inspires you to volunteer?
It was awful to see what had happened to this sweet baby. My drive to help was amplified by how awful it was to deal with the CPS system, and witness how it failed my community. While we had the foster baby, her case manager was simultaneously working on 190 cases. The baby is well and safe now in a permanent home and is in the process of being adopted. She's walking and talking and happy as can be.
Tell me more about how you're trying to help foster children in your state.
CPS receives an overwhelming amount of cases each month—sometimes more than the caseworkers can handle at once. We are lobbying to pass the "New Hope Law" that would cap the number of cases child protective services caseworkers can handle at a time. While we had the baby in our home, she was in obviously critical physical condition, and it was really difficult to get any support from the system, so we had to rely on ourselves and support from the community.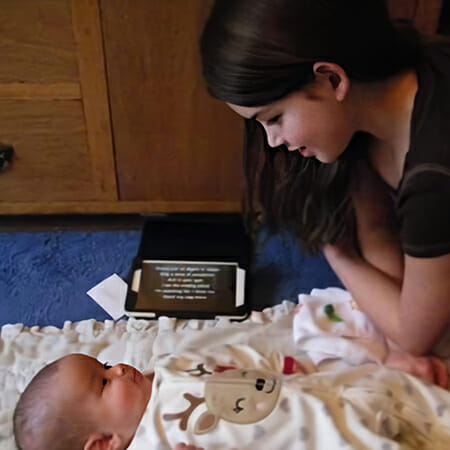 Describe your role with "Teens for Abused Children (TFAC).
As founder of TFAC, I help to raise awareness, host service events and fundraise to support our efforts. I've also partnered with other clubs at my high school, and other organizations, including the Family Community Career Leaders of America (FCCLA) to raise money. We volunteer with FCCLA members to put together care packages for foster children, including diapers, clothes, toys and bottles.
What's been the most rewarding part of your service?
The awards and recognition for my service is nice and humbling, but I think working with kids and seeing the foster kids we are helping grow and evolve is most rewarding. We realize there are other kids out there that are experiencing abuse and support makes all the difference in the world.
What's one way you hope to inspire others in your service?
Acknowledge, understand and intervene. You can be 15 or 50-years-old, but whether it's voting on legislation or helping a kid, I hope to inspire others to listen to the need in your community and do what you can to help.
In one word, what does volunteering mean to you?
Passion.
What saying do you live your life by?
"Aspire to inspire before we expire." I believe in living your life to serve others.
When you're not in school or volunteering, what do you do for fun?
I do speech and debate. I like to write poetry and I have an activism blog. I'm also a full-time college student in addition to my high school work.
How can readers help?
Please visit our website for more information about how you can help and contribute to our cause.
Do you want to make a difference in your community like Lori Christian? Find local volunteer opportunities.
Share this post
---