Teen Evens the Playing Field for Kids through Sports Equity Programs
Meet Daily Point of Light Award honoree Shay Patel. Read his story and nominate an outstanding volunteer or family as a Daily Point of Light.
Shay Patel understands that even when it feels like you're lacking, there's always a chance that you have more than someone else. He was only 11 years old when he arrived early for basketball practice at his local Boys & Girls' Club public court. He saw Boys & Girls' Club members playing in flip flops and using volleyballs as basketballs. When he looked down at his own feet, he saw brand new basketball shoes, and realized that he wanted to help fix the equity gap in sports.
Patel immediately went to work. He founded Alley-Oop kids, a nonprofit made by kids for kids, in the fifth grade after that day at the Boys & Girls' Club and makes it his mission to help every kid experience the joy that comes from sports no matter where they come from.
Patel's vision for the organization is to enable underserved kids to access positive sports experiences and gear for a greater sense of community, foster healthy lifestyles and teach valuable life skills — and it's working. With Alley-Oop kids, he's already raised more than $50,000 for over 20,000 underserved kids.
Now at the age of 17, Patel finds that the mission of Alley-Oop kids has remained the same over the past six years, but it has progressively added more opportunities for youth. He began by collecting sporting gear donations for kids at the Boys & Girls Club and now runs week-long summer training camps.
Alley-Oop is committed to providing access to sporting gear to as many kids as possible because it can mean the difference between playing or sitting out of a game or practice. There's also financial barriers to adequate sports training for many kids, but Shay works to overcome those obstacles through free summer camps, sponsored professional training and virtual events.
He's learned that as long as you're doing something that's making a difference, it doesn't matter what age you are.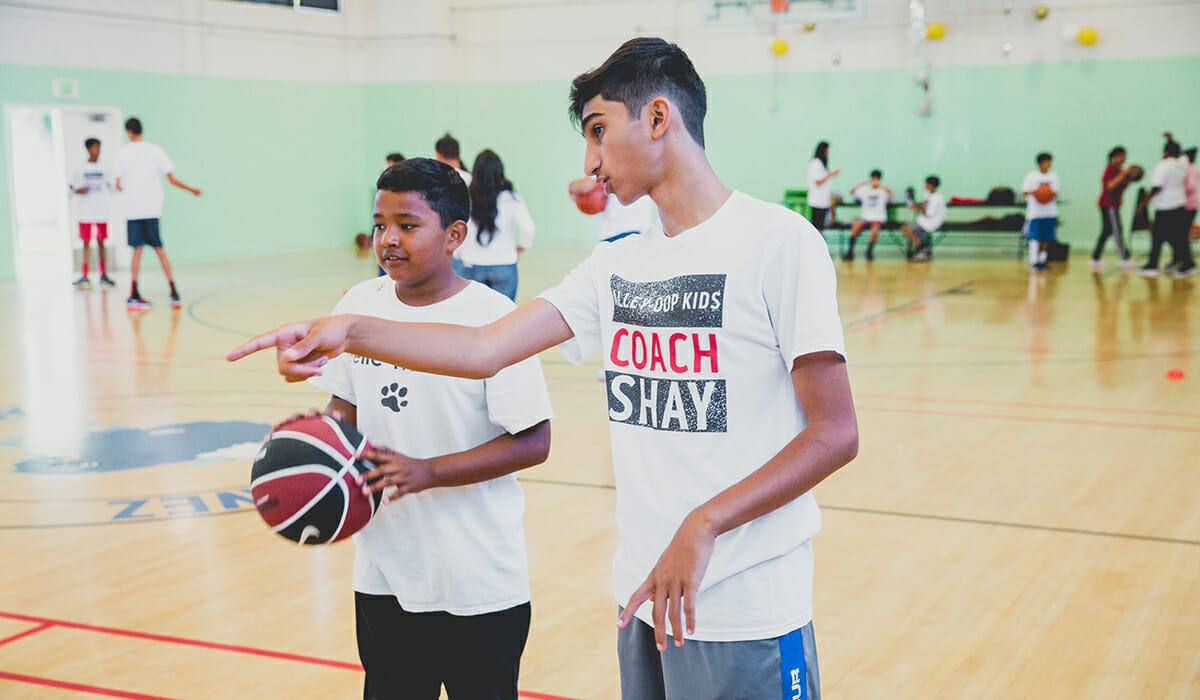 "We're just trying to do something good for kids in our area and around the world, so people resonate with that, and they don't care that we're teenagers because they care about the mission," Patel said.
Patel and the Alley-Oop team also launched a mobile app to help level the playing field in sports equity. It directly connects individuals who need gear to those who wish to donate it, and includes eLearning and training resources for those unable to leave their home during the COVID-19 pandemic.
They also began to notice that kids and teens weren't always logging on to virtual school throughout the pandemic. Since it's common for one household to have only one laptop or computer for both parents and kids, siblings often take turns with technology and miss classes if their brother or sister are utilizing it.
"We saw a big drop in numbers in terms of kids joining classes from underserved communities, and that's where I was like okay, we need to bring technology into this and give them access to logging into class," said Patel.
As a result, the Alley-Oop app and website currently has an option to donate devices like laptops and computers that go directly to students.
Volunteers of any age can get involved with sports and educational equity. Starting a gear drive at your school is a great way to start raising awareness and giving back to underserved youth, said Patel. Sporting gear that's not being used around a home that's been grown out of or no longer used can easily be given to someone who could benefit from it.
Alley-Oop also started an Ambassador Program last year for volunteers and people looking to make a difference in their community. After completing a brief online survey, anyone at any age from anywhere in the U.S. can get involved with the organization. There are nearly 50 ambassadors who have joined in the first year of the program's creation and meet regularly via Zoom.
Patel believes that it's important for others to set a good example for the next generation of changemakers and to not let the fear of rejection prevent you from creating an impact for those in need.
"As much as you can help, it's going to be appreciated by someone else," said Patel.
Do you want to make a difference in your community like Shay? Find local volunteer opportunities.
Share this post