Volunteer Highlights College Campus Food Insecurity as He Helps to Feed Thousands
Meet Daily Point of Light Award honoree Ethan Maddy. Read his story and nominate an outstanding volunteer or family as a Daily Point of Light.
A college junior at the University of Oklahoma (OU), Ethan Maddy's passion for volunteering burns bright, a passion he plans to translate into a future career in public service. Until then, the 21-year-old from Norman, Oklahoma is joyfully serving his community by helping decrease food insecurity.
As the OU Food Pantry Student Director, Ethan is contributing to the overall health and wellness of the OU campus community by feeding students, staff and faculty. While about 15% of residents across the state of Oklahoma are food insecure, even more within the OU community may lack access to enough food or nutritionally adequate food, says Ethan, who reports that as many as 1 in 3 college students experience food insecurity. Tirelessly volunteering to fight hunger in his community, Ethan has helped to put food on the table for more than 5,000 hungry individuals and their families.
What inspires you to volunteer?
I really enjoy helping others. It brings my heart joy to serve others because I've had the opportunity, thanks to my parents, to really get involved in the community and I've been fortunate enough to not face these difficulties. Volunteering is my passion.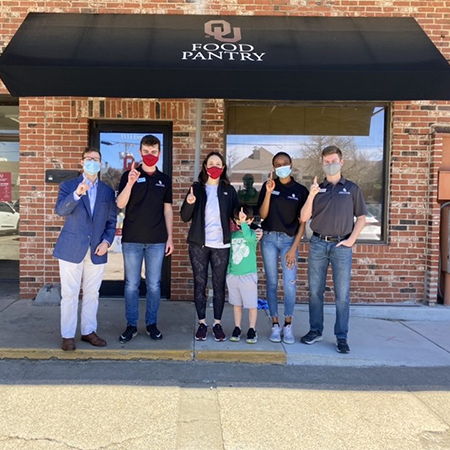 Describe your volunteerism.
I have several volunteer roles, but my primary role is as Student Director for the OU Food Pantry, where I oversee our student volunteer team, manage fundraising campaigns and donations, and coordinate the dozens of food drives we hold each semester on campus. We also provide free donated clothing through the OU Campus Closet. We serve about 120 clients from the OU community each week.
In addition, I am the founder and chair of the Big 12 Food Pantry Alliance, and a volunteer at The Oklahoma Group, which empowers nonprofit organizations. I started volunteering at the Regional Food Bank of Oklahoma when I was 10-years-old, and still occasionally volunteer there, as they are a partner of the OU Food Pantry.
Share one personal story with me from your volunteerism.
Before the COVID-19 pandemic, the food pantry operated like a grocery store and clients could pick what items they wanted off the shelves. One client, a PhD student, came in with his young son. The man was so hesitant to take pantry items because he felt like he was taking too much. He took a few bags of groceries, and ended up coming back later saying he'd worried about paying rent, but because of the food pantry, he was able to pay his rent, feed his child and stay in college. It looked like he was about to cry because of how happy he was. I'm getting emotional now thinking back to it. Ultimately, this man graduated with his PhD. That was such an eye opening experience for me, because I hadn't been on the front lines like that, and it was really cool to see him pulling himself out of poverty like that.
Why do you think it's important for others to give back?
There are so many reasons. It brings you joy to volunteer. Whenever I'd be sad or stressed, I would go restock shelves or greet clients at the food pantry. Volunteering creates a more equitable society.
What's been the most rewarding part of your service?
It's rewarding to see other people enjoy volunteering. We have over 500 food pantry volunteers, that number has grown over the past few years. Ultimately, that was my goal for the food pantry. I saw it as the one stop shop for everybody's needs, not just clients. Obviously feeding our clients is most important, but the pantry also exists for people who can come and give back their time to serve. We wouldn't be where we are without volunteers and donors.
How have you continued to volunteer throughout the pandemic?
We've transitioned to an online ordering system. Our clients can still select whatever items they want, but volunteers pack and prepare those items for pickup. We've seen a decrease in client numbers because most students and staff were remote, but the food pantry never closed and we've recently received more clients, which means more people are more comfortable about coming in.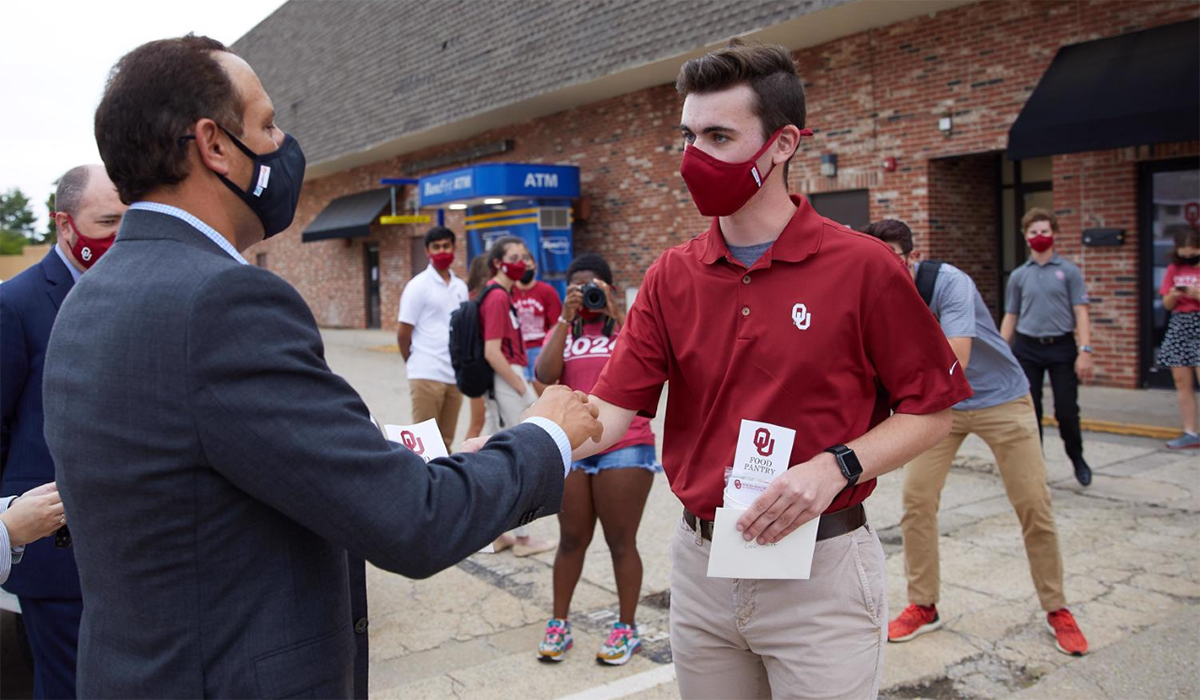 What do you want people to learn from your story?
Hours spent volunteering are never going to be unjustified or unneeded. Every hour our volunteers give is beneficial to the OU community. I'd imagine that is the case outside of our small Oklahoma community as well. If I could mandate volunteerism, I would mandate one hour of volunteerism each day.
In one word, what does volunteering mean to you?
Love.
When you're not busy volunteering or in school, what do you do for fun?
(Laughs). I adopted a dog a couple years ago. He's named after Theodore Roosevelt, I call him Teddy. I enjoy spending time with my friends and playing sports.
How can readers help?
We rely on donations to stock the shelves and our annual fundraising month is in April. Please visit our website for more information about how you can help.
Do you want to make a difference in your community like Ethan Maddy? Find local volunteer opportunities.
Share this post