Teen Girl Turns Love for Robotics into Mentorship for Underrepresented Kids
Meet Daily Point of Light Award honoree Nidhya Shivakumar. Read her story and nominate an outstanding volunteer or family as a Daily Point of Light. 
"I know what it's like to be in the position of the students I am helping," says Nidhya Shivakumar. "I had no clue how to build a robot as a young student, and was lucky to have older mentors." Nidhya, a 16-year-old high school junior from Cupertino, California, is now helping other students just like her through volunteerism. 
As the founder of Boost Robotics, Nidhya is providing educators and students from underrepresented groups in STEM an opportunity to delve into the world of competitive robotics. Since its inception, Boost Robotics has connected with more than 200 high school students in-person and virtually in California, around the United States and internationally. Nidhya is also dedicated to addressing the gender imbalance in competitive robotics, leading all-girls robotics workshops in addition to other initiatives. 
What inspires you to volunteer?
When I was in 6th grade, I was new to robotics. I had no idea how to build a robot. After going through the process, I realized many beginner teams don't have any experience getting into competitions, and how lost they must feel. Many students, especially underrepresented students, quit in their first year (of robotics) because they're not supported. That is what inspires me to volunteer.  
You started your organization during the COVID-19 pandemic. Explain. 
I was trying to think of a way to inspire students to pursue robotics and STEM in general during the pandemic. I launched a pilot program to mentor robotics teams online with guided video lessons. Those videos were successful and we expanded from there.  
Describe your volunteerism with Boost Robotics.
As founder, leader and instructor I lead a team of other student volunteers who are also VEX robotics competitors. We mentor underrepresented teams in STEM in their first year to build a basic competition robot and teach advanced concepts through a 12-week curriculum. I design the curriculum, and with my team of volunteers, create video lessons and presentations, then present weekly sessions to the mentees to address each year's challenge. I'm also a lead organizer for Girl Powered workshops.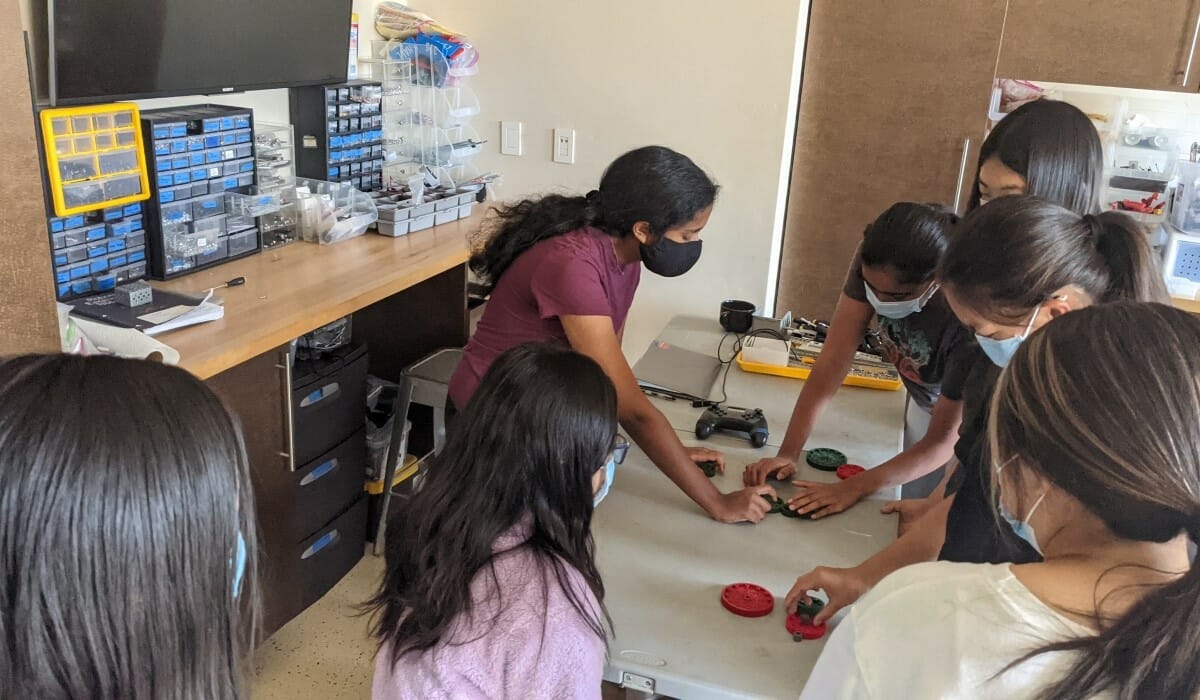 Share one personal story with me from your volunteerism. 
When I first started Boost, a teacher approached us because they had difficulties sustaining a school program. I designed a virtual curriculum for teams to build a robot, and after that first year, those teams built their own robots without guidance from me and reached the championships all by themselves. That feels really good, and it taught me (that) a little effort on my part can really go a long way and make a difference. Even the smallest act of service I participate in, I make the most use out of it.  
Why do you think it's important for others to get involved with causes they care about?
There are many unsolved problems in society. It's up to people who have abilities to help others, step outside their comfort zone and teach or help people in some way.  
What's been the most rewarding part of your service? 
It's rewarding because I'm able to help these students get an introduction to STEM. They may not pursue robotics specifically, but wouldn't have that general introduction without the guidance we provide.  
In one word, what does volunteering mean to you?
Uplifting. 
When you're not busy with volunteering or school, what do you do for fun?
I spend my free time in the garage working on my robot. Every year, we're given a new challenge to make a robot. This year, the robot's challenge is to throw discs into a goal. 
How can readers help?
Do you know students who may find our program helpful? Please visit our website for more information and to sign up. 
Do you want to make a difference in your community like Nidhya Shivakumar? Find local volunteer opportunities. 
Share this post