Teen Helps Make Education Accessible For All With Free Tutoring Service
Meet Daily Point of Light Award honoree Jheel Druv. Read her story and nominate an outstanding volunteer or family as a Point of Light.
Jheel Druv believes every student deserves the opportunity to learn, regardless of their economic situation. After she herself was unable to afford the same SAT review classes as a friend, the Lilburn, Ga.-based teen was inspired to start a free tutoring program with the goal of making education accessible to all.
Last year, Jheel founded Tutoring4All, an international one-on-one tutoring program that connects students from kindergarten to college with tutors in subjects ranging from AP Biology to resume building. The volunteer tutoring team consists of about 50 students in high school and college, who have so far helped educate 150 students. Aside from running Tutoring4All, Jheel herself also tutors about four sessions a week.
Describe your volunteer role with Tutoring4All.
Tutoring4All a worldwide tutoring organization where we tutor students for free by connecting the tutors to the students. As founder, I manage the communications and online presence, and I also tutor and make the content for all the subject areas we tutor in. I also manage the summer bootcamps we hold for the summer. I also recruit the volunteer tutors, who are all students as well.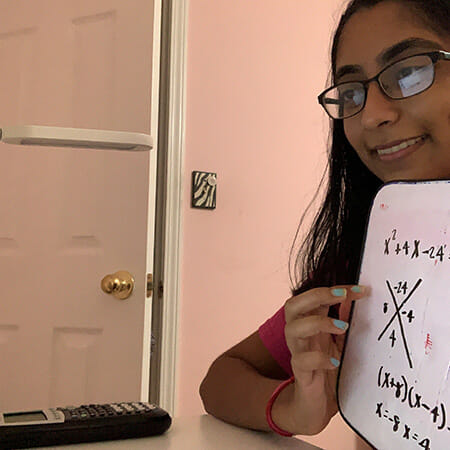 What inspired you to start Tutoring4All?
My friend and I were talking once and she told me she was going to SAT review classes. I asked her how much they were because I wanted to participate in that too, for extra review. She said they were $1,000. I wasn't in a situation where I could pay for this and I know this is a problem for a lot of people. Everyone deserves to learn so I wanted to share this opportunity with others, which inspired me to found this.
Can you describe the summer bootcamps?
We hold summer boot camps every summer. We have a boot camp for art, one for music, and one for math and science. You learn the foundations to the upcoming year's content. It's only available [for grades] K-8. A lot of students don't really have anything to do in the summer, so I thought it would be a good idea to have that program for students to have something to do and learn something they're passionate about.
Do you have any goals you would like to see the organization achieve?
A goal is to expand the tutoring even more. We are mostly here and in Canada, and a couple countries in Europe and India are participating in this. I want to grow even more to countries in Africa and Australia and South America. I want to grow our online presence and our organization and make it more known.
Why is making tutoring accessible so important to you?
I had a financial situation as well where I wasn't able to pay for tutoring classes, even in classes I was struggling with at the time. I wanted for other people to have that for them and be able to learn and to have the same opportunities that people with more financial resources have. Everyone deserves the same, and everyone should be able to learn.
What's been the most rewarding part of your work?
I love interacting with the kids and teaching all these subjects and making a lasting impact on their life. A lot of people are unable to pay for tutoring classes so through this, I hope they're able to learn just as much. I might just be a part of their life for a little bit of time, but I hope what I teach them in those classes can help build a stronger younger generation.
Why do you think it's important for others to give back?
I think volunteering is our purpose and we have to leave the world better. When we give back to others who are less fortunate, we learn how to support each other and build our communities.
What do you want people to learn from your story?
Do what you're passionate about and try to leave the world a better place.
Do you want to make a difference in your community like Jheel? Find local volunteer opportunities.
Share this post