Neighbor Serves Neighbors with Essentials and Dignity through "Treasure Box Project"
Meet Daily Point of Light Award honoree Jaclyn Crawford. Read her story and nominate an outstanding volunteer or family as a Daily Point of Light.
As essentials flew off the shelves at the beginning of the COVID-19 pandemic, Jaclyn Crawford knew she could help her neighbors with the extras she had on hand. First putting a metal storage box filled with basic necessities like toilet paper in her front yard, she continued to offer supplies months later, even after shelves were restocked, saying the need continued.
Officially launching the Treasure Box Project in March 2021, Jaclyn, a 31-year-old Chicago, Illinois resident, is serving her neighbors with essentials and dignity. From busy moms to families working to make ends meet, Jaclyn's generous volunteerism is empowering her neighbors and helping to fill the gaps for her community.
What inspires you to volunteer?
I really love my neighborhood and Chicago. That's at the heart of why I do what I do. It's hard to find toilet paper and other essentials in food pantries. I saw a way I could help to fill that void in my community and I wanted to just do it.
What items can be found in your Treasure Boxes?
Toilet paper, tissues, hand sanitizer, toothpaste, deodorant, body soap, body wash and feminine hygiene products are some of the items we offer.
Describe your volunteerism with Treasure Box Project.
As founder, I do everything (laughs). I'm a one-woman operation. In addition to Treasure Boxes, we also operate a home delivery option for homebound individuals. I coordinate volunteers with deliveries being made, I store donations and fill boxes and I run events, from farmers markets to coffee shop fundraisers. Lastly, I manage our social media and promotion. We've distributed thousands of items thus far from Treasure Boxes around greater Chicago, and have delivered more than 300 boxes. Through service, we are offering important household supplies while preserving anonymity, dignity and respect.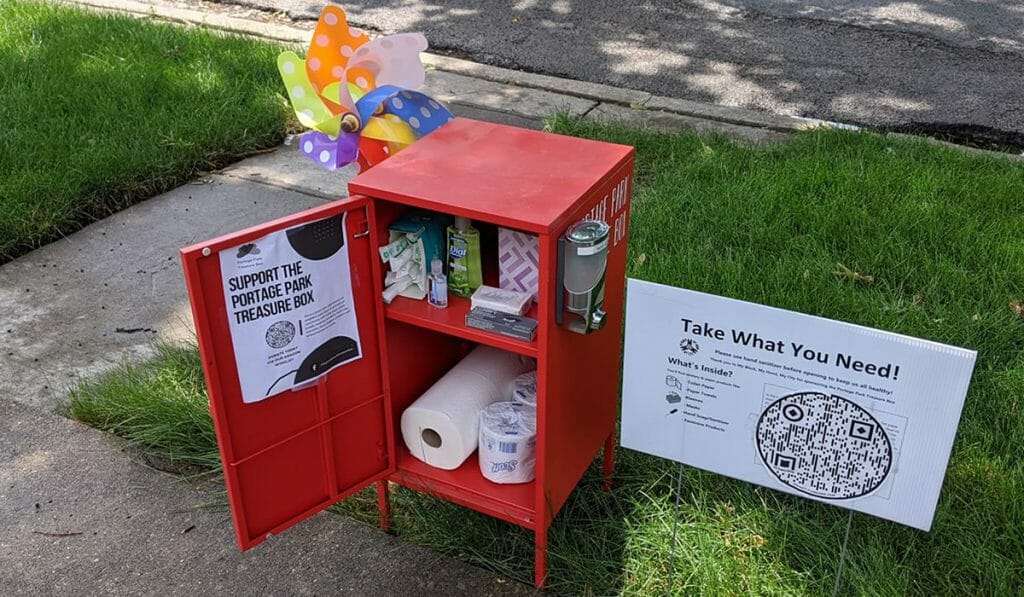 Share one personal story with me from your volunteerism.
One of my goals for the project is to keep things anonymous and give people dignity and respect. People will leave little notes at the box on my front yard, or thank you cards. I don't necessarily want people to know my face, and want to help keep recipients anonymous, but that little card means I'm doing the right thing. That means the world to me.
Why do you think it's important for others to give back?
As a community, we're here for each other during a pandemic, or even outside of that. Volunteering makes everyone in your community successful.
What's been the most rewarding part of your service?
It's been rewarding to meet people in my community that I might not have met otherwise. I love the city of Chicago, and my neighborhood, Portage Park. I have met so many recipients and donors that I'm not sure I would have met otherwise. By volunteering, I'm a much better community member and I've made new friends and met new neighbors.
What's in the future for your volunteerism?
The project will continue. If there's one thing I've learned from this project, it's that everyone needs toilet paper every day. I don't see the need going away anytime soon.
What do you want people to learn from your story?
It doesn't take a big organization to make a big difference. I'm one person and I've seen the impact just one box of home supplies on my front lawn makes. Don't be scared to put yourself out there, go for it and do what your community needs.
In two words, what does volunteering mean to you?
Loving people.
How can readers help?
We rely on donations of basic necessities to continue the program. Please visit our website and  Facebook page, or email us to find out how you can help.
Do you want to make a difference in your community like Jaclyn Crawford? Find local volunteer opportunities.
Share this post