Teen Inspires Action for Mental Health After Helping Hundreds Through Crisis Line Volunteerism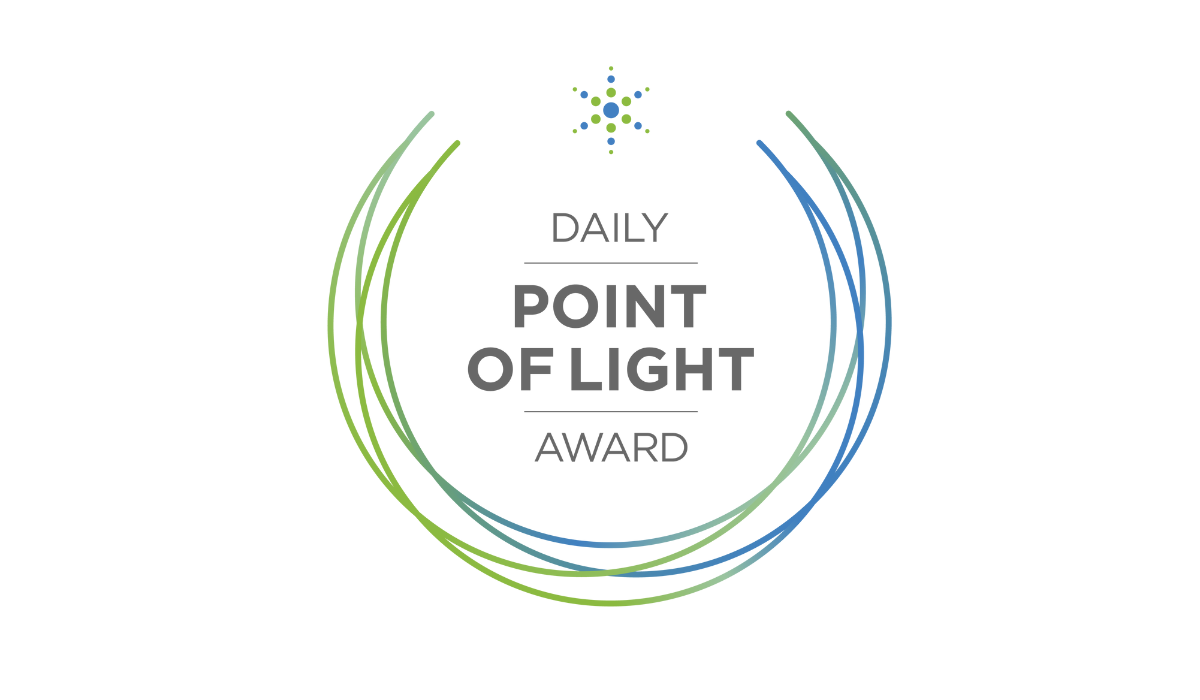 Meet Daily Point of Light Award honoree Azin Anees. Read her story and nominate an outstanding volunteer or family as a Daily Point of Light.
Content Warning: Points of Light is proud to share the following uplifting and inspiring story. However, we acknowledge that a small portion mentions suicide and may be difficult for some readers. We encourage you to please care for your own well-being above all.   
High school student Azin Anees wants to continue to keep mental health in important conversations. After learning that schools within her community had five times the national suicide rate, she began volunteering with SamaritansHope, a 24/7 crisis line that provides suicide prevention services and created her own initiative, Let's Talk Mental Health, shortly after. She's helped hundreds of individuals through both organizations and continues to cultivate a culture of peer support to inspire others to volunteer for local mental health organizations.  
What inspires you to volunteer? 
I first became passionate about mental health advocacy two years ago when I discovered that high schools within my local area had five times the national suicide rate. This alarming statistic is what motivated me to start volunteering for SamaritansHope. I realized that so many individuals, even those within my own life, were struggling with loneliness, depression, etc. By volunteering on the helpline, I am able to provide a safe and nonjudgmental listening ear for callers and texters.  
Many of the skills I developed through volunteering on the helpline also inspired me to take initiative within my own school community. I decided to start Let's Talk Mental Health — an initiative that aims to address mental health stigma through education. I am inspired by the opportunity to work towards a stigma-free future. 
Describe your volunteer role with
SamaritansHope and Let's Talk Mental Health.
I am a teen crisis line volunteer for SamaritansHope. I answer calls and texts on the helpline each week and provide a safe and nonjudgmental place for callers and texters to share.  
I created the Let's Talk Mental Health initiative about a year ago and through that I have helped promote mental health dialogue and support within my high school. By creating a mental health curriculum which was implemented within a health class at my school, I have been able to encourage discussions surrounding mental health in and outside of the classroom. I have also created a podcast called, Let's Talk Mental Health, and through that I have brought on guest speakers working within the field of mental health to help reach an audience beyond my local community. 
What's been the most rewarding part of your work? 
One of the most rewarding aspects of being a crisis line volunteer is the opportunity to provide support to individuals who are feeling distressed and/or lonely. Just being able to lend an empathetic ear and be present in listening to someone has been incredibly rewarding. 
What have you learned through your experiences as a volunteer? 
Through my volunteer experiences, I've developed a greater awareness and understanding of the needs and issues within my community. Mental health isn't something that is often spoken, and I am determined to change this through my volunteer work. I've also learned crisis support and empathetic listening skills that have transferred over into my personal life and interactions with others. 
Are there any future partnerships, programs, or events that you are excited about?
I am definitely excited to get involved with other mental health organizations in the future! I am also really excited to tune in virtually to Mental Health America's 2023 conference this summer. 
Why is it important for others to get involved in causes they care about? 
I think it's important for everyone to get involved in causes they care about because it empowers them to be agents of change. Getting involved means actively participating in shaping the world they want to live in. I also think that getting involved in causes they care about creates a ripple effect in the way that their actions inspire others to take notice, learn more, and get involved themselves. This often expands the impact beyond their own efforts. 
What do you want people to learn from your story?
I want people to learn that everyone can be an advocate for any cause — no matter what stage in life they are in. When we hear the word advocacy, we often think about big acts of change such as influencing legislation or creating national campaigns. To me, advocacy means so much more than that. Starting conversations, educating oneself and others, or even getting involved with an organization as a volunteer are all ways someone can make an impact. 
If you or someone you know may be considering suicide, contact the National Suicide Prevention Lifeline at 1-800-273-8255, or text HOME to 741741 to talk to a trained crisis counselor through Crisis Text Line. Both resources are anonymous, free and available 24/7. 
Do you want to make a difference in your community like Azin? Find local volunteer opportunities. 
Share this post