Caring College Student Volunteers to Ensure All Kids in Her Community Are Fed
Meet Daily Point of Light Award honoree Sofia Petito. Read her story and nominate an outstanding volunteer or family as a Daily Point of Light.
The COVID-19 pandemic uncovered a lot of hidden unmet needs amongst the most vulnerable, and in 2020, then-17-year-old Sofia Petito decided to jump in and meet them. With a bit of research and a lot of paperwork, she founded The Viola Project, a nonprofit that sends elementary school students on the free lunch program home with food for the weekend.
Sofia is the middle child with two brothers. She graduated high school the year before the world changed and was—and is—a student at Stony Brook University on Long Island at the time. She's majoring in biology while working full-time as a vet tech at an animal hospital. To say her free time is limited would be an understatement. So, she has called in some backup to help get things done.
The Viola Project a family production with Sofia at the helm, her two senior pugs and shih tzu on guard duty. Her brothers, parents, and even grandparents pitch in to organize, pack and deliver 100 bags of food on a weekly basis. Sofia coordinates volunteers and monthly fundraising campaigns, runs social media, collects donations, performs weekly inventory, etc. Together, the Petito family and their volunteers keep the children of their community happy and healthy while giving their parents a much-needed sigh of relief.
What inspires you to volunteer? What led you to create The Viola Project?
My family has always volunteered at church and local organizations.  When I was in elementary school, my mom was on the board of a local non-profit called HACO–Harborfields Alliance for Community Outreach. She would bring us to the pantry to help out all the time by making food bags or just stocking the shelves.  HACO provides monthly food bags and other assistance to families in our local school district.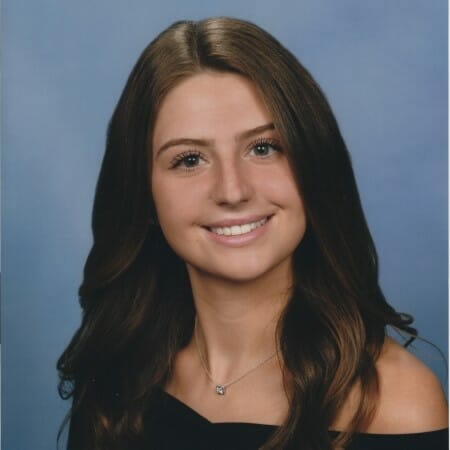 Once we were able to return to the classroom during the COVID Pandemic, I realized the kids who receive free breakfast and lunch did not always have food on the weekends .  I wanted to create something that would be just for them.  When families get staples donated to them they are mostly beans pasta, soup, cereal – nothing that a child would get excited about.  I wanted our weekend bags to have something fun that the kids would not normally get at home.  I spoke to my parents and decided I wanted to create a nonprofit to help feed kids on the weekends.  I named it The Viola Project after my grandma. It was her maiden name, and it is my middle name.   
Describe your volunteer role with The Viola Project.
My mom and I actually had to research and meet with many people to learn what it takes to start a nonprofit.  At the time, I was only 16 so my mom had to help with all of the paperwork. And there was a lot of paperwork.   
Once we received our nonprofit status, we asked for donations from friends, family and local businesses.  Everyone was extremely generous.  I was very involved in every aspect of the Viola Project from social media, fundraising and ordering food to stuffing and delivering the bags. Since I am a full-time college student and full-time vet tech, my family helps me with the weekly stuffing of the bags. It's a huge family affair.  My brothers help with all the heavy lifting; my grandmother makes sure all the stickers are on the bags; my grandfather breaks down all the boxes and my mom and dad fill the bags and prepare them for delivery. 
What's been the most rewarding part of your work? 
Knowing that the kids who receive the bags look forward to them every week is very rewarding.  We work with local social workers who give us the number of bags they need.  We don't know which students get them; we just hear back from teachers how the kids really look forward to getting them every week.  
What have you learned through your experiences as a volunteer? 
I've learned a lot about myself, the status of my community and how much my family helps when I need them to step in. 
Are there any future partnerships, programs, or events that you are excited about?
I'm looking forward to planning our annual fundraising event this November. It will be our second year hosting it, and I have a lot of new ideas.  
Why is it important for others to get involved in causes they care about? 
The world needs more people to help others.  
What do you want people to learn from your story?
There is always someone who could use your help. Something very little to you could mean the world to them.  
Do you have any post-graduation plans?
After I graduate Stony Brook University, I plan on going to veterinary school in an effort to one day become a vet. I also hope to grow the Viola Project to help out other districts on Long Island. 
Do you want to make a difference in your community like Sofia? Find local volunteer opportunities. 
Share this post