Teen Leads Peers in Protecting Animal Welfare Around the Globe
Meet Daily Point of Light Award honoree Emily Keller. Read her story and nominate an outstanding volunteer or family as a Point of Light. 
Emily Keller has always been an animal lover, but it wasn't until she started fostering cats at the beginning of the COVID-19 pandemic that her passion really took off. As she became more involved with volunteering at her local cat rescue, Kitty CrusAIDe, she started to learn more about animal welfare issues, from the overpopulation of cats to the mistreatment of animals bred for food. 
Wanting to further promote animal welfare, Emily started Students For Animals, a youth organization that aims to educate students on animal welfare issues, as well as encourage them to volunteer to help animals. Emily has been able to expand Students For Animals to not only her local Utah area, but also to students around the world through the organization's student ambassador program. This summer, the 18-year-old plans to open a summer camp for younger animal lovers, and wants to expand Students For Animals to even more colleges and high schools around the country. 
Describe your volunteer role with Students For Animals.
Students for Animals is an organization to educate students about animal welfare issues, as well as how they can get involved. I started Students For Animals after learning about all the animal issues in our society and realizing just how unknown they are. When I first got involved with a local cat rescue, I learned about the issue of overpopulation, breeding, community cats, and I started taking part in the Trap-Neuter-Return [TNR] process to battle this overpopulation. I started to realize that cats were only the tip of the iceberg. There's so many other animals that need my help. There's breeding puppies. There's elephants being forced to perform in circuses. There's cows, pigs, chickens, and many animals being treated terribly in order to produce our food. Even worse, very few people know about it. That was the reason I founded Students For Animals. We have student ambassadors from multiple countries and all over the U.S., which is crazy. We've also been able to reach a lot of people through social media activism as well.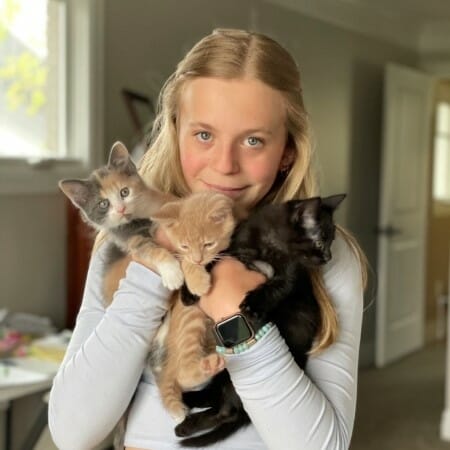 What accomplishment are you most proud of when it comes to your volunteer work?
I would say I'm most proud of my project to keep cats warm that I did with Kitty CrusAIDe. This is the project that started Students For Animals. When I was working on this, I realized so many cats are living outside in the cold, and they don't have access to food, water, or shelter. I partnered with my peer and together we built homemade, insulated shelters to keep these cats warm throughout the winter. After building those, we set them out at different cat colonies around Salt Lake. Then we started a whole donation drive where we collected blankets and cat kibble, as well as monetary donations. We were able to raise over $2,000 in total to help Kitty CrusAIDe. Kitty CrusAIDe uses that money to aide in the TNR process, which helps those community cats. They will go trap those cats and get them neutered as well as vaccinated, so they can help with the overpopulation problem and prevent disease from spreading. 
What aspect of Students For Animals is most special to you?
We have an ambassador program. It's an online program where we connect students with the resources to start their own animal welfare groups wherever they are. We have people all over the United States, as well as in many other countries. We meet once a month over Zoom and we discuss ways for them to start projects in their communities. Right now we have someone who is doing a presentation to all their classes about elephant tusks and why that's not OK. The ambassador program is definitely a huge highlight for Students For Animals, because it creates a way for anyone to get involved in this issue and for anyone to make a difference. 
Do you have any future partnerships, programs, or events you want people to know about?
I'm in the process of planning a summer camp called Paws For a Cause. It's going to be for younger children. It will be a week-long camp where they can experience different animal welfare activities, so playing with kittens and learning about the issues with cats, or going to a farm sanctuary and learning about pigs. There will be different activities each day to help build empathy and kindness with these kids, and it will also be super fun for them because they will get to have fun with animals.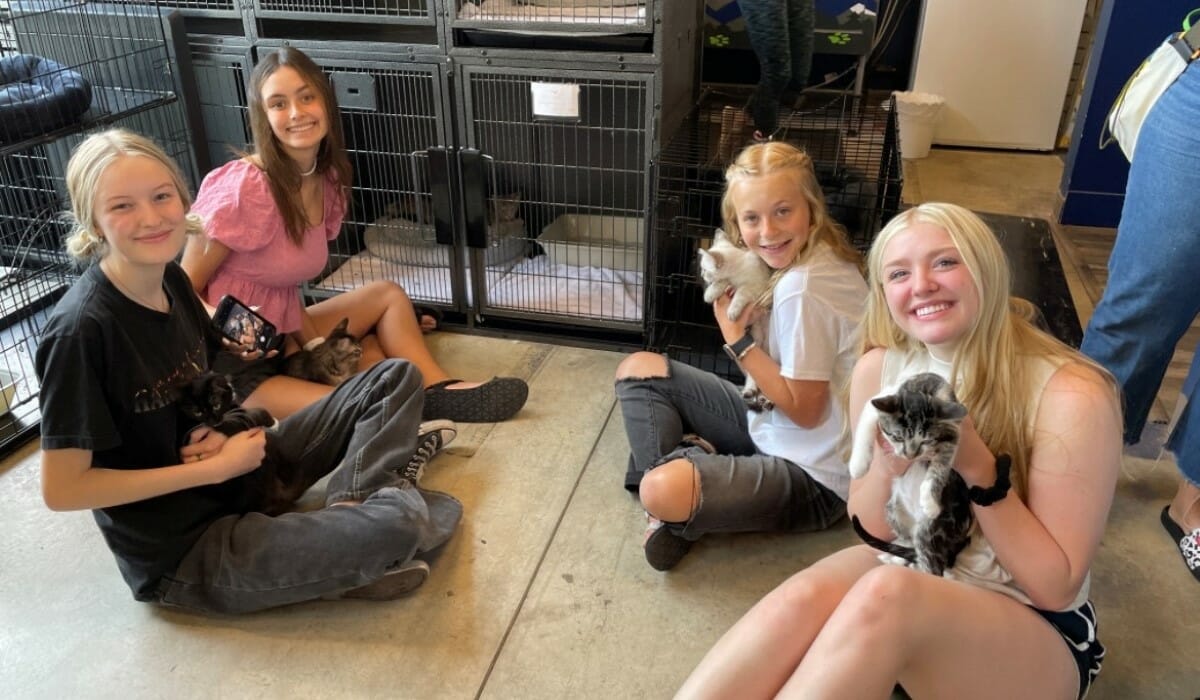 What's been the most rewarding part of your work? 
I think the most rewarding part about volunteering is that after serving animals, my view of the world has shifted. I'm not only aware of the animal welfare issues happening in the world today and all around me, but I feel like I'm also no longer afraid to lead the action. Before I started volunteering with Kitty CrusAIDe, I used to be a follower. I was into volunteering and would do that, but I would never start my own thing. After I got involved in Kitty CrusAIDe and learned about all these issues, I figured out that I could be the change in the world, and that was really empowering. 
Why do you think it's important for others to give back?  
I think it's important for others to give back to our community because we are the future. Our generation will be the future leaders and I think it's vital that we show kindness not only to each other, but for the animals as well. Being able to have empathy for animals definitely translates to our everyday lives. When we develop that understanding we get from serving others, we're able to build better and deeper relationships with those around us, so it's incredibly important to give back to our community. 
What do you want people to learn from your story?
My favorite quote is to "be the change you wish to see in the world." I want people to understand that it's up to them to make a difference. If you see a problem or an issue somewhere, you can create change. It doesn't matter how old you are. I want people to hear my story and to work on developing empathy for those around them — understanding where people are coming from, whether they're in a different situation, and understanding where animals are coming from. When you hear about a dog being left by its owner and dropped on the street, have empathy for that dog, and think that dog needs a home and needs someone to take care for them. 
Do you want to make a difference in your community like Emily? Find local volunteer opportunities. 
Share this post