Teen Promotes Literacy and Changes Lives with the Power of Reading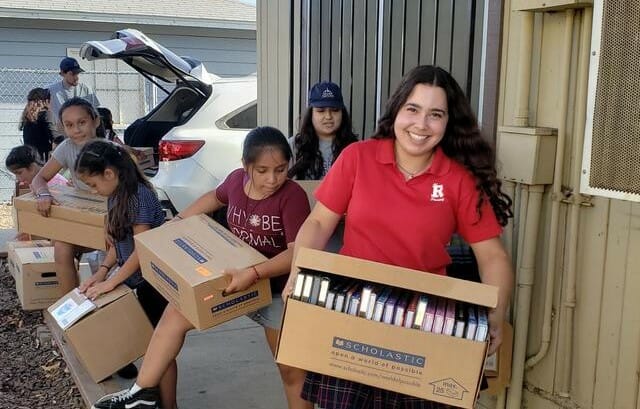 An avid reader, Isabella Tejeda says the library was her second home as a child, and now, the 17-year-old Yorba Linda, California resident is sharing her love for reading with children in her greater community.
Launching "Read a Story, Change a Life" in 2018, the high school junior's Gold Award project for Girl Scouts incorporates fun storytime and engaging reading activities for elementary school children most at-risk for falling behind in school. Designed to help provide equitable access to reading success, Isabella's project promotes early literacy intervention and builds lifelong readers.
Inspiring imagination and confidence amongst over one thousand students in her community thus far, Isabella is today's Daily Point of Light award honoree. Points of Light spoke to Isabella to learn more about her volunteerism.
What inspires you to volunteer?
I really, really, really love helping kids and spending time with them. I've grown up volunteering, it's a part of life with my family. I want to be able to share with others the same experience and lifestyle I've had, and spread that joy and happiness with everyone.
Describe your volunteer role with the Yorba Linda Public Library and "Read a Story, Change a Life".
I am a volunteer with the Teen Advisory Board at the Yorba Linda Public Library, so between those responsibilities and my "Read a Story, Change a Life" program, I volunteer on a weekly basis, logging more than 350 hours this year. For the program, I create curriculum, including puppet shows and unique songs and stories. We put on these shows at Book Bug Club at the library, a weekly storytime for younger elementary students. I've also helped out with special events for the library including Summer Reading Club Kick-Off Festival and Library Sleepover.
Why did you decide reading was a way to connect with students in need?
I was volunteering at Higher Ground Youth & Family Services, a nonprofit organization based in Anaheim, California that supports youth and families at risk, and I realized that a lot of kids there weren't able to read at their own grade levels. The third-graders were barely able to read at a kindergarten level. We saw a change in the students that summer as they participated in our program. Some of the most reserved students, who at the beginning were too cool for school, transformed into engaged students, being the first to raise their hands and participate.
Tell me more about your program, the activities sound like fun!
Our program started as a summer event, but is now transitioning into a year-round program. We put on puppet shows, read books to the children, and then they'll write their own stories, or read during storytime. Each activity helps to support increasing their reading abilities. We started with a few puppet shows and some donated books, and now the program has evolved into a huge binder of 70 puppet shows, songs and little stories the kids can perform on their own. We also just recorded all our songs and puppet shows on a video DVD so that parents and other groups can teach the program on their own. And we're branching out worldwide! We recently sent our kit to a primary school in Uganda.
Share one impactful story with me from your volunteerism.
This is my favorite story to tell. This boy's dad was a gang member and his mom wasn't in the picture. When we first met him, he was in third-grade, he was trying to act all tough and he didn't want to participate in our program. During one of our puppet stories, he kept yelling, "this is fake, this isn't real!" That was the moment we realized he probably doesn't know what pretend is, because he doesn't have a chance to just be a kid at home. He didn't have opportunities to pretend to be a superhero, or a chef, because he had to act like a tough kid at home. At the end of our program, he was sooo excited to be there. He volunteered for everything. It was amazing to see how he went from sitting in the corner, hiding under a table, to wanting to read his own book and write his own story.
What's one thing you want readers to take away from your service?
Every teen and person, no matter how old you are, or who you think you are, can always make a difference in the world.
What does it mean to you to hear that your service is making an impact?
Honestly it makes me really happy, because when I first started this, I wasn't very outgoing and I didn't really think I could make such a big change. It makes me feel really good about the work I'm doing, and it makes me want to do more in addition to influencing others so that they can make a change themselves.
What do you want to be when you grow up?
I really want to be a pediatrician. That's my dream.
What's your favorite book to read?
Because of Winn-Dixie by Kate DiCamillo. My favorite book to read to children while I'm volunteering is "I'm a Frog!" from Mo Willems' Elephant and Piggie series. They love the Elephant and Piggie stories (laughs).
Where can people learn more about your program?
Check us out on Instagram: ReadAStoryChangeALife and my website: https://isabellatej99.wixsite.com/website.
Do you want to make a difference in your community like Isabella Tejeda? Visit All For Good for local volunteer opportunities.
Post written by Marlena Militana.
Share this post