Teen Rallies Thousands of Volunteers Across the Country to Assemble Face Masks and Shields During Pandemic
Meet Daily Point of Light Award honoree Evan Osgood. Read his story and nominate an outstanding volunteer or family as a Point of Light.
While watching scenes of New York hospitals struggling to fight the COVID-19 pandemic last March, Evan Osgood knew he wanted to help out in some way. The sixteen-year-old Loveland, Ohio-native began making masks to send to healthcare workers and others in need. Realizing he would need more hands on deck in order to really make a difference, Evan decided to try to enlist as many people as possible to help out.
This led to the creation of SOS for PPE, a nonprofit organization that sends supplies necessary to make face masks and shields to anyone in the country interested in assembling them, and then distributes the assembled PPE to those in need. In less than a year, Evan has built a network of 4,000 volunteers nationwide who have made and distributed over 125,000 pieces of PPE. Along with partner organizations, SOS for PPE distributes the face masks and shields to those who need help the most, including hospitals, senior facilities, and schools.
Describe your volunteer role with SOS for PPE.
As president of the organization, I oversee the whole process — from fundraising, to managing the supply chain, to working with our partners to distribute the PPE. I also work to grow our volunteer network and partnerships. We're a nonprofit organization that sends people free PPE assembly kits to assemble safely in the comfort of their own homes. Then we take those assembled PPE to hospitals and facilities that need them the most.
What inspired you to start this?
Back in March when COVID was just beginning to hit New York, I was turning on the news every night and seeing surreal scenes of New York hospitals, and I wanted to help. I did some research and came up with a few options to help and I decided this would be the most impactful to save lives. Initially I started by sewing masks myself. I can make eight or so masks an hour, but I realized if I really wanted to make a difference, I needed to enlist a whole bunch of people to help, and the idea of SOS for PPE was born.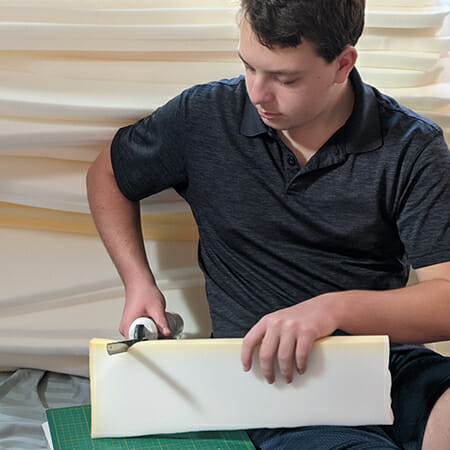 Who exactly is the PPE being delivered to?
We work with our partner organizations all across the country to identify where the need is and then we send PPE to help, so whether that be hospitals, companies, senior facilities, schools, or individuals.
How does it feel for you that so many people wanted to get involved in this?
It's been awesome. For me, the best part of volunteering is the feeling of helping someone. For example, on one of our deliveries recently, we were delivering masks to an elderly couple. I left the masks on the doormat and rang the bell. On the way back to the car, the couple answered the door, looked down, and burst into tears. They were so appreciative. They waved at me and said bless you and bless what you are doing for this community. That really hit home that every mask that's being made has an impact on someone's life.
What have you learned through your experiences as a volunteer?
The biggest one for me was just how effective you can be when you rally the community behind something. As one person, I could produce maybe a few masks an hour, but with the help of a volunteer network of 4,000 people, the amount of PPE we can make is insane.
What do you want people to learn from your story?
I think the fact that anyone can make a difference. I was selling masks at home and I had an idea to reach people and it worked. I think the biggest lesson there is if you have an idea, go for it.
Why do you think it's important for others to give back?
I think that the feeling of gratification for volunteering is the most rewarding part. Knowing that you're given back to the community and you're making a difference is the best part of volunteering.
Do you want to make a difference in your community like Evan? Find local volunteer opportunities.
Share this post