Octogenarian Dedicates Life's Service to Feeding Others Through Decades of Volunteerism
Meet Daily Point of Light Award honoree Mary Danilson. Read her story and nominate an outstanding volunteer or family as a Daily Point of Light.
86-year-old Mary Danilson has spent a lifetime feeding hungry mouths, first through her career as a high school cook, then cafeteria supervisor, and now, as a volunteer through her church, Blessed Sacrament Catholic Church in Ontario, Oregon.
Volunteering for at least 30 years through Blessed Sacrament, Mary is filling in the gaps of missed meals, both at her church's food bank and also at the senior citizens food bank in nearby Parma, Idaho. Recognized as a friend to many, Mary's devotion to volunteering is helping to change lives within her greater community.
What inspires you to volunteer?
I started volunteering at the church and it progressed to other food banks in the area. Volunteering is something I enjoy doing because I've met a lot of people and I enjoy knowing I am helping them out. Also, getting out to volunteer means I don't become a couch potato (laughs).
Why have you decided to focus your volunteerism on helping the hungry?
Over the years, I've met a lot of people that desperately needed help because they had families they couldn't feed. Also, some of the older people in our community didn't have enough money for food.
Describe your volunteerism.
I volunteer a couple days each week at the food bank, and also pick up food seven days a week. Even after church, I'll go over and pick up food because otherwise they have to throw it out. We receive food donations from the Red Apple Marketplace and Franz Bakery including bread, onions, potatoes and sweets. Since the church food bank is only open twice a week, I'm able to give extra food to additional families in need. Parma's senior citizen food bank uses the cakes I bring to them for their birthday of the month celebration.
Share one personal story with me from your volunteerism.
I used to work in the food bank every month, and a grandfather came in and told me he was raising his grandkids on his own. He explained he needed food for the kids, and that he'd love to have a cake because his grandson's birthday was the next day and he had no money to buy one. I told him we had plenty of food, and could help him out with a cake. The poor man was so tickled to get it, he cried. That really, really made me stop and think about how worthwhile my service was.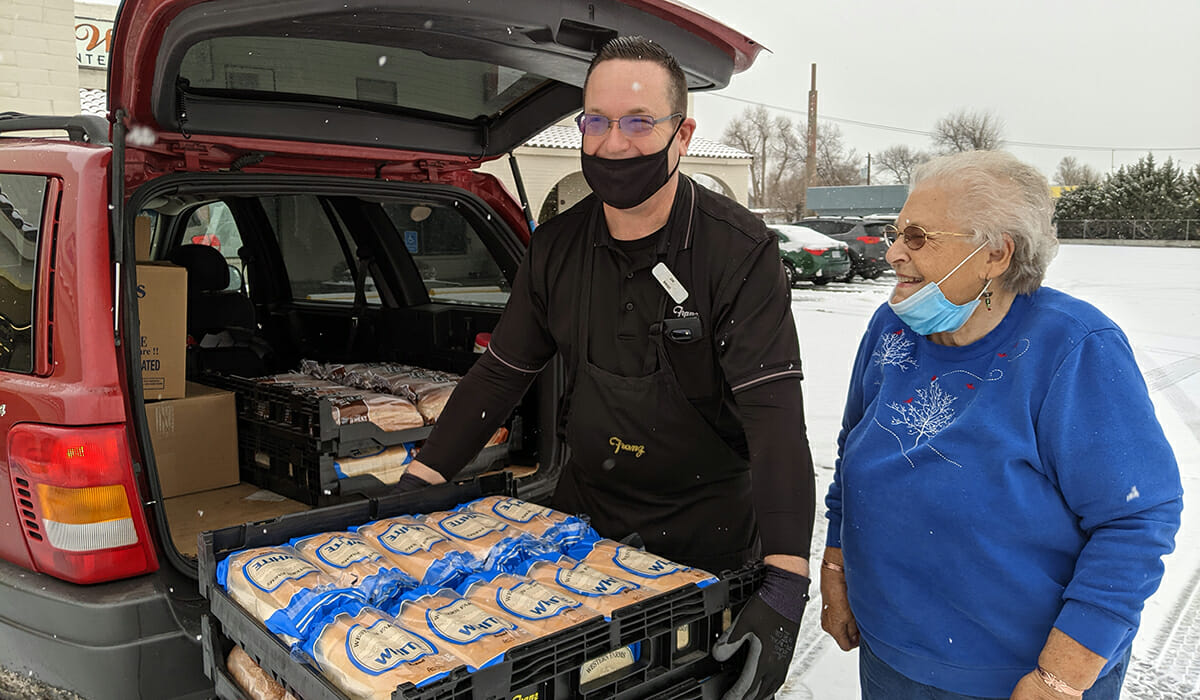 Why do you think it's important for others to give back?
There's an awful lot of people who are afraid to volunteer. The world is just a little bit different than when I was a kid. I tell people that are scared that most of the people we help are very, very nice when you get to meet them.
You're 86 now. What's in the future for your volunteerism?
As long as I can volunteer, and I drive my car, I will volunteer (laughs).
How have you continued to volunteer throughout the COVID-19 pandemic?
We're not able to have contact with people like we used to in the food bank. I pick up food and drop it off at the food banks, this is all contactless. People are also making up boxes of food and each person or family we donate to receives a box of food.
In one word, what does volunteering mean to you?
Satisfaction. The satisfaction of knowing I helped somebody.
How can readers help?
Please visit Blessed Sacrament's website for more information about how you can help.
Do you want to make a difference in your community like Mary Danilson? Find local volunteer opportunities.
Share this post