New Jersey Volunteer Inspires Youth Service Through Community Food Bank
Meet Daily Point of Light Award honoree Debby Cheng. Read her story and nominate an outstanding volunteer or family as a Daily Point of Light.
Debby Cheng will be attending medical school in the fall, to one day join the countless courageous front line workers who care for the sickest and neediest in our communities. In the spirit of her dedication to caring for others, while a college student, the Edison, New Jersey resident started shadowing physicians at Raritan Bay Medical Center's early intervention and prevention clinic, hoping to gain more experience before her formal medical education began.
At the clinic, the now 23-year-old Debby began to notice the overwhelming issue of food insecurity amongst patients and within her community. Launching a food bank at the clinic, Debby's initiative has taken on even greater importance as she volunteers during the COVID-19 pandemic, addressing the increased need for food assistance among patients through Foods and Funds. Partnering with students from local high schools to collect donations for the food bank, Debby is offering an opportunity for youth to contribute to her cause, making a positive and sustainable change in her community during an unprecedented time of stress and difficulty for many.
What inspires you to volunteer?
I'm inspired to do something for these patients through service. As a pre-medical student, you're not really allowed to do much besides small tasks in the clinic and shadowing physicians. This food bank was a way for me to contribute.
Food has played an important role in your life, which you are now serving through service. Explain.
When I grew up, my parents ran a food stall. Selling fast food and being around food all my life sparked my interest in the connection between access to food and economic status. Our organization focuses on donating healthy and fresh food, as many patients are dealing with chronic illnesses and because of limitations, traditional soup kitchens and food pantries aren't always able to serve as healthy or fresh food.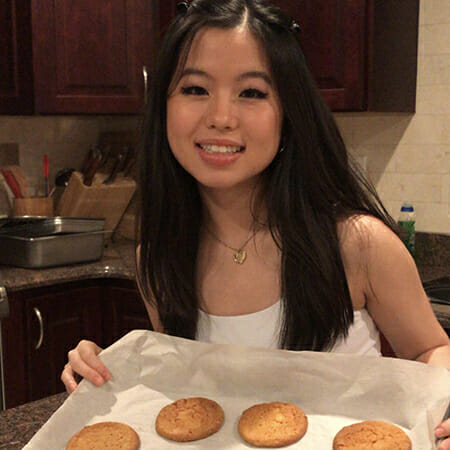 Describe your volunteerism with Foods and Funds.
As founder of Foods and Funds, I work with volunteers and coordinate our donations with the clinic, which are then distributed to patients by doctors and nurses. We accept community donations, both monetary and non-perishable items, fundraise to buy fresh groceries, including hosting bake sales, and we also have food donation bins around the community.
Share one personal story with me from your volunteerism.
One patient who had recently undergone surgery visited the clinic. He looked like a walking skeleton. One of the health care professionals asked him if he was getting enough food, and if someone at home was taking care of him. The patient was lying about what he was able to do to take care of himself because he was embarrassed about his situation. Sometimes people don't want to accept help, or they feel embarrassed asking health care professionals for help. Stories like that man's have inspired me to continue to do more for the community.
Why do you think it's important for others to give back?
As this pandemic has shown, we don't just live in our own bubbles. Everything we do impacts others, and what other people do impacts us. It's important to think of ourselves as living in a larger community where everyone matters.
What's been the most rewarding part of your service?
It's been rewarding to find a social issue that I'm very passionate about that can actually provide immediate aid to people who need it.
How have you continued to volunteer throughout the pandemic?
People need the support more so than ever before because of the pandemic. Organizations may not be able to get funding and individuals may not be able to get resources for whatever reason. Our organization ensures the sustainability of the clinic food bank through ongoing donations.
In a few words, what does volunteering mean to you?
Giving and learning.
How can readers help?
Please visit our Instagram page for more information about how you can help.
Do you want to make a difference in your community like Debby Cheng? Find local volunteer opportunities.
Share this post