High School Freshman Serves Students Worldwide Through Volunteerism
Meet Daily Point of Light Award honoree Charles Tang. Read his story and nominate an outstanding volunteer or family as a Daily Point of Light.
As a high school freshman, Charles Tang says he believes education is the most important aspect of growing up. When the COVID-19 pandemic disrupted the school year for the 14-year-old Southborough, Massachusetts student along with many other students worldwide, Charles decided to take action to offer educational support for kids, K-12.
Co-launching Iridium Tutoring with his friend and classmate, Charles is making supplemental education accessible for students who have lost access to critical resources put on pause as a result of the coronavirus. Through free tutoring open to students in the United States and internationally, Charles has helped Iridium Tutoring reach more than 150 youth thus far, offering students the opportunity to give back to their communities and helping to address educational inequities exacerbated by the pandemic.
What inspires you to volunteer?
I'm inspired to volunteer because the need for giving back is really important, especially now, during the pandemic. It's beneficial for our group of high school and college volunteers to provide supplemental education to students.
Why name your organization "Iridium"?
We were learning about chemistry in class, and we thought it would be interesting to name our organization after an element.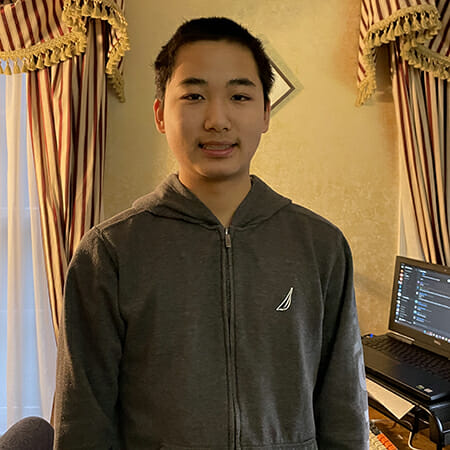 Describe your volunteerism with Iridium Tutoring.
As co-founder, I manage new projects including our course content project and scholarship program, and pair students and volunteers for our free tutoring sessions. I also manage our financials and help to manage current volunteers and recruit new volunteers. To support our programs, we rely on donations and also have corporate funding. I tutor students myself through our virtual tutoring and homework help, which covers many subjects including some AP courses. I prefer to tutor students in math.
Share one personal story with me from your volunteerism.
I spoke with one of our volunteers who was hosting weekly sessions with a student, and the tutor told me how much the student was improving and how much growth they'd experienced since they started sessions. That's when I realized the impact our organization was making. Honestly, it's surprising that we've done so much in helping to support education.
Why do you think it's important for others to give back?
Our volunteerism is inspiring other youth to get involved. It's important for high school students to experience serving, they should feel happy when giving back to the community. A lot of our success is based on our community of volunteers working together.
What's been the most rewarding part of your service?
The feeling of volunteering and realizing you're impacting students is rewarding. It might sound a little bit corny, but it really feels good to know you're doing so much.
What does the future of your service look like?
I hope we can continue our tutoring in the future. I'm hoping to continue this volunteerism through high school and college, and all the other volunteers want to continue as well.
In one word, what does volunteering mean to you?
Connection. Making a connection with others.
When you're not busy in school or volunteering, what do you do for fun?
I enjoy running on the school cross country team. I also enjoy learning new things such as concepts and topics in math and programming. I also like gaming.
How can readers help?
Please visit Iridium Tutoring's website for more information about how you can help.
Do you want to make a difference in your community like Charles Tang? Find local volunteer opportunities.
Share this post